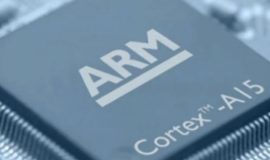 Have you ever wondered how the weather is predicted beforehand and how scientists at NASA are able to make amazing discoveries?
Well, they make use of computers with very high processing power to crunch a large array of data sets. Recently, the Hewlett Packard Enterprise has released the largest ARM-based supercomputer to facilitate scientists and meteorologists around the globe. Last year, HPE presented a prototype of this supercomputer with blazing fast memory and, as a result, it is supposed to process tons of data that is pivotal in the field of science and meteorology.
The new supercomputer by HPE is named Astra and has been developed with the collaboration between HPE and the United States Department of Energy. For nuclear research purposes, Sandia National Laboratory has been making use of the new supercomputer for experimental purposes. This supercomputer is powered by Cavium Thunder X2 ARM processor which makes it faster than the x86 systems and offers around 30 percent faster memory speeds.
HPE has developed Astra on the Apollo platform and it constitutes 2592 dual processor servers and 145000 cores. Compared to the six memory channels offered by the x86 chips, Thunder X2 processors offer eight memory channels. One of the new things incorporated into the Astra is that all of the CPUs will have direct access to large portion of the memory available. Previously this was not the case and each CPU chip had access to a small amount of memory which hampered the processing power of the entire supercomputer.
At the Sandia Nuclear Lab, this new supercomputer will be included in a prototype program called Vangaurd. The program's main purpose is to manage the nuclear stockpile of the United States and in order to do so the program has been looking for new technologies to achieve this goal. The supercomputer is still in its experimental stage at the nuclear lab to ascertain whether it can take the grunt of all the physics simulations performed at Sandia. Astra will not replace any existing systems at the Sandia; however, it surely has the potential to shape the intricate world of supercomputers.
If you are looking into buying a smartphone or any other electronic product, please visit the
OLX Pakistan's website
and browse for the smartphone that you want.