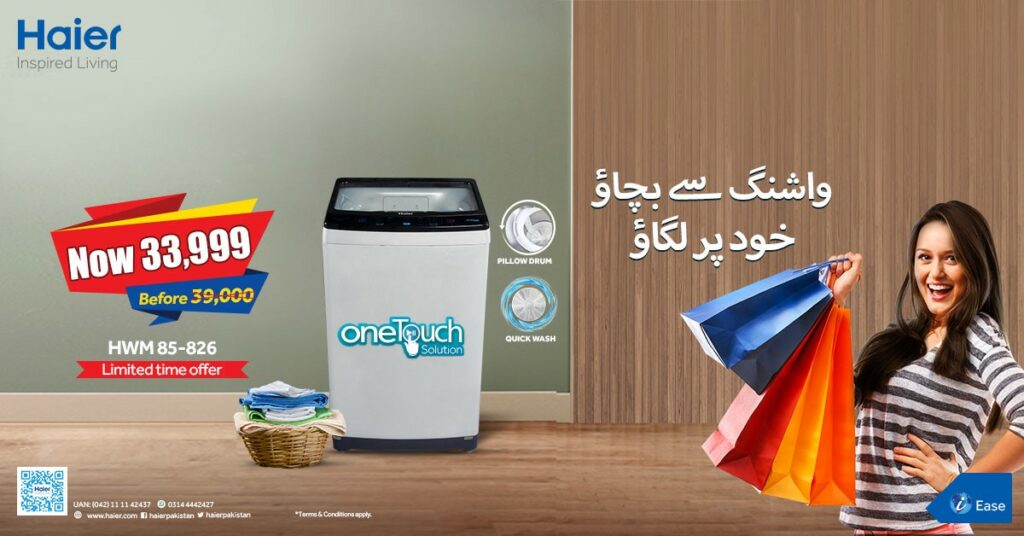 Haier brings to its customers the most efficient and affordable washing solution at a price of 33,999/- only that can be operated with a "ONE TOUCH SOLUTION". Haier Laundry appliances also offer a 10 years warranty and the best after sales services that differentiate Haier from other brands.
You may also like:
Best Washing Machines in Pakistan
Now overcome your laundry troubles with Haier One Touch Solution that provides comfort to its customers. According to a consumer survey, cost of maid is not the only problem customers face, in fact arranging a reliable and trustworthy maid is nowadays a bigger problem. If we assume cost of maid to be approximately Rs. 3,000/- per month that could cost Rs. 36,000/-per year or may be more in some cases. Now customers can overcome laundry troubles at a one-time investment with a 10 years warranty and the best after sales services.
However, Haier laundry appliances are making sure to provide value for money, this machine has many features, such as auto restart/memory backup; in case of electricity fluctuation, pillow drum; that could ensure safety of delicate wear clothes, a quick wash and many more.
It also saves water and electricity as compared to semi auto washing solutions. So, save your time and money and make an investment of one time to guarantee your laundry washing. So, what are you waiting for? Go now, buy yours and save yourself from the hassle of hiring somebody to do your laundry. At this price, the machine is a one-time spending for a life time solution for your washing needs.
Live Smart & Buy Smart with Haier today!