Wondering how and where to sell your car? Want to take advantage of the hot market but don't want to go through the hassle? Got your eye on a different car but need to sell the existing one? No worries! OLX is the largest online platform for you to sell your car! OLX has its own unique offerings. Just follow these simple steps and sell your car on OLX:
Go to the OLX App and click on the "Sell+" button at the bottom of the page.
Next, you will land on a page with the heading "What are you offering?" Under this heading, you will be presented with a vast variety of categories spanning from mobiles to property and much more.
Select the "Vehicles" category and proceed to the next page.
On the next page, select a subcategory of the vehicle for example car accessories, spare parts, boats, tractors, etc. Select "Cars" and move to the next page.
Now, you can enter details of your vehicle, for example, price, KMs driven, fuel type, condition, year registered in, and the make and model of the vehicle.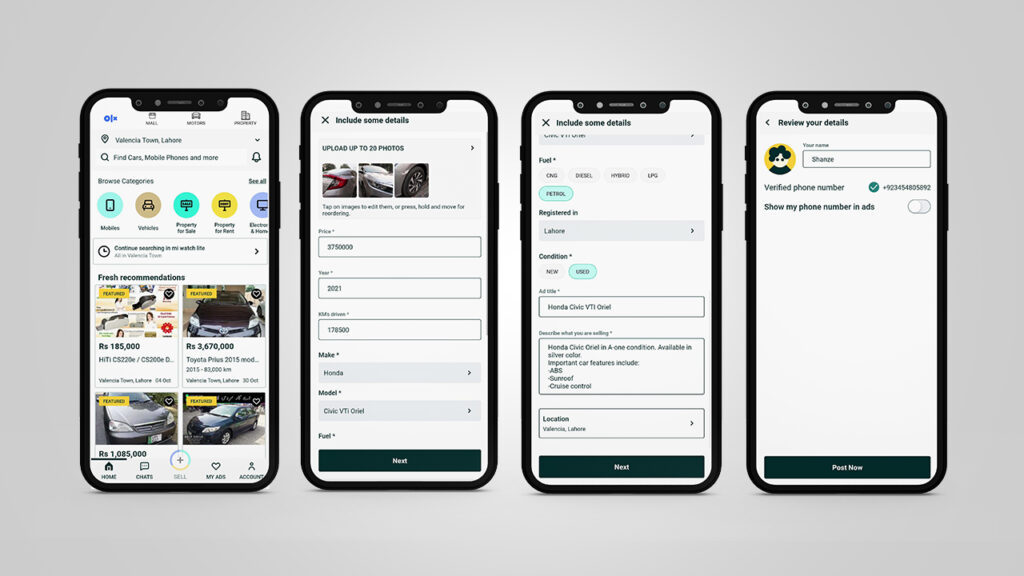 You will also be required to mention the title and a description of the vehicle you are trying to sell.
Lastly, choose your location and enter a few images. The "Next" button will become highlighted at the bottom, click on this button.
On the next page enter your name and phone number. You can choose whether you wish to make your phone number visible or not.
Once these details are entered you can post the ad by clicking on the "Post Now" button and your ad is live!
It is essential to give sales receipt to the buyer and get delivery letter from him / her when a vehicle is sold, so both of you have record of the transaction.
Download Delivery Letter
Download Sales Receipt