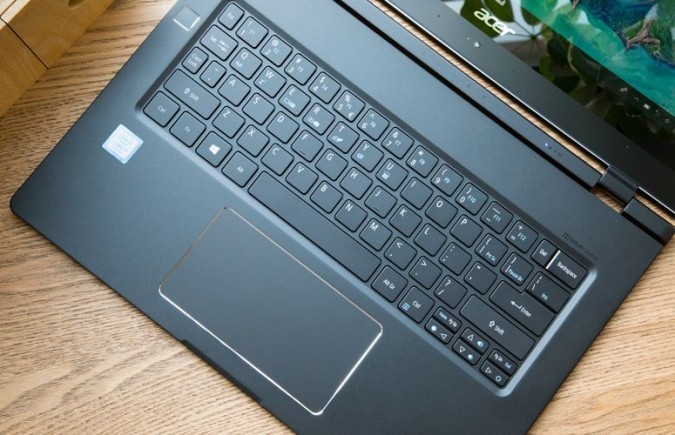 The world's thinnest laptop from Acer, the Swift 7 which is just 8.98 mm thin, has become available from $1,699 which is easily the territory of an entry level MacBook Pro. With launching such a premium product, Acer is trying to compete with high-end laptops and to differentiate its offering by producing the thinnest laptop. The laptop is very light weight and easy to carry and suits better with daily commuters going to college or workplace. The entire body of the laptop is made up of aluminum that gives it rigidity and a premium, upmarket feel.
You may also like:
10 Best Laptops in Pakistan 2023 Price, Specs & Other Details
The screen of the Swift 7 can be tilted up to 180 degrees; however, it is not like Surface Pro or Surface Go from Microsoft. One problem with extremely thin laptops is their inability to house ports and due to this factor, you won't find a traditional USB port in the Swift 7 laptop. Another unique design feature is the inclusion of fingerprint scanner to the left of the keyboard.
The screen size is 14-inch by reducing the bezels of the previous version. This allowed Acer to expand the screen size within the same sized body frame of the laptop. The display is Full HD IPS which is now touch sensitive. The bezels are kept to house microphone and a webcam above the screen.
The audio system of the laptop is also premium with the inclusion of Dolby Audio and TrueHarmony. It also has a back-lit keyboard for dimly lit surroundings. The laptop is powered by 7th generation of Intel Core i7 processor and includes Intel HD Graphics 615 GPU. The RAM is set at 8 GB with an internal storage of 256 GB SSD.
The battery is sizeable and provides up to 10 hours of battery time which is great for a laptop this thin as the space for a large battery is not present. The laptop also comes with 4G LTE connectivity, ensuring your productivity is at the highest. Moreover, the laptop also has a 2×2 MIMO antenna, nanoSIM and eSIM slots. A few downsides to owning the new Swift 7 from Acer has an older processor system and a webcam that is oriented at the bottom of the laptop lid. Moreover, the touchpad, which is wide enough, does not click and some users may dislike it.
If you are looking into buying a laptop or any other electronic product, please visit the OLX Pakistan's website and browse for the smartphone that you want. You can browse through a score of listings and find the smartphone to laptop of your choice.
You may also like: