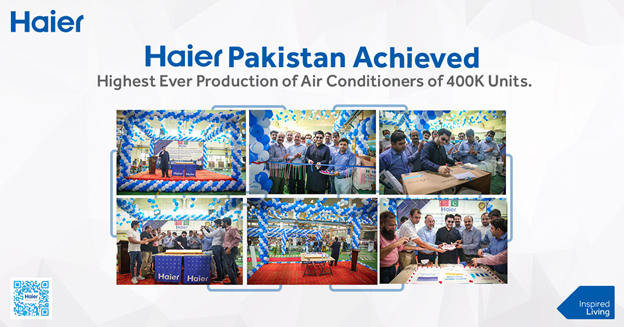 Haier Pakistan has successfully produced 400,000 air conditioner units and achieved its highest-ever production record. Haier's goal was to satisfy consumer demand, and they surpassed expectations thanks to their hard-working production and department staff.
In 2021, Haier sold more than 400,000 units of their stock within 8 months. Their next goal is to take this figure to 500,000 by the end of this year.  Haier strives to surpass all of its targets and regularly create new industry benchmarks, and is truly grateful for the support of management, HNR and HPK in realizing this ambition.
Haier continues to make the lives of its customers simpler by introducing the best and most environmentally-friendly and innovative products such as our air conditioners, which possess energy-saving features that help you reduce power consumption and save on electricity bills. Haier always strives to satisfy its customers, which is why they continue to lead the appliances market.
Breathe healthy and stay healthy with Haier!
Don't forget to follow us on our social media platforms for more upcoming discounts and promotions!
Facebook: https://www.facebook.com/HaierPakistan
Instagram: https://www.instagram.com/haierpakistanofficial/
Twitter: https://twitter.com/HaierPakistan