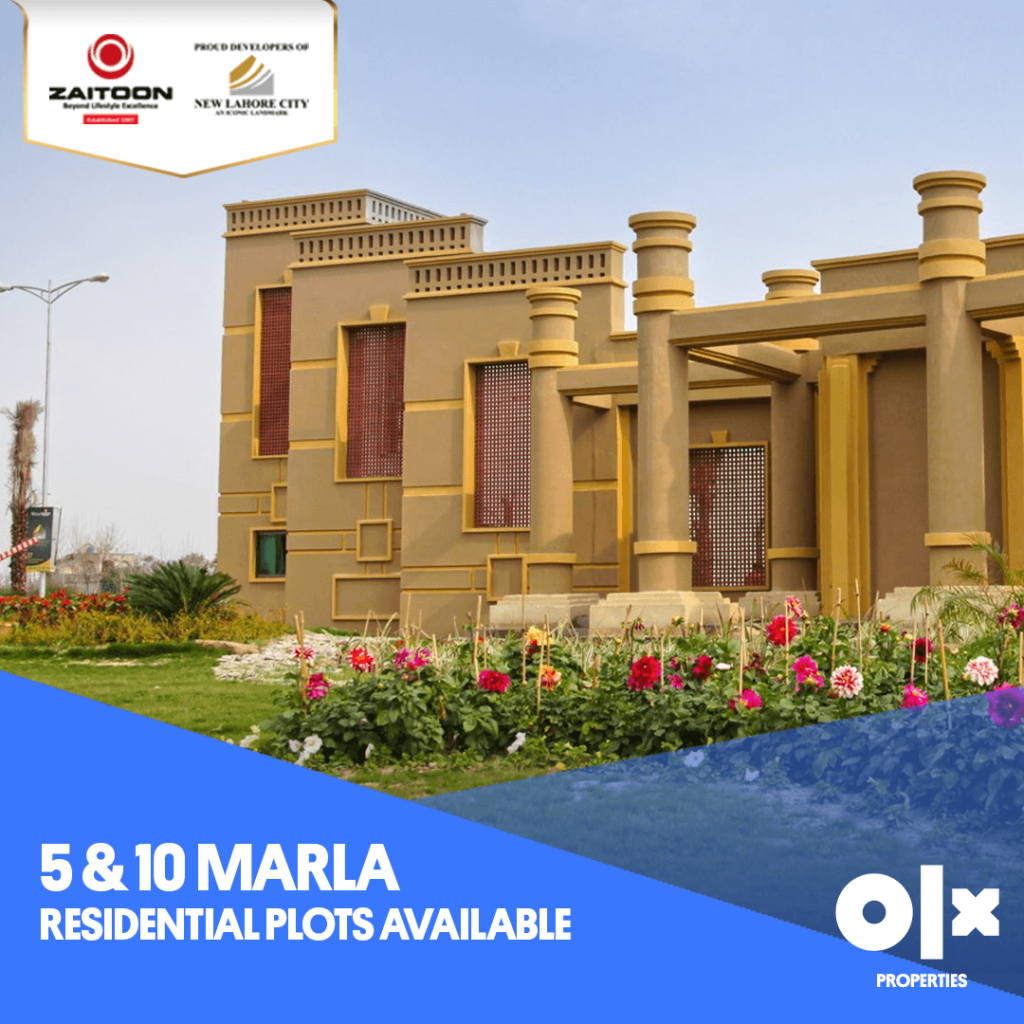 Located on the Canal Bank Road near Bahria Town and Lahore Ring Road, New Lahore City is an easily accessible residential society offering all kinds of amenities. The location of New Lahore City provides the quietness and serenity of suburban areas. New Lahore City provides the best residential environment for you and your family in Lahore with lots of green spaces to bring you closer to the nature. Zaitoon prides itself in delivering a plethora of successful projects in the past and now with New Lahore City, it has pioneered the residential housing sector as well.
New Lahore City is a perfect amalgamation of modern facilities, offering ease of living, and contemporary architecture. Seeing that the core of Lahore city has become very congested, creating self-contained and self-sufficient suburban housing societies has become essential. Zaitoon takes the lead in this regard in providing a peaceful living atmosphere. New Lahore City has 24-hour security with state-of-the-art equipment and trained personnel in order to keep you and your family secure and well protected. Throughout the society, you will find wide carpeted roads and walkways for pedestrians. Uninterrupted power supply will also provide the residents of New Lahore City peace of mind especially in summers.
New Lahore City will include educational institutions, retail outlets, healthcare services, restaurants, malls, cinema and banks. All these facilities will be helpful in running day-to-day errands and having family entertainment. There is a 150-feet wide road running through the center of the residential society which will prevent traffic congestion and will contain commercial areas. These commercial areas will also provide amazing opportunities to conduct business in the New Lahore City. You can choose from different commercial plot sizes which are conveniently located on wide roads to accommodate customers for business units. Plot sizes vary from 8 Marla to 4 Marla, catering to the needs of businesses of all sizes. The commercial element is very important for the New Lahore City and the fact that it is a self-contained and self-sufficient housing society in the suburbs of Lahore. If you are buying commercial plots for investment purposes, New Lahore City has the potential to provide substantial returns in the future.
New Lahore City provides a wide range of options for buyers seeking residential plots. These include 5 Marla, 10 Marla, 1 Kanal and 2 Kanal residential plots. This helps buyers choose the best option that suits their needs and budgetary requirements. In order to provide optimal spacious living, buyers also have the option of owning farmhouse land in New Lahore City. The farmhouse block is lined with trees and landscaped gardens to provide a luxurious lifestyle in a gated community. Over the years, Zaitoon has achieved international standards of administration, project management, customer satisfaction and financial excellence. Zaitoon endeavors to strengthen the housing sector and
to provide comfortable living and satisfaction to its customers. Zaitoon also has an international presence in order to keep Pakistanis residing abroad and foreigners updated with new ventures undertaken by Zaitoon.
If you are looking into buying or selling real estate in New Lahore City, visit OLX Pakistan to get the best price you are looking for.  OLX provides you with a wide variety of listings which makes it easier to choose one that perfectly suits your needs and budgetary requirements.
Click here if you are looking into investing in residential and commercial plots in New Lahore City.