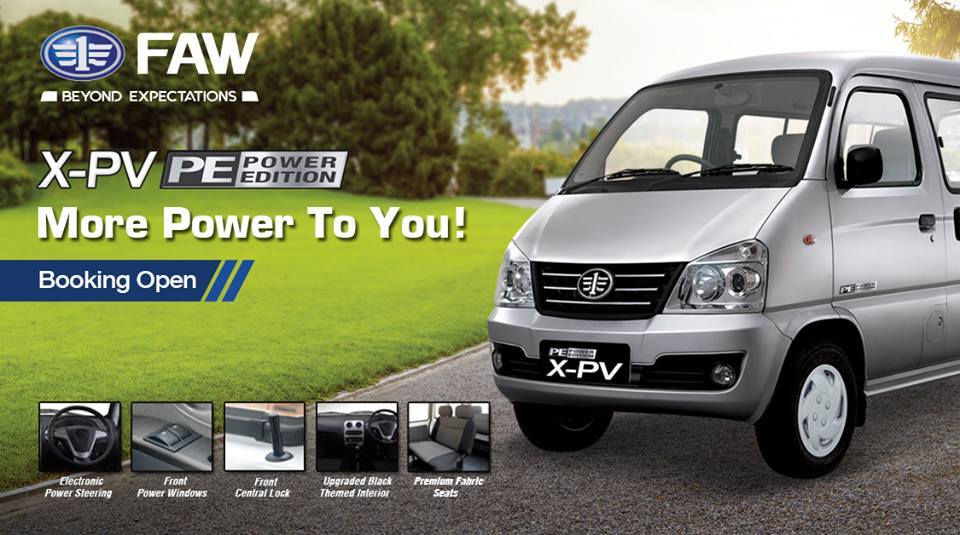 Are you looking for a family-size big and powerful vehicle to haul your family members, then the power edition of FAW X-PV can be the answer. The FAW X-PV comes under budget minivans available in Pakistan and rivals Suzuki Bolan in price and space. Al-Haj Motors has recently launched the power edition of its popular X-PV which is available with a cohort of new features. FAW targets budget buyers who want a little more than what was previously offered with the standard X-PV.
Features that are included in the power edition are:
Front Central Door Locks
Front Power Windows
Power-Wheel Steering
Black-Colored Dashboard
Black and Grey Seats
Three-Spoke Steering Wheel
These features gives an improved and upmarket look to the power edition when compared with the standard model. The FAW X-PV was first launched in the Pakistani market back in 2012 and by the end of that year, Al-Haj FAW motors started the local production of X-PV after it received somewhat positive feedback from the local market.
No doubt the FAW X-PV is a versatile vehicle which is economical to own as well. With an impressive fuel average, it is economical to travel around town to get done with chores. For business buyers, it can be converted into a cargo van or to haul passengers, as in the case of an educational institution, back and forth from their homes.
If you are looking into buying or selling a car or any other vehicle, visit OLX Pakistan to find a wide range of vehicles and choose the one that best suits your preferences and budget. OLX also offers products and services in other categories like property, electronics, home appliances, furniture, fashion, animals and much more!