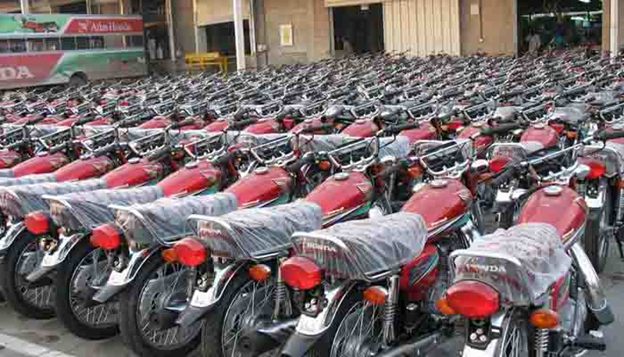 All sorts of vehicles have been made expensive exponentially after a constant devaluation of Pakistani Rupee against the US Dollar. The devaluation has of Rupee has surged prices and the Pakistani public experienced one of the worst waves of inflation in the country. With rising prices, demand for virtually everything in Pakistan has seen a downward trend,
Contrary to the normal trend, the sales figures of motorbikes have gone up in Pakistan. As opposed to cars, motorbikes are relatively affordable and in the ballpark of most of the people in Pakistan. Moreover, motorbikes are one of the cheapest forms of transportation in Pakistan. This can be a contributing factor to the increased sales of bikes. People who can no longer afford cars have to resort to buying motorbikes. This can be one of the contributing factors in the increased sales for bikes.
Honda Atlas has always taken the lead in the sales figures of motorbikes in Pakistan and in this case as well we can see Honda Atlas dominating the sales. Honda CD70 has solidified its position in the Pakistani market over many years. Honda is followed by United Autos and Suzuki in making groundbreaking sales in the motorbikes sector. The sales figures have gone up as much as 26 percent during the last fiscal year.
Taking a closer look at the bike market in Pakistan, you can see that it is rapidly expanding and diversifying itself. Previously, bikes were confined to the 125 cc range as people shunned bikes with huge engines. Recently, Honda, United Motors and Suzuki have successfully launched their 150 cc variants in the country. This has been done to tap into the high performance market segment of the market. Suzuki, in particular, has always provided high performance bikes to satiate it consumers.
If you are looking into buying a motorbike, you can always go online and visit
OLX Pakistan's website
and choose an offering that suits your budget. You can do all that from the comfort of your home.