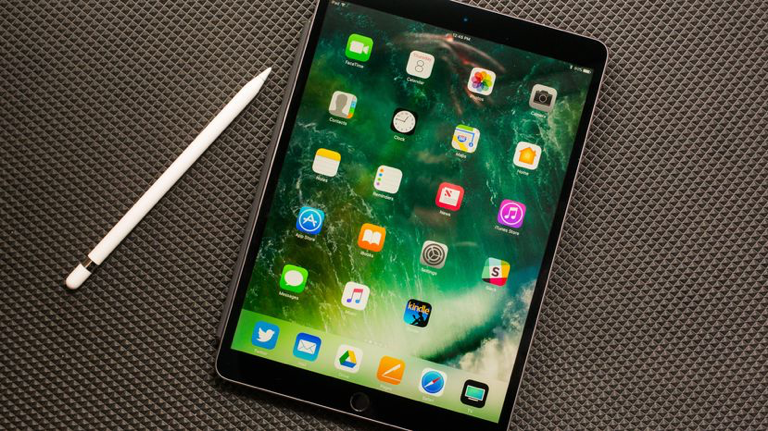 Apple iPad Pro
The iPad Pro from Apple proves to be a pinnacle in the tablet market with its 10.5-inch screen. Retina display on the iPad Pro has always been an eye-catcher for the consumers as it provides crisp displays. The display also includes the ProMotion technology which makes the screen extremely responsive.
The iPad Pro comes with the A10X Fusion chip with 64-bit architecture. The six cores of the processor make the iPad Pro extremely powerful for any performance-extensive tasks. Nevertheless, battery life has not been compromised and provides an entire day's worth of electric juice. Moreover, the iPad Pro has Apple Pencil integration which makes a drawing or taking notes extremely easy. With iOS 11, there is a score of Augmented Reality features that makes the entire experience more immersive and fluid.
You can buy or sell your Apple iPad Pro at http://bit.ly/2nrfW0t
Microsoft Surface Pro
The newest version of the Surface Pro from Microsoft comes with an Intel Core m3 processor coupled with 128 GB SSD internal storage and 4 GB of RAM. The display size id 12.3-inch with PixelSense technology and an aspect ratio of 3:2. Storage options also vary and you can choose between 128 GB, 256 GB, 512 GB, and 1 TB SSD storage. The dimensions of the tablet are 11.5×7.9×0.33 inches and it weighs approximately 800 g.
You can also choose from Intel Core m3, i5, and i7 processors. Memory can also be chosen from 4 GB, 8 GB, and 16 GB. The tablet also supports 4G LTE technology With an 8 MP rear-facing camera and a 5 MP front-facing camera.
You can buy or sell your Surface Pro at http://bit.ly/2M8ZCAf
Huawei MediaPad
This tablet provides an optimal blend of performance and functionality for the consumers. The tablet comes with a Kirin 950 processor and has the Android 6.0 Marshmallow with Emotion UI 4.1. The dimensions of MediaPad measure at 124.2×215.5×7.3 mm.
However, there is only one color available for the MediPad – Moonlight Silver. The display is 8.4-inch with 2560×1600 pixels of resolution. The front-facing and rear-facing cameras are both of 8 MP with fixed focus at the front and autofocus at the rear. This tablet has a 5100 mAh lithium polymer battery and comes standard with dual speakers.
You can buy or sell your MediaPad at http://bit.ly/2MBqxRg
Apple iPad Mini
The sole selling point of the iPad mini is that it is powerful yet small enough to carry around if you are a daily commuter. The recent generation of the iPad Mini is only 6.1 mm and weighs only 0.65 pounds. It has a 7.9-inch display with a screen resolution of 2048×1536 pixels. The iPad mini is powered by A8 chipset and has a 10-hours of battery life. You can buy the iPad mini in silver, gold, and space grey colors. Internal storage is set at 128 GB with a rear-facing 8 MP camera. The camera has autofocus and panorama mode.
You can buy or sell your iPad Mini at http://bit.ly/2w2jqdR
Lenovo Yoga
The Lenovo Yoga tablet has an Intel Atom processor with Intel HD graphics. The tablet is powered by Android 5.1 with 2 GB of RAM. The rear-facing camera is of 13 MP and the front-facing camera is of 5 MP. The tablet weighs at 665 g and has the option of fast charging. Moreover, the tablet has the AnyPen technology which detects any conductive object as a pen. The Yoga tablet has crisp visuals with the QHD display and helps in an immersive gaming experience. With one charge, you can go on for 18 hours; however, this time reduces significantly if you are doing high-performance tasks.
You can buy or sell your Lenovo Yoga tab at http://bit.ly/2nrgnrD