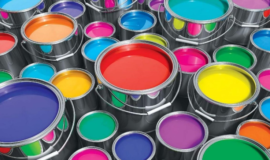 Painting your house is a quick way to make your house more appealing if you are putting it on the market to sell it or you just want it to be more soothing to your eyes. Hence, it is very important to choose the right color and the right paint so that you do not waste a huge amount of money by regretting your decision. It is also very inconvenient when the house is being painted and going through the process all over again can be very tiresome. Here are a few tips you can employ to make your experience worthwhile and your investment to last longer.
Paints come with different and varying degrees of glossiness and have options of either getting a latex or an oil one. Latex paints are expensive but the investment pays off as they are easier to clean and have longer durability. However, for wooden surfaces oil based paint is better than latex as seal stains from wood in much efficient manner than the latex one. Oil paint takes more time to dry out compared to the latex paint and the latter is preferred for the walls in your house.
Deciding on the glossiness of the paint is in part depends on your living conditions. It is easier to clean a glossier paint and if you have children at home who might make the walls dirty, paint with high gloss finish can be wiped easily with a damp sponge. For kitchens and bathrooms, you can opt for a semi-gloss as it is not overly shiny and provides the ease of wash-ability. The semi-gloss finish is more common and is also slightly cheaper. For rooms with imperfect walls, you can opt for a matte or flat paint as these are cheaper. Choose these paints for those rooms which are not frequently visited and do not get dirty often as matte or flat paint show dirt more prominently.
To get the best of both worlds, you should go with eggshell paint which is easier to wash, smooth to touch, durable and conceals imperfections like a flat paint. In selecting the color of paint, do a thorough research using the paint brochures and talk to the salesperson and, if convenient, take a representative of paint shop to your house to weigh different options. Remember paints cost a lot of money and you do not want to end up with a color that does not satisfy you. If you are trying to sell your house, go with a lighter color as it is easier for the buyer to redo the paint and it makes the living spaces look bigger and airy.
Choosing the color also has a profound effect on how you perceive your living space. For example, ceilings that are colored in a darker paint seem lower than they actually are. Make sure you select focal points across the room that you are painting. These focal points can be small bits of trim, like wood, or even an entire wall. You can paint one of the walls in a darker shade to give the illusion that the room is smaller than it actually is. If your room has moldings in the ceiling, you can choose contrasting colors to improve the visual aesthetics. Stairways can be a good focal point and when painted in a contrasting color to that of the room, it looks wonderful.
You do not necessarily need to spend huge amounts of money on an interior designer to freshen up the look of your house. You can redo the look of your house using your imagination when painting your house. Always think of highlights of your living space and how you want to feel when you are present therein. For example, if you want to feel cozy and comforted, choose shades of yellow or green. Moreover, if you want to feel a sense of serenity, opt for light green or neutral shades.
For more information on real estate in Pakistan visit OLX Pakistan's website. OLX is an online market place that sells a diverse category of products from automobiles to real estate and mobile phones.