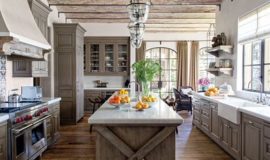 Renovation of your kitchen comprises of a series of important steps and if they are followed meticulously, the entire process becomes less cumbersome for you. When you factor in electronic appliances like dishwashers, refrigerators, ovens etc., you must not go overboard and spend all your funds on just one aspect of the kitchen. Make sure that the connections of utilities like gas, electricity and water are not meddled with as the cost can be exponential if you try to change them. The best course of action is usually to design your renovations around the utilities. Usually light shades like beige and white are less expensive and can last longer as fads and trends go in and out of vogue.
Make proper measurements of the area in which you will place your refrigerator and make sure to leave some space between the refrigerator and the surrounding kitchen cabinets to allow air flow. There are many smart refrigerators that are being offered by brands like Samsung, LG, Panasonic etc. Although they are very enticing to have, they can easily exhaust your budget set aside for other things. Furthermore, always aim for stainless steel items as they are resistant to water and dust and add to the value and aesthetic appeal of your home.
Although gas stoves are capable of cooking food quickly, they are difficult to clean and can cost more than electric ones. Electric stoves are sleeker looking; however, they are prone to damage from dropping pots and sugary liquids. Your dishwasher should also match with your cleaning and cooking habits, for example, if you rinse your dishes before putting them into the dishwasher, avoid getting dishwasher with a heavy-duty cycle control.
Such measures can save you from spending too much money on something that you do not essentially require. The hood used to remove heat and odor should be bigger than the area it is supposed to cover.
For information on home appliances and other products, please visit OLX Pakistan's website to sift through a wide array of products.