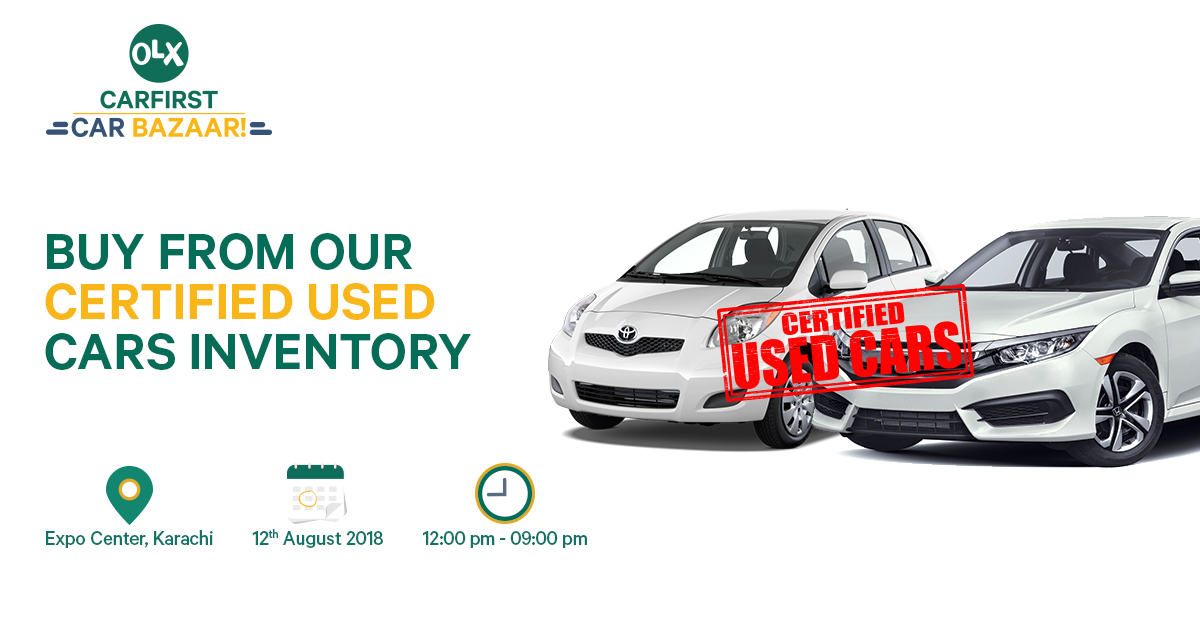 On the coming Sunday, August 12, from 12 PM to 9 PM, both OLX and CarFirst will host the first used car live auction at the Expo Center in Karachi. The Car Bazaar event will have certified used cars that you can buy at the auction without any hassle. This event will also provide you with the opportunity to sell your used car on the spot. You can also contact the dealer partners of OLX and CarFirst at the auction event for a chance to peek into their inventories. At the Car Bazaar, you will be able to trade used cars in the most secure, convenient and transparent manner.
There will be other activities like food stalls, free giveaways for the general public and sponsor activities for families. This event is going to be a one stop shop solution for anyone looking into buying and/or selling cars. Another exciting part of the event is the opportunity for you to win a Daihatsu Mira. All you have to do is to sell your used car at the OLX CarFirst Car Bazaar and enter into the lucky draw.
Moreover, attendees of the Car Bazaar event will be able to avail insurance and financing deals.
The Car Bazaar event is an amazing opportunity as you do not have to go to individual car dealers to sell or buy a used car. Selling your car on spot is hassle-free and is an opportunity to show your car to a large number of customers.
Your car will get inspected by OLX CarFirst experts so that the cars being traded at the auction are certified. A state-of-the-art bidding system will be used to give you the final price for your car so that it gets sold on the spot. For car buyers, certified cars will be available from OLX CarFirst trusted dealer network on great prices.
This event is going to be a huge milestone in highlighting the biggest live auction of used cars. It is a joint effort by OLX and CarFirst to revolutionize the way cars are traded in the country. If you are in or around Karachi on 12th of August, show up to avail the best deals and drive home in a certified car.