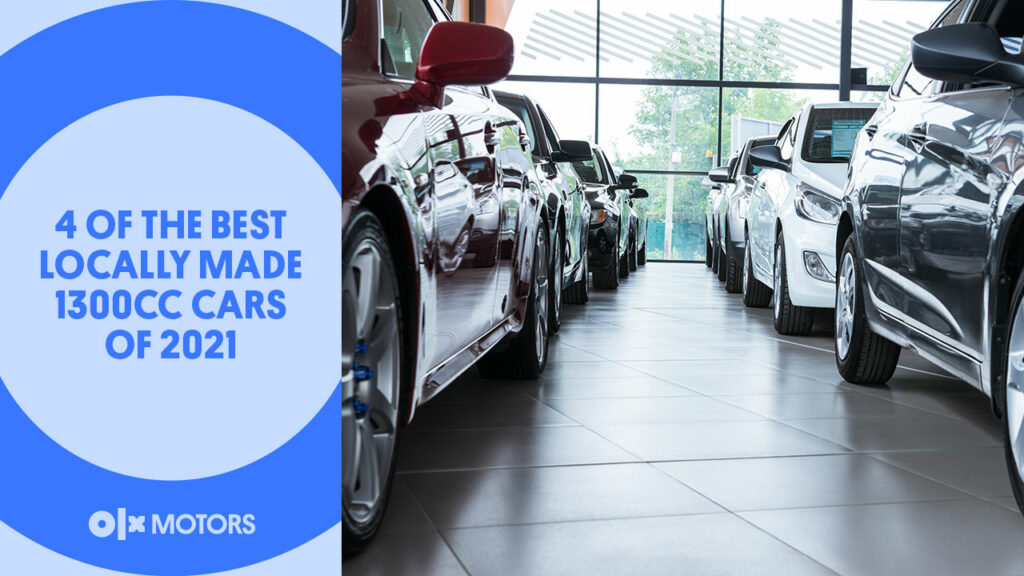 Buying a car is not an easy task, and that too when you have a limited budget. In this write-up, we will be discussing locally made cars equipped with 1.3L engines.
A '1300cc' engine displacement is the most suitable for upper-middle-class households. This type of car is usually not hard on your finances and is perfect for your family while its resale is also always up to the mark. Pakistan has its own set of locally made 1300cc vehicles.
Here, we are going to talk about the best of this lot, and mind you we are talking about the ones that are available as 2021 models. Without further ado, let us get straight into the blog.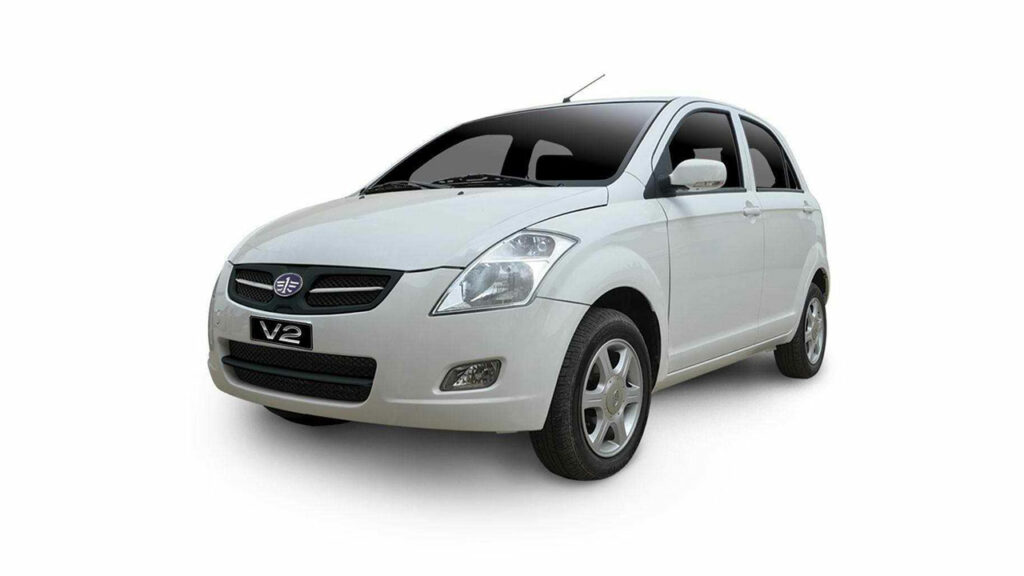 FAW V2
This one is the 1300cc hatchback of the list. They say this is the best car with 1300cc displacement in terms of power to weight ratio. Because of this, this car might also be the fastest on the list. The engine displacement and the body type of the vehicle had made it a direct competitor to Suzuki Swift.
Specs
The V2 is the only variant and it is the V2 VCT-i. It has a 1.3 Liter DOHC 16-Valve engine with a 5-Speed manual transmission. It has a rated power of 90 HP @ 6000 RPM and a maximum torque of 120 Nm @ 4400 RPM. The front suspension system is Macpherson Independent Suspension and for the rear, it is Sturt Arm Coil Spring Independent Suspension.
The brake system is as follows: Hydraulic Double Pipe, Vacuum Assisted, Composite Proportional Valve Braking System. It has a fuel tank capacity of 37 Liters and a compression ratio of 10:1. This car's fuel mileage is exceptional at 10KM/L but the main attraction of this car is its value for money.
These are the dimensions: Overall Height – 1,530mm, Overall Length – 3,760 mm, Overall Width – 1,680 mm and the Wheelbase is 2,550 mm. Tire and Wheels: Tyres – 175/65/R14, Wheel Size – 14 inches, and Wheel Type – Alloy Wheels.
Features
Alloy Wheels
Bosch Anti-Lock Braking System
Barrel Type Instrument Panel
LED (Light Emitting Diode) Taillights
High Mounted Brake Light
High Rigidity Body Cage
Built-in Door Crash Beam
Outer Mirrors with Turn Signals
Dual Airbags
Power Steering and Windows
Colors
It is available in 6 different colors and these are:
White
Misty Silver
Midnight Blue
Cherry Red
Grey Metallic
Pearl Black.
Price
It is available at an ex-factory price of PKR 1,609,000 and for a 1300cc car, this is highly competitive.
Resale And Maintenance
Compared to Honda, Toyota or Suzuki vehicles, the resale value of the car is low. Furthermore, the maintenance cost is somewhat good.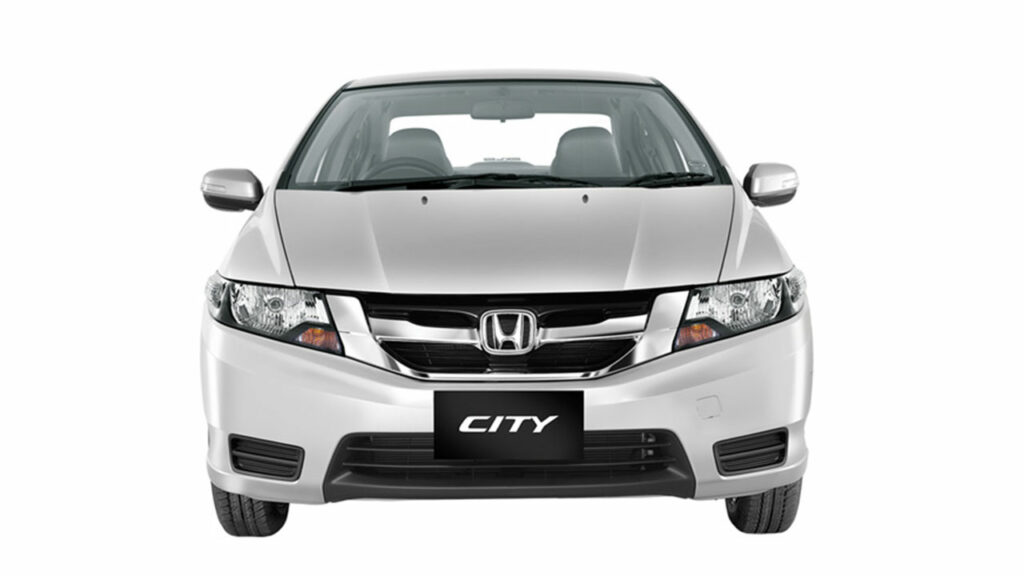 Honda City
Sometimes it seems that Pakistan is a natural habitat of Honda City. It is like it was made for the Pakistani terrain. The engine displacement, the sitting capacity for the nuclear family, the maintenance requirements, the resale, and even the look of the car gives it a vibe of a conventional family sedan car.
Specs
This 1300cc car has a SOHC, 16 valve 4-Cylinder, i-VTEC engine with Electronic Fuel Injection. Its exact engine displacement is 1339cc. 100Hp/6,000 is its maximum output while it has a torque of 128Nm /4,800 rpm. You can either get this in a 5-Speed Automatic (Prosmatec) or a 5-Speed Manual. Ground Clearance is 160mm and it has a fuel capacity of 42 Liters. It has a Macpherson Strut Suspension for the front wheels and Torsion Beam Suspension for the rear ones. Its front wheels have disk brakes and drums for the rear ones.
Dimensions are as follows: Overall Height – 1,480, Overall Length – 4,395 mm, Overall Width – 1,695 mm and the Wheelbase is 2,550 mm. Tire information: Tyres – 175/65/R15, Wheel Size – 15 inches, and Wheel Type – Steel Wheels. City 1.3 has a compression ratio of 10.5:1. The 1.3L i-VTEC has excellent mileage for a car of its size. The city with its 1300 displacement can give 14 to 16 KM/L of fuel average. This already puts it on the wish list of people who are thinking of getting a new car.
Features
Most of the stuff is optional in it as it is the most basic model but some of the standard options / optionals are as follows:
Chrome & Black Front Grill
Multi-Reflecting Crystal Head and Rear Lights
Power Door Locks
Power Windows
Power Steering
Keyless Entry
Optional Navigation System
Colors
The colors it comes in are:
Modern Steel Metallic
Rallye Red
Lunar Silver Metallic
Sporty Blue Metallic
Crystal Black Pearl
Taffeta White
Urban Titanium
Price
This base model of this 1300cc car is priced at PKR 24.49 Lacs when it is a manual one and the Prosmatec version comes with a PKR 26.39 Lacs price tag. Both prices are ex-factory.
Resale And Maintenance
Extensive availability of Honda Atlas Dealers and Maintenance Centers across the nation helps with the resale value and inexpensive maintenance of the said car.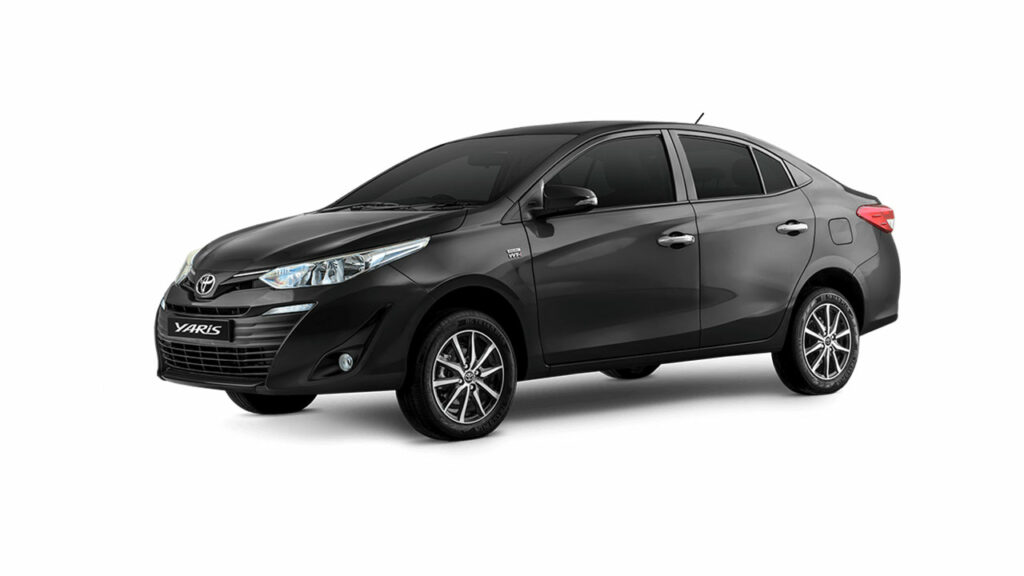 Toyota Yaris 2021
The Toyota Yaris 2021 replaces the previous model that held its slot in the category of 1300cc cars. That previous model was Toyota's own Corolla GLI and XLI. With their discontinuation, Yaris made its way into the Pakistan market as recently as of May 2020 and we have to say, Yaris is a welcome change into the 1300cc car line-up.
Specs
Toyota Yaris 2021 has two variants that fall in the 1300cc segment. These variants are GLI (with manual and automatic transmission ) and ATIV (again, with manual and automatic transmission). ATIV X is a 1.5L variant (out of scope). The most basic one has 98 hp @ 6000 RPM maximum output and has 123 Nm @ 4200 RPM of torque through its inline 4 DOHC 16 valve engine. 1329cc is its engine displacement and it has Sequential Multiport Fuel Injection. Yaris GLI 1.3 on average gives 14 to 16 KM/L fuel mileage. The automatic version of either trims has continuously variable transmission (CVT).
Yaris GLI 1.3 has a Macpherson Strut Front Suspension and a Torsion Beam for the back. Front brakes are Ventilated Discs and Rear Brakes are Drums. Fuel Capacity is 42 Liters. These are the dimensions for this car: Overall Height – 1475 mm, Overall Length – 4425 mm, Overall Width – 1730 mm and the Wheelbase is 2550 mm. Tire and Wheels: Tyres – 185/60/R15, Wheel Size – 15 inch and Wheel Type – Steel Rims with Wheel Caps.
Features
The GLI model of the car is the basic trim. You will get the standard stuff like power features in it and here are couple of its add-ons for it:
Climate Control
Leather Upholstery
Cruise Control
XENON-headlights
15-inch Alloy Wheels
Partial Chrome Plating
6.8 inches Touch Screen Infotainment
6 Speakers
Multi-Info Display
Smart Key
Dual Airbags
Rear Camera
Colors
Yaris 2021 is available in 7 different colors:
Attitude Black
Super White
Grey Graphite
Dorado Gold
Orange Metallic
Dark Blue Mica Metallic
Phantom Brown
Price
The prices for these aforementioned variants (with different transmissions) range from PKR 25.09 Lacs to PKR 27.69 Lacs and all of these prices are ex-factory.
Resale And Maintenance
It is expected to have an exceptional aftersales and maintenance service. It is because of the huge network of Toyota Indus Motors scattered throughout the country.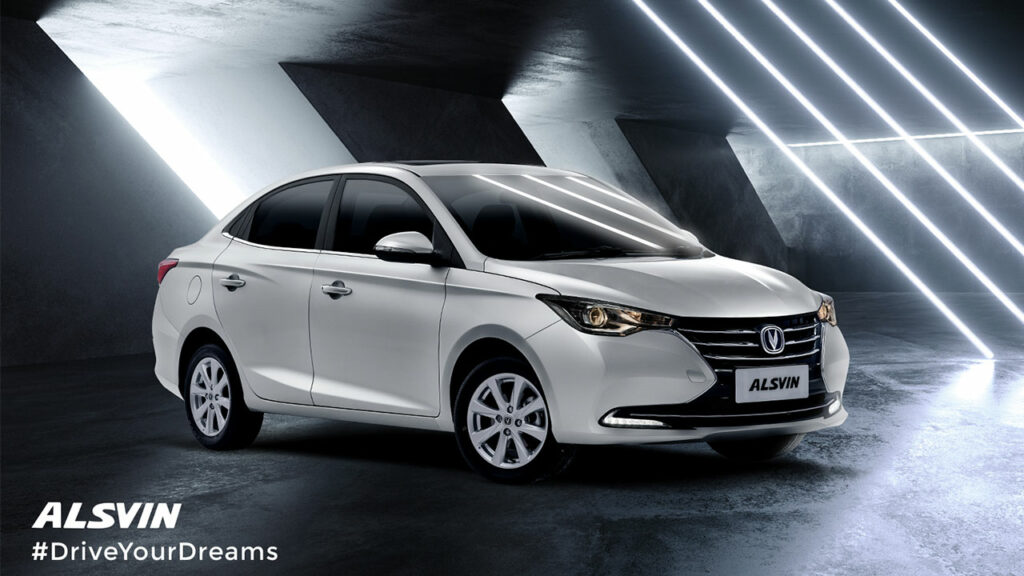 Changan Alsvin
This is the newest addition to the 1300cc sedan segment and undoubtedly it has diversified the local auto market. Changan is a Chinese brand and Alsvin is its passenger car offering in the local market.
Specs
Three variants exist of the said car. There is 1.3 Comfort and the 1.5 version is divided into two sub-variants, Comfort and Lumiere, with the latter being the highest trim available. Both of its engine displacements run on BlueCore Technology. Its engine is an In-line 4 cylinder MPFI DOHC, which produces 99 horsepower and 135 torque for the 1.3 variant. The 1.3 Comfort has a 5-Speed Manual Transmission. The dimensions are as follows: (Format) (mm) [LxWxH] – 4390 x 1725 x 1468 and its wheelbase is 2535mm and here are Tyres: 185/55 R15.
Features
The higher trims tend to have better features. For the 1.3 version, some of these are referenced below:
Alloy Rims
Speakers
Power Features (Windows, Locks, etcetera)
Halogen Headlamps With Electric Adjustment
7-inch Screen
Synthetic Leather Seats
Dual Airbags
Parking Sensors
Reversing Camera
Colors
Alsvin is available in six different colors:
Cosmic Red
Galaxy Black
Lunar Silver
Nebula Blue
Space Gray
Steller White
Price
The car is priced at PKR 2,199,000.
Resale And Maintenance
The car is new so resale value cannot be determined as of now, however, if the company wants their car to become successful they have to give good after sales services to its customers.
Conclusion
These are one of the best cars of their own classes. If price is your concern then go for the FAW V2. If you fancy elegance then perhaps City might be a great choice for you and take Yaris or Alsvin if you want to try something new in town.
OLX Pakistan is an online classifieds' marketplace providing access to affordable products and services to a large population of this country. Choose from a wide range of products and services online.