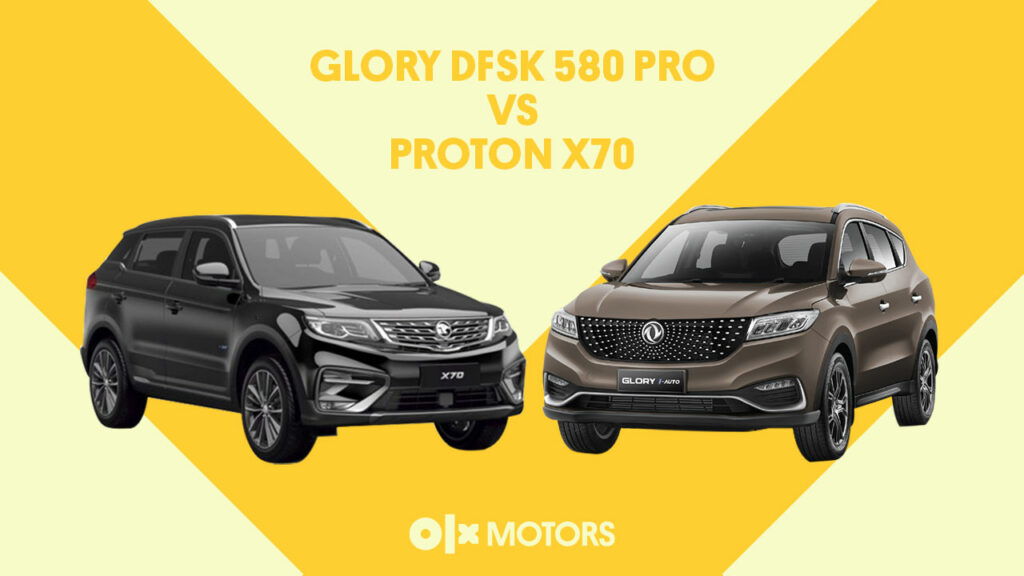 Since long people in the country were waiting for new car manufacturers to launch their products in the market, it seems all their dreams are now coming to reality. Proton has launched its all-new compact SUV X70 in the local market while DFSK has also introduced the new variant of its compact SUV Glory 580 namely Glory 580 Pro.
SUVs are not only becoming trendy globally, but also in Pakistan, the best example is the rising popularity of Kia Sportage—a compact SUV which has been launched not too long ago. The industry diversified even further with the launch of Proton X70 and Glory DFSK 580 Pro. Both these SUVs are packed with new cutting-edge features and technology much needed for the local auto industry.
You may also like:
DFSK SERES 3 Price in Pakistan, Specs, and Expected Features
DFSK Glory 580 pro was launched on December 20, 2020 whereas Proton X70 was launched on 18th December 2020. Due to Covid-19 and the government's health SOPs both these vehicles were launched digitally.
Interior And Exterior
From the first look, the two SUVs look somewhat similar from the outside with the iconic build and shape of a compact SUV. The interior of both the vehicles are equipped with all kinds of bells and whistles one can imagine.
The side profile of these two SUVs is curvy and aerodynamic which makes them more aggressive in their overall look. The all-new Proton X70 has been introduced in two variants: All Wheel Drive (AWD) Executive and Front Wheel Drive (FWD) Premium.
Proton X70 AWD Executive is equipped with 18-inch alloy wheels while FWD Premium variant has 19-inch alloy wheels whereas Glory 580 pro has 18-inch alloy wheels—same as Kia Sportage and Proton AWD Executive variant. As per the company, the local assembly of Proton X70 in the country will start from Q2 of 2021.
The features of Proton X70 AWD Executive includes: 360-Degree Camera, Driver Power Seats, On-Demand Active All Wheel Drive System etc. Furthermore, the additional features of the FWD Premium version are Nappa Leather Seats, Panoramic Sunroof etc. Glory 580 Pro is housed with cruise control, heated side mirrors, 4 rear parking sensors, electronically adjustable seats for both driver/passengers etc.
Price, Specs And Features
Glory 580 Pro is equipped with a 1.5-liter turbocharged engine that makes around 150 hp at 5600 RPM and 220 Nm at 4000 RPM while, on the other hand, Proton X70 will also come with a 1.5-liter Turbocharged engine that churns out 177 horsepower. Glory is mated to a CVT transmission whereas X70 is coupled with 7-speed DCT transmission.
Both these SUVs will come with the latest Voice Control feature which will enable you to control other features of the vehicles with ease. DFSK has termed its features as i-Talk. As far as the safety is concerned, Proton has six airbags in it while the Pro is equipped with 4 airbags. Without a doubt, the new entrants are focusing on the issue of safety in their cars to attract more consumers. This is indeed a welcome news for all the buyers who complain about having no airbag in the vehicle.
Now coming to the main part of the article and that is the prices of these vehicles. DFSK has priced its product at PKR 4,549,000, whereas Proton X70 Executive AWD and Premium FWD are priced at PKR 4,690,000 and PKR 4,990,000 respectively.
Verdict
We are happy that these new companies have launched their vehicles in the market. And have quenched the thirst of consumers which were waiting for new products. However, the company which will provide good after sale services will lead the race and will dominate the sector. So, let us wait and see how much better services Al-Haj and DFSK will provide to their consumers.
This was a brief review of Proton X70 and Glory 580 Pro for our esteemed readers, we have tried to list the important aspects of both these SUVs as briefly as possible. Note that we will write a detailed blog of the said vehicles once we get our hands on them. Until then, keep reading and keep exploring new things on OLX Pakistan.
That's from our side, drop your thoughts in the comments section below. And also do tell, which one would you prefer: Proton X70 or Glory 580 Pro, in the comment box.
If you are looking into buying or selling a car or any other vehicle, visit OLX Pakistan to find a wide range of vehicles and choose the one that best suits your preferences and budget.
You may also like:
DFSK Glory 500 in Pakistan | Overview | Expected Launch Date and Price | Specifications | Features