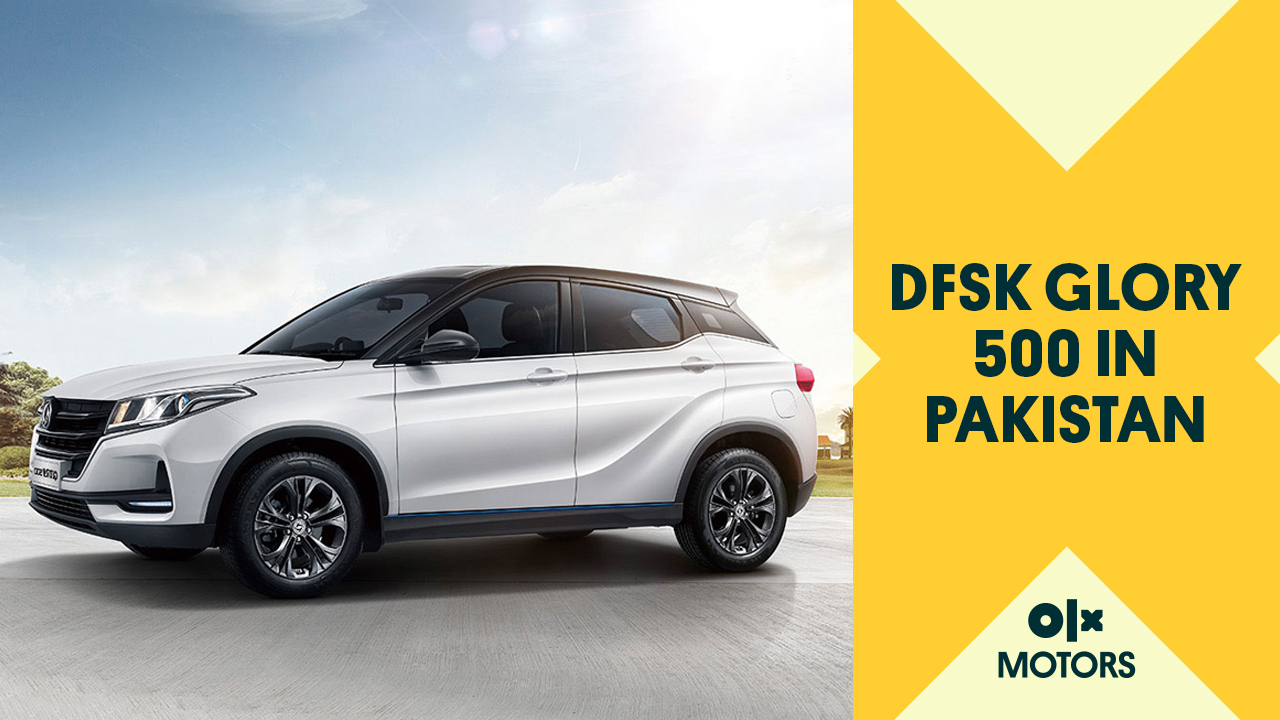 Crossover SUVs have become popular among the local consumers bringing a lot of opportunities for many car brands. Companies like KIA, Hyundai, MG, and others have already cashed in on this. Many other automobile companies are eying this growing segment. 
You may also like:
DFSK SERES S3 Price in Pakistan, Specs, and Expected Features
Regal Automobiles is going to launch its cheapest crossover SUV in Pakistan. Yes! We are talking about DFSK Glory 500. It has full potential to attract people seeking a budget-friendly car in this category.
Currently, there is no information on anything about what features and specifications it will have in Pakistan. So, let us discuss its global model, which is already launched in different countries, such as China, Belgium, Australia, Indonesia, and many others. We can only hope that DFSK Pakistan, unlike other auto manufacturers, will not cut down its features for the Pakistani market.
Overview
Glory 500, also known as Fengon 500 and Glory E3 (electric version) in China, is a crossover SUV launched by DFSK Motor in 2019. It has a 1.5 L petrol engine that produces 116 horsepower which is more than enough for a 5-seater. Many like its CVT gearbox. It is not less than bliss for people searching for budget cars in this segment.
Variants
There is no confirmation about the variants going to be introduced in Pakistan. Globally, Glory comes in three variants.
Glory 500 or Fengon 500
This version has a petrol engine of 1.5 L with 5 speed CVT gearbox. It is most probably the version we should expect. The other two variants are:
E3 EV
It is a completely electric version of this car that comes with an electric motor operating at 120 KW via a 53.6 kWh battery. It can travel up to 405 KMs on a single charge.
E3 EVR
EVR is a hybrid variant from DFSK having a 1.5 L petrol engine that delivers 50 KW to charge the battery. It has an electric motor that delivers about 120 KW via a 17.28 kWh lithium-ion battery.
Specifications of Glory 500
Official information is not out about the specifications of Glory 500 in Pakistani market yet. Here are some specifications of its global model that will give you a better idea of what to expect from it.
Length Width
4,385 mm 1,850 mm
Height Wheelbase
1,645 mm 2,665 mm
Engine Power
1.5L 116 hp
Gearbox Torque
CVT 147.5 Nm @3600 to 4000 RPM
Safety and comfort features
Some of the key features of Glory 500 are as follows.
| | |
| --- | --- |
| Airbags | Reverse assist |
| Power door locks | Anti-lock Braking System |
| Electronic Brake Force Distribution | Theft alarm system |
| Touch screen display | Ultrawide Panoramic Sunroof |
| Rain sensor | Automatic headlamps |
| Keyless entry | One button start |
When will it be launched?
Well, it is the most awaited question. It was expected to be launched at the end of 2021, but that's not the case now. With no official announcements, we can only rely on the information from different sources that give us hope for its launch in 2022.
DFSK glory 500 price in Pakistan
We don't have any official figures for its price. But it is expected to be launched between the price range of Rs.3,500,000 to 4,500,000 when we convert the prices of its global versions and add estimated taxes.
Interior
Premium build quality is going to surprise most of the people if DFSK launches the variant having the same interior as the global model of Glory 500. In this case, you are going to have a premium feel as the interior quality of its global model is quite exceptional. Synthetic leather seats and the steering wheel is enough to describe the quality of the interior. You will be amazed by the style and standard of the gear knob and touch screen display. Its functions like the adjustable steering wheel and 6-way adjustable driver seat are going to impress many.
Exterior
The same is the case with the exterior as it looks remarkable especially when we look at its price range and other cars in that range. It has a sporty look due to the rear spoiler and sleek headlights. With three layer grille and compact DRLs in the bumper, it has an aggressive front side view. You will find the rear window more tilted than others that enhances its overall look.
Engine and performance of DFSK Glory 500
A 1.5 L 4-cylinder petrol engine that produces about 116 horsepower is suitable for this category of crossover SUVs. It has a better aerodynamic design as compared to many other cars in this segment. It means that this car might give you better performance in reality due to its modern design.
Fuel economy
It is a major concern of many local consumers. This car can give a fuel economy of 12 km/l to 15 km/l depending upon driving style and area. Moreover, it comes with a 46 L tank capacity. It can help you travel over 500 km on full tank.
Major competitors of Glory 500
Toyota Rush, Kia Stonic, MG ZS, Glory 580, and Nissan Juke are some of the major competitors of this DFSK Glory. Some Sedans in this price range like Hyundai Elantra, Honda Civic, Toyota Corolla, and others also come under indirect competition.
Suitability of DFSK Glory 500 for Pakistani Market
With the booming crossover SUV market in Pakistan, there is a lot of room for budget cars. This SUV is among the most affordable in its category. It also offers a lot of options and features that its competitors do not. This could mean that this car has a promising future.
Would you be interested in buying this SUV? If yes then let us know the reasons in the comment section.