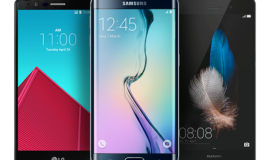 If you do not want to restrict yourself to an iPhone or buying an expensive one, you can always rely on a plethora of Android phones out there which are just as capable as products coming out of Apple. Even though they might lack a few features, they will get the job done for you. Here are a few Android phones that can give Apple products a tough time:
Over the years, Samsung has been providing us with amazing smartphones with specifications that put them at the top end of the market. Considering Galaxy S9 Plus, the most prominent feature is the 6.2 inch Super AMOLED Infinity display with a pixel resolution of 1440 x 2960. In terms of developing screen technology, Samsung really sets industry standards. One of the two different chipsets can come with the Galaxy S9 Plus depending on the part of the world where you live. It is either the Snapdragon 845 or the Exynos 9810 and the chipset is accompanied with up to 256 GB of internal storage or 6 GB of RAM. Moreover, features also include iris scanner, water proofing and wireless charging.
OnePlus is a brand that penetrated the market back in 2014 with smartphones having amazing features at much more reasonable prices. Over the years, it has been pretty successful in attracting customers away from brands like Samsung and the new OnePlus 6 has done the same thing.
Features of OnePlus 6 kick off with a 6.28-inch, 1440 x 2880 pixel AMOLED display and an 8 GB RAM that makes it run fast. OnePlus has also taken Android OS and tweaked it a little bit to inculcate Oxygen OS in the OnePlus 6. The Oxygen OS, according to some people, looks better than the Android OS in some aspects. However, in a battle with other smartphones, it lacks certain features like water proofing and wireless charging.
HTC U12+ is a sleek looking machine that that has broken into the premium smartphone category and has attracted a few consumers away from other brands. Under the skin, there is a 6 GB RAM and a Snapdragon 845 processor just like other brands. On the storage fun, you get 128 GB and the option of inserting a microSD card for added storage space. The display is a 6 inch with a resolution of 1440 x 2880 pixel. HTC has also dropped the notch and embedded the fingerprint scanner into the screen just like iPhone X. It also includes a dual-lens 12MP+16MP camera which makes the phone capable of taking some amazing pictures. There are certain features like Edge Squeeze and Boom-sound speaker which you cannot find with other smartphone brands.
Since Google develops the Android platform, the Google Pixel 2 XL must be construed as Google's ultimate vision of what an Android phone should look like. It has prominent features like the Google assistant and certain aspects of the AI technology that is being developed at Google. Although Google assistant is available on the other Android phones as well, with Google Pixel it is woven and integrated into the Android platform and users can take charge of the newest AI updates coming out of Google.
Specifications include a 6-inch OLED screen offering a 1440 x 2880 pixels of screen resolution with a Snapdragon 835 chip set and 4GB of RAM. Considering the specifications, it does not meet eye to eye with the Samsung Galaxy S9; however, it has an edge in the OS arena.
If you have a knack for a stylus and want a really huge phone, you can go for the Note 8. Galaxy Note 8 cracks into the phablet category and Samsung has been producing Note series for a quite some time now and the stylus is more than a gimmick now. It has a 6.3-inch Super AMOLED screen and a screen resolution of 1440 x 2960 pixels. It has a Snapdragon 865 chipset with 256 GB of storage and a 6 GB RAM. Considering that it came out last year, the specification still to this day are amazing and comparable to other brands. Moreover, it also packs a 12MP + 12MP dual-lens camera that provides amazing performance in low light conditions.
After taking on the Asian markets, it has been an ambition of Huawei to break into the European and US markets as well. To achieve this end it has been including innovative features and high spec hardware. As far as dual lens are concerned, Huawei did it first and the other followed suit and the P20 pro goes a step further. Therefore, it takes amazing photos and provides even better results in point-and-shoot mode. For all those mobile photographers out there, the P20 can be a great choice.
The P20 has a Kirin 970 chipset, 128 GB of storage and a 6 GB of RAM. It also includes certain AI capabilities into its platform and the chipset which it make itself. However, it lacks in few features like wireless charging and has a few eccentricities in the software.
If you are looking into buying a smartphone or any other electronic product, please visit the
OLX Pakistan's website
and browse for the smartphone that you want.