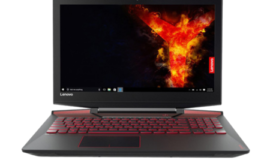 Lenovo has recently updated its PC gaming lineup with the introduction of six new systems: Y730 / Y530 laptops, C730 / C530 cubes and T730 / T530 towers. These systems are specifically built for gaming but can also be incorporated into everyday use. With the introduction of these systems Lenovo endeavors to offer gaming systems in every category of PCs which include ATX towers, cubes and laptops. The design of these systems is darker and more mature than those laden with striking lights and logos. Lenovo is also releasing systems with lower graphics and gaming capabilities to cater to a market segment that wants mid- to low-tier gaming specifications.
The laptops Y530 and Y730 are equipped with Nvidia's GeForce GTX 1050Ti GPU, slim bazel screen, dual chamber cooling and Core i7 Intel processor. Furthermore, Y730 has a Corsair back-lit keyboard with six macro Y keys and Y530 comes with an optional IPS display. Both Cube variants come with an Intel Core i7 processor, optional RGB lighting and 32GB DDR4 RAM.
The main gaming powerhouses from Lenovo are the ATX tower systems known as the T530 and T730. However, they offer GPUs that are not the most powerful and capable in the market. The optional GPUs go only up to Nvidia's GeForce GTX 1060. Customers can seem a bit confined with that graphics card even though they can up to 32 GB Core i7 chips.
The Cubes and ATX tower systems will go on sale in August 2018 and the laptops will be available from September 2018. The 17-inch Y730 model will start from $1,249.99 and the same model in 15-inch will go for $1,179.99. ATX towers and cubes will start from $829 and can optioned up to $929. Lenovo's Legion systems face direct competition from Dell Alienware systems that are priced slightly higher than Legion systems.
For more information on buying laptops kindly visit OLX Pakistan's website to browse through a variety of laptops, mobile phones and electronics. You can also shop for accessories for your laptops, mobile phones and gaming consoles on OLX Pakistan.