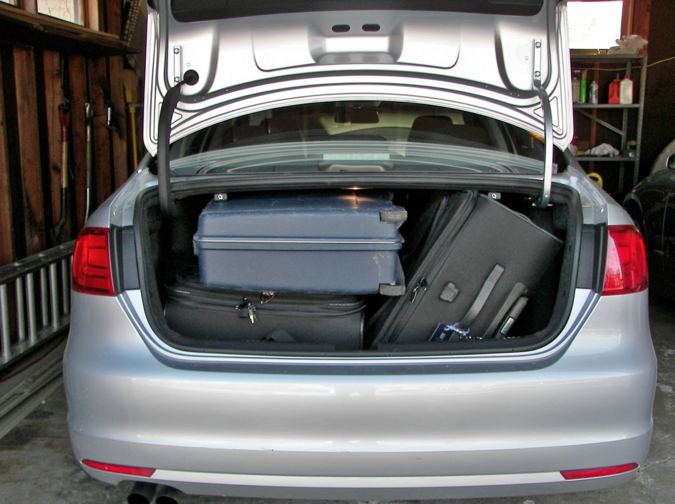 As we all know, going on a long road trip for holidays can be tiresome at times as it needs planning and usually stress initiates from packing luggage in your car and deciding the clothes you want to take with you. One of the stressful things that you can find before leaving for your holidays is that your luggage cannot fit in the boot. To make the packing process a little easier for you, here are some of the tips from our side.
First thing that can be done is to ascertain the rough estimates of your car's boot space in order to find out whether your stuff will fit in it. This will actually help you in deciding what to take with you on the trip. For example, if you have a kid, you will have to pack a lot of stuff for the kid like a stroller before you embark upon the tumultuous journey to pack yours. Also make sure that you take out all the things that you will not need for the road trip, for example, a winter coat in your boot that you obviously do not need on a road trip in summers. This will free up an ample amount of space for your luggage to be housed in the boot. A roof rack can be a good and practical option if your boot fill ups; however, most people avoid the hassle of installing one.
The way you adopt to load your luggage in the boot is also very imperative in fitting in the optimal amount of luggage. Always remember to stuff larger items into the boot first before loading the smaller items as it allows the smaller places left out to be filled with items. If you have an SUV, make sure you fix everything in place so that it does not move around the cabin causing disruption to the driver or decreasing the visibility.
Another very important thing that you can do to optimize the luggage capacity is to use vacuum bags to pack your clothes. Vacuum bags can be easily bought from supermarkets and you will not regret investing in them as they free up a lot of space in your suitcase which means that for the same amount of clothes, you will have to carry fewer bags.
Always try to ask a question to yourself – do I really need this item with me on the trip? Sometimes we pack things like our own pillows, which if not included can free up a lot space for other essentials. One last thing that is also crucial is to pack something for entertainment for your passengers especially if you have children. A tablet computer can be handy as it house a lot of music, movies and games that can keep them occupied on a long road trip.
You can always visit OLX Pakistan's website to buy cars or their accessories. OLX also has a plethora of other products that you might be interested in, for example, home appliances, mobile phones and real estate.