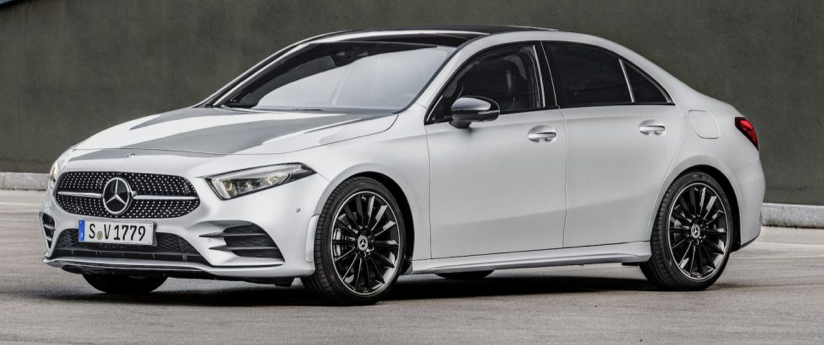 Mercedes recently revealed a new compact sedan to provide more diversity in its A-Class range. Previously Mercedes launched a hatchback in the A-Class category which received rave reviews across the world. The cutting-edge technology made the A-Class hatchback a fierce competitor in the hatchback section of the auto market. The A-Class sedan is similar to the hatchback by boasting triangular headlights. The new A-Class sedan also resembles the CLS-Class which gives it an upmarket and premium feel.
The A-Class sedan is smaller than the CLA-Class which is about three inches longer than the A-Class sedan. Considering the width, both the A-Class and the CLA have similar figures. What makes the A-Class sedan standout is the interior. Even the sedan is entry level in the vehicle lineup of Mercedes, the interior is comparable to vehicles found high up the lineup. Features like digital driver's display, which is of 7 inches, make the interior feel high quality.
The new infotainment system is called the MBUX and has voice recognition features much like your iPhone and can be prompted by saying 'Hey Mercedes'. The infotainment system also has augmented reality feature that uses the front-facing camera to put navigation directions on the screen. Other features include LED headlights, a panoramic sunroof, Android Auto and Apple CarPlay.
The powertrain includes a 2.0 liter four-cylinder engine which will pump out 188 horsepower. The top speed of the car is limited to 130 mph and will include a seven-speed dual-clutch transmission. The A-Class sedan is expected to go on sale in the late 2018 and will cost around 60 lacs in Pakistani Rupees.
For more information on cars and other vehicles being sold in Pakistan visit OLX Pakistan's website. OLX is an online market place that sells a diverse category of products from automobiles to real estate and mobile phones.
You may also like: