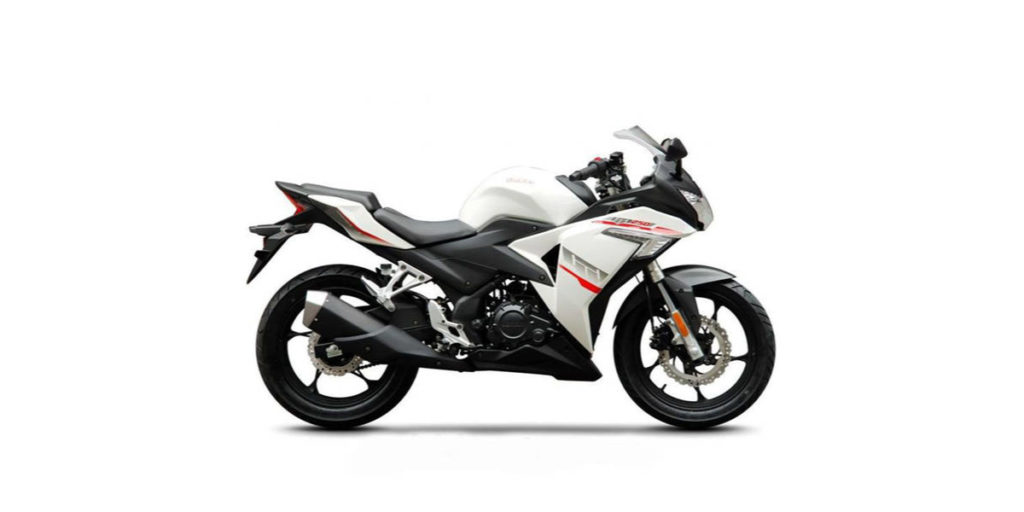 The new sports bike from Super Power will be up for sale in Pakistan beginning 15th September. Under the hood, the sports bike will have a single-cylinder 250cc engine and will have features like daytime running LED lights, project headlamp and LED taillights. These lights enhance visibility at night add to the sporty nature of the bike. The 250cc engine can propel the bike to a maximum speed of 105 km/h. Moreover, the bike has a free-flow exhaust system that makes the exhaust sound more prominent. The sports bike is capable of returning 24-26 km/liter and can store up to 12 liters of fuel.
Considering the bike is to be driven at high speeds, the front and rear both have disc brakes to bring the bike to a halt quickly and smoothly. It is expected to be offered in two colors – white and black with a price tag of approximately Rs. 290,000. The bike will be targeted to the younger consumers and Super Power has previously launched Archi 150cc and Leo 200cc sports bikes in Pakistan, also catering to the younger populace.
The 250cc superbike from Super Power is known by Loncin GP in China and has also been launched in Bangladesh and Russia earlier this year. The design language makes the bike sleeker, sporty and light-weight. Moreover, the bike has a 6-speed transmission and features a steel body frame entirely. The bike will also feature an LCD digital meter which is conducive to enhanced visibility at night. Moving forward, there is a digital fuel gauge and gear shift indicator. Other 250cc bikes listed on OLX Pakistan include Honda Hornet, Suzuki GSXR, RPS Hawk and Kawasaki Balius among others.
If you are looking into selling or buying motorbikes, visit OLX Pakistan's website to browse through a number of options best suited to your choice and budget.