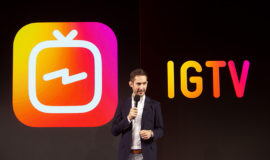 There is an ever-increasing cutthroat rivalry between the tech giants of the Silicon Valley and the recent venture of Instagram, owned by Facebook, into the realm of video sharing to rival YouTube, owned by Google, is a testament to that. This video hub by Instagram is called IGTV and it is integrated with the Instagram app. Over the past few weeks, Instagram has met with a number of content creators to urge them to produce videos for the new platform. The videos that will be supported by the new platform range from 15 seconds to 60 minutes.
At a flashy event in San Francisco, California, Instagram announced the arrival of IGTV to rival YouTube. There is a standalone app available on both the iOS and Android platforms and it can also be accessed through the Instagram app through a TV-shaped button above Stories. The good thing about IGTV is that it will allow anyone to create videos and interesting content for the platform, not just the celebrities. However, new and smaller accounts will not be able to upload videos which are an hour long in length. This feature will get available for new and smaller accounts eventually.
The users will be able to browse through a number of videos, both in the standalone app and the Instagram app, and can also see the creators they are following. Just like Youtube, the content creators can start their own channel and users can subscribe to these channels. Moreover, similar to Youtube, content creators on IGTV will be able to put links in the description of the videos that they create in order to take the traffic to other platforms like Facebook.
Currently there are no advertisement on the IGTV; however, Instagram says that advertisement will eventually find their way to the IGTV platform as it is a reasonable place for advertisements. Content creators put a lot of effort and utilize their resources in making videos and placing advertisements is an appropriate way for them to monetize their videos. This will make IGTV a sustainable platform for the creators to keep on creating quality videos for the users.
Instagram's huge audience can lead to IGTV becoming popular in the future as content creators will want to grow their audience apart from earning money. After the launch of IGTV, Facebook's share price went up 2.2 percent to $202. Advertisers will also get attracted to IGTV considering the big audience as they are moving away from the traditional TVCs. IGTV has the potential to become the 'mobile TV' even though YouTube will always have a larger inventory of content if IGTV does not offer incentive to the creators soon to kick start their videos on the platform.
If you are looking into buying a smartphone or any other electronic product, please visit the
OLX Pakistan's website
and select the phone of your choice!