Pakistanis got a taste of it with Honda Vezel. And we can't seem to get enough of it. Kia Sportage was the icing on the cake and the floodgates have opened since then.
For the last few years, one after the other, SUVs from various auto manufacturers have been launched in the local market. And this trend doesn't seem to be slowing down anytime soon. Now, Changan is ready to introduce its compact crossover SUV named Changan UNI-T. The Chinese auto manufacturer seems to have been encouraged with the success of Karvaan in the minivan category and the steady start of Alsvin in the sedan category.
UNI-T doesn't only have an elegant and aggressive look, but also a lot of modern features. Here is a complete Changan UNI-T review to give you an idea of what to expect from this next level SUV.
Exterior of Changan UNI-T
Futuristic is the first word that strikes our minds when we look at the exterior of UNI-T. The front grille is large, wide, mounted in the bumper, and has the same colour as the body. Sharp character lines on the bonnet or hood are congruent with the sharp and sleek LED headlamps. DRLs are also integrated sharply to give an overall aggressive look to the front side. Horizon belt lines also look elegant on the sides. The door handles are almost camouflaged due to their colour matching with the body. It has both 225/55 R19 and 245/45 R20 alloy wheels options in the global model.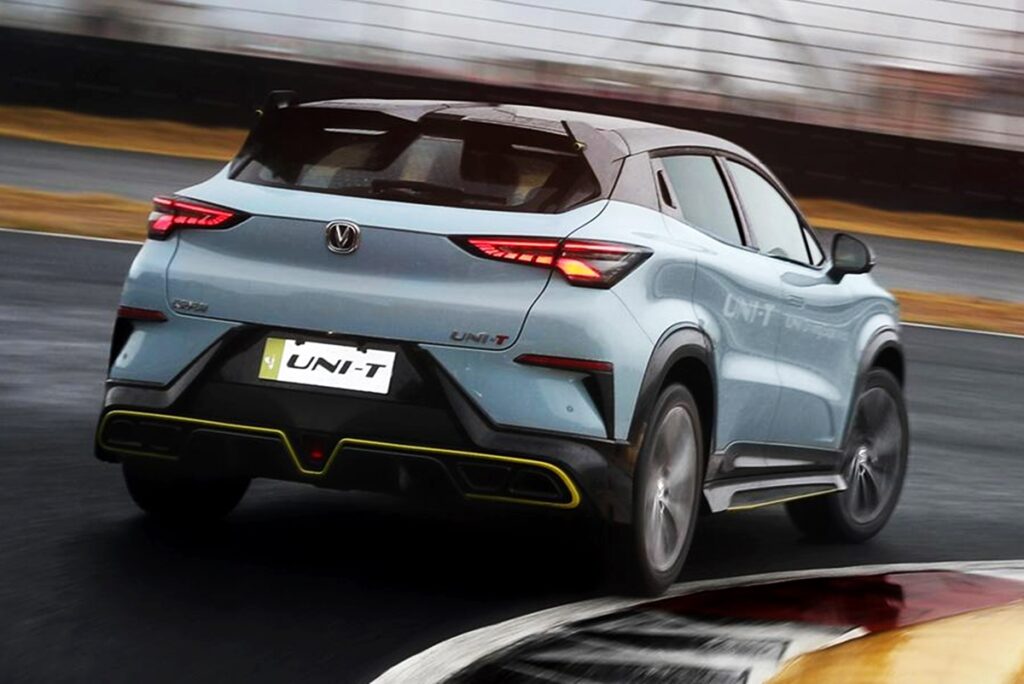 Unlike many other SUVs, Changan UNI-Ts rear has a steeply raked roofline. Sharp smoke tail lights bring the element of elegance to the rear side. This CUV (crossover SUV) has alternating exhaust outlets and sandwiching diffusers. At the top, it has a pair of spoilers that give it a sportier look that you will hardly see in other crossovers.
Changan UNI-T Interior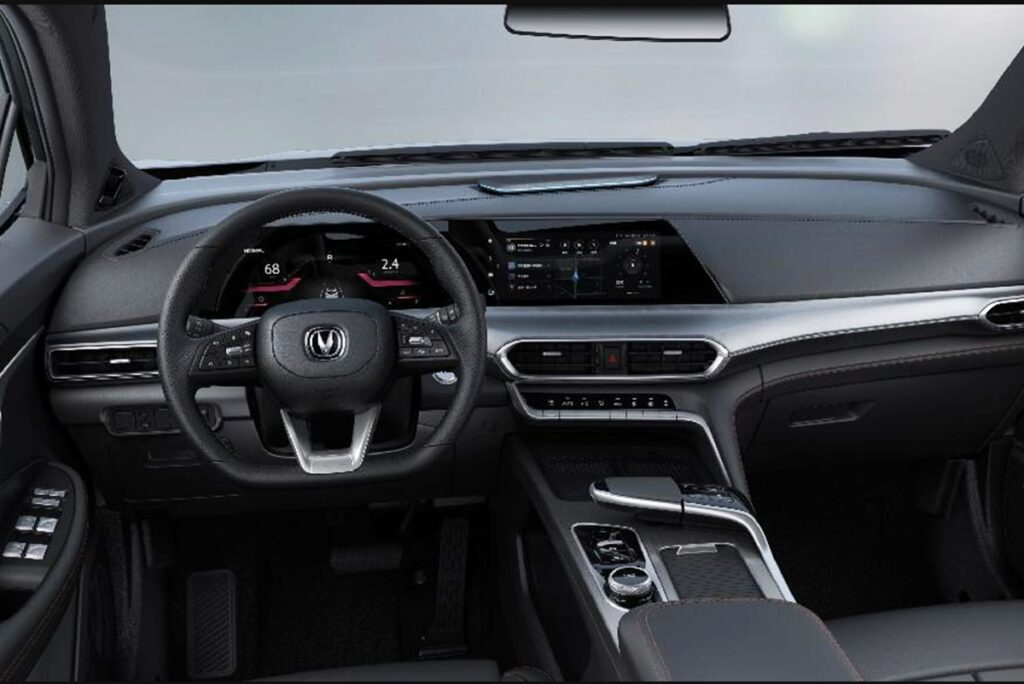 Thanks to its dual tone interior, UNI-Ts sporty and modern cabin will give you the same vibe as its exterior. You get two screens (instrument cluster and infotainment) combined together. Shifter gives a futuristic feel due to its ergonomic design and is also pretty easy to use. On its side, we have a series of buttons such as self-parking, 360 camera, selfie camera, etc. The legroom is decent, but headroom could be better for the taller passengers. Given its price, this SUVs Interior quality is fine. Moreover, it has electronically adjusted seats. Roof (from front to back) is totally made of glass that gives a unique ultra panoramic view.
Safety and comfort features 
This automobile has a lot of modern safety and comfort features due to which it will be able to compete with many other crossovers in the local market after its launch.
Safety features
| | |
| --- | --- |
| Automatic braking system | 5mm wave radar sensors |
| Driver drowsiness detection system | 6 cameras |
| Three levels autonomous driving system (conditional full autonomy) | 12 ultrasonic sensors |
| 2 Self driving modes (traffic and high speed) | VOC (Volatile Organic Compounds) control system |
| Tire-pressure monitoring system | Anti-lock braking system (ABS) |
| Electronic brakeforce distribution (EBD) | Traction Control |
| Hill Start Assist | Blind Spot Assist |
| ISOFIX child seats | Driver/passenger airbags |
Comfort features
| | |
| --- | --- |
| Voice commands | 10.25" touch screen (infotainment system) |
| Facial recognition system | Floating roof design |
| Self Parking | Electric trunk |
| Central lock | Immobiliser |
| Keyless entry system | Keyless engine start |
| Driver/passenger seat electric adjustment | Armrest (front and rear) |
| Multifunction steering wheel | |
Changan UNI-T specs
Specifications of Changan UNI-T
| | |
| --- | --- |
| Length | 4515mm |
| Width | 1870mm |
| Height | 1565mm |
| Wheelbase | 2710mm |
| Curb weight | 1465kg |
| Front Suspension | McPherson struts |
| Rear Suspension | Multi-link |
| Front Brakes | Vented disc |
| Rear Brakes | Discs |
| Fuel tank capacity | 55L |
Engine and performance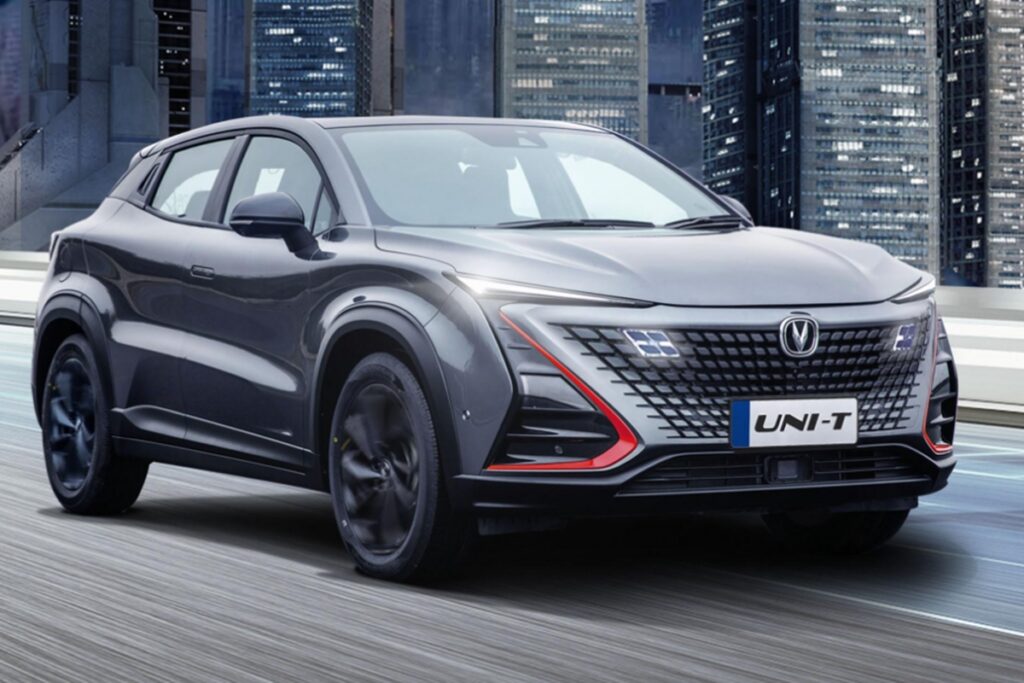 UNI-T comes with a 1.5L turbocharged four-cylinder engine that produces about 177ps horsepower and 300 N.m torque with a 7-speed DCT. It comes with a front-wheel drive. There were also rumours about a 2.0L engine but there isn't an official announcement about it yet. The company claims that UNI-T can reach 0 to 100 km/h in 7.57 seconds. It has three modes mentioned below.
In a specific mode and limited driving conditions, this vehicle provides hands-free, eyes-free, and feet-free driving due to the level three autonomous system in it.
Changan UNI-T fuel average
The fuel average of its global model is around 6.3 L per 100 KM which is almost 15.8 Km/L. However, it can vary depending upon the driving style and conditions. To be on the safer side, we can expect an average range between 12-16 Km/L.
What could be the price of Changan UNI-T in Pakistan?
Its price in China is around 113,900 Yuan (PKR 3,160,000) to 135900 Yuan (PKR 3,770,000). Adding a variety of automobile related duties and taxes, Changan UNI-Ts expected price range is around Rs.4,500,000 to Rs.5,000,000.
Is Changan UNI-T coming to Pakistan?
As per different sources, the Changan UNI-T launch in Pakistan is expected in 2022. Testing units are already in Pakistan that could mean its launch is imminent or delayed depending upon the company. To date, there is no official announcement from the company.
Competitors of UNI-T in Pakistan?
The competitors of this SUV will be Peugeot 2008, Haval Jolion, KIA Sportage, Hyundai Tucson, and MG HS regardless of the difference in their prices. It is due to their similar dimensions, features, and specs.
If you can't wait for UNI-Ts launch in Pakistan, why not search for its alternatives? Simply click on the vehicle you are interested in.
Some upcoming SUVs such as DFSK Glory 500, Proton X50, and GAC GS3 will also compete with UNI-T.
Find out more about these upcoming cars here.
Proton X50: An upcoming budget SUV
Is UNI-T the next Sportage or Vezel?
The global model of this crossover offers a lot of modern features, futuristic design and decent performance that might attract a lot of consumers in the local market. However, its launch Motivación culturismo – Glory masteron 100 por dragon pharma en espana drostanolone propionate investigadores de culturismo descubren una paradoja desconcertante en hombres que usan esteroides price is going to play a crucial role in its success as it is an important factor for the success of any vehicle in Pakistan.
What do you make of this hands-free, eyes-free and feet-free SUV in Pakistan? Tell us in the comment section.
You may also like: