Mostly identified for its long neck and an aggressive look, Asil chicken, also known as "Aseel Murga" among locals, is the most popular chicken breed in the subcontinent. In many areas, especially rural Pakistan, Aseel chicken fight is pretty common.
Aseel Rooster has distinctive characteristics as compared to other chicken breeds and interestingly not everyone knows about them, including some Aseel owners and breeders. 
You may also like:
Best Egg Laying Chicken Breeds in Pakistan
If you are interested in owning one for whatever purpose, it is important for you to learn about Asil Chicken. It is the reason we have gathered some little known facts that can help you understand it better.
Types or Breeds of Aseel Chicken
Asil chicken in Pakistan has different characteris and varieties that confuse a lot of people. It can be categorized on the basis of following visual charactics.
Black Breasted Red
Dark
Spangled
Wheaten
White
Most people believe that only Black Breasted Red Asil is original and other ones are not "desi". It has nothing to do with reality as the Aseel hen with the aforementioned diverse varieties is as original as the black breasted red one.
In the same way, length of neck and tail can differ depending upon various elements such as feed, genes, and others.
Pakistani Types of Aseel Breeds
In Pakistan, the following are some popular Asil chicken breeds in Pakistan.
Shamo Aseel Murgha
Amroha Aseel Murgha
Heera Aseel Murgha
Parrot Beak Aseel Murgha
Mianwali Aseel Murgha
Thai Aseel Murgha
Lasani Aseel Murgha
Mushka Aseel Murgha
Sindhi Aseel Murgha
Pure Aseel Murgha
Read more about Types of Aseel Breeds in Pakistan with Pictures
Aseel Chicken has Multiple Uses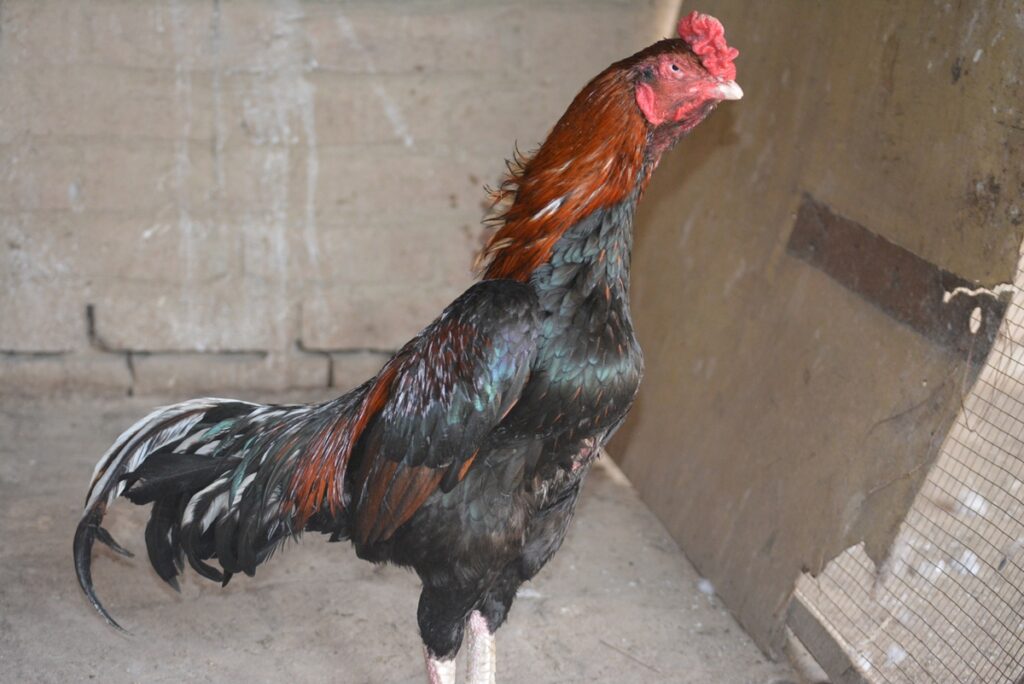 You will not find many people who breed Asil chicken for meat. In most parts of Pakistan, people breed it for the sole purpose of show and fight. It is the reason why you see Aseel chicken fight in many villages, especially during cultural festivals. The owners treat these birds just like their family members that form a strong bond between them.
Its meat is said to be the healthiest among other chicken breeds.
Origin of Asil Chicken: Subcontinent
Aseel is a native hen of the subcontinent. This, too, is a little known fact about it. It is the oldest fighting cock breed having recorded history dating back to 2000 years. It reached the European and American soils in the mid to late 1800s.
Aseel Murga Fight: Made for it
Raising an Asil chicken is like raising a warrior. If Mark Twain had seen an Aseel murga fight, he'd have said, it's not the size of the Aseel in the fight, it's the size of the fight in the Aseel. Fight mode of an Aseel murga is always on.
We all know that Asil breed is all about fighting. It is not that the humans make it fight but the aggression is in its DNA. If not interrupted, it can fight till death. This breed takes no time to become furious. However, it is friendly with humans in most cases.
Asil Chicken Has an Aggressive and Strong Body Structure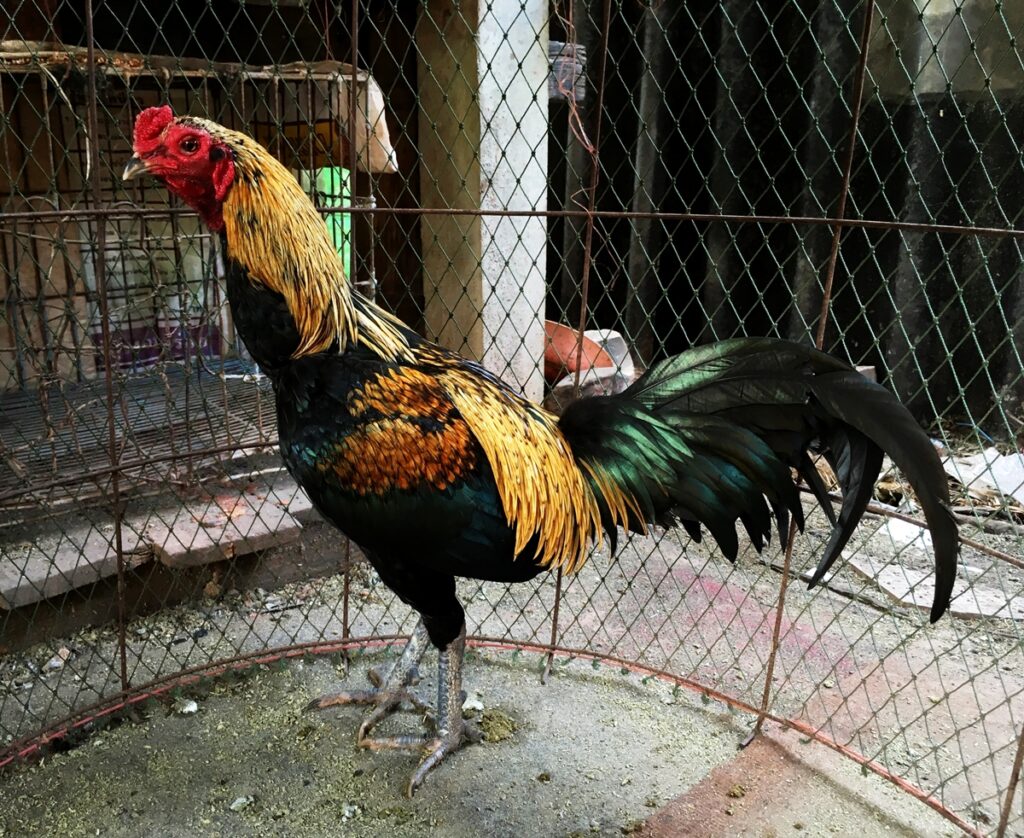 Aseel chicken has an aggressive look that suits its nature. Long and sturdy legs are the highlighting parts that help the bird in fights. Its claws are also the longest as well as hardest among others that makes it the fighter chicken breed. It shows how strong the overall body structure is.
Asil Chicken Is Tough to Raise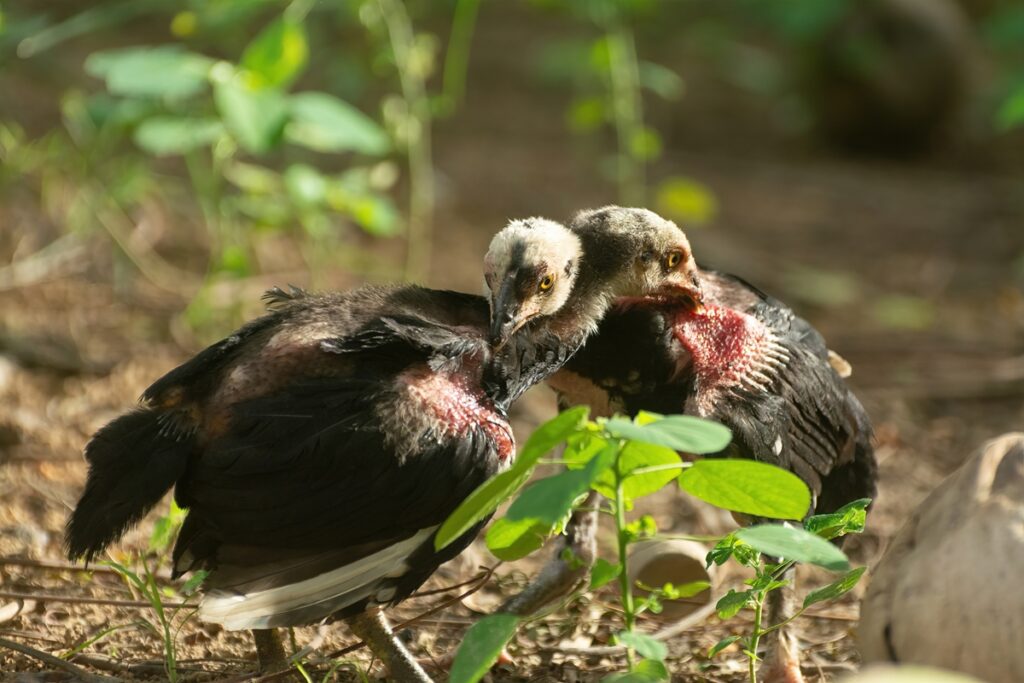 Aggression is the defining characteristic of this Asil chicken breed. Even the little chicks fight each other and many die before reaching adult age due to this. Most are friendly to humans but some may attack the kids.
Asil Chicken: Low Egg Productivity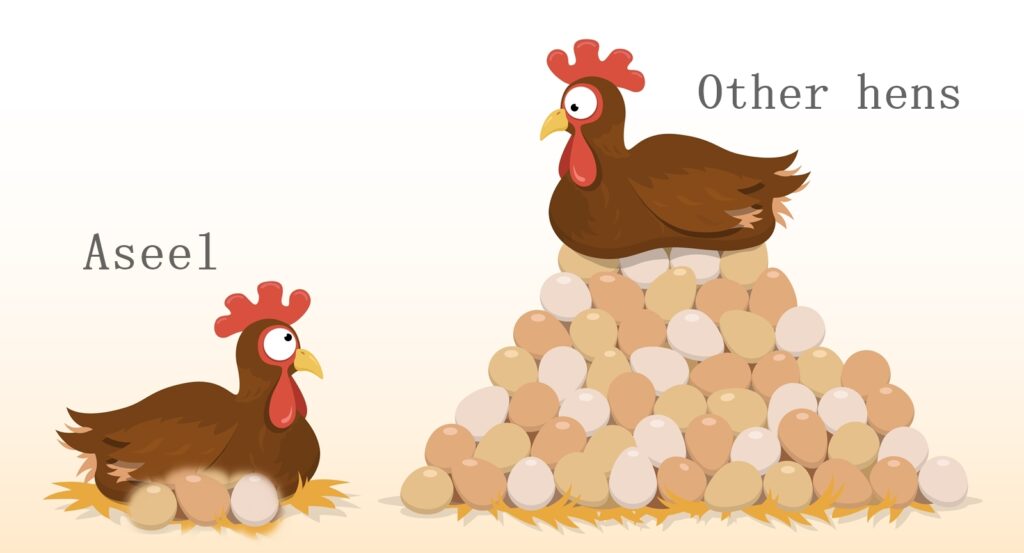 Unlike other chicken breeds, Aseel is not known for their egg-laying. Some may go to the extent of claiming that it lays around 40 eggs per year. However, locals can encourage more production by using different remedies and traditional tactics.
Asil Chicken – The Origin of Broiler
Many don't know but it is a fact that Aseel hen has deep roots in the origin of broiler chicken. Although it grows slowly, it still has a higher quantity of meat than other breeds. That is why scientists used its DNA to create broiler chicken, which gives a high meat yield and grows quickly.
Food for Aseel Chicken
Asil murga can eat what any other chicken eats. Though, Aseel owners love them so much that they feed them human food like almonds, cashews, pistachios, walnuts, and many other nutrition rich items to enhance their strength. The benefits of this type of diet are scientifically unknown. However, many believe this diet better prepares an aseel for the fight.
Final Thoughts on Asil Chicken
Aseel chicken or Aseel Murga is no doubt a highly popular chicken breed in Pakistan. Ask any local and you will get the answer that it is the best among others. Its strong body, aggressive looks, fighting spirit, and other characteristics show that it is distinctive from others.
If you are interested in buying one, visit OLX Pakistan to get the best Aseel chicken among thousands of listings.
What do you think is the most important characteristic of an Aseel chicken? Do let us know in the comment section.
You may also like