The holy month of Dhul Hijjah has started and people are busy in preparation for Eid Ul Adha. On the first day of Eid Ul Adha, muslims around the world sacrifice animals as sunnah e Ibrahimi. In Pakistan on the occasion of Eid Ul Adha around 10 million animals are sacrificed. It's a billion-dollar market. Only the cost of animals slaughtered is around $2 billion. Mawashi Mandis around Pakistan are live, and people are buying and selling animals. The business takes up the pace as Eid comes closer. More and more people rush towards the Mandis and the crowd gets bigger and bigger.
Now to find an animal for you in such rush and crowd is a complete hassle. But do not worry because OLX cares for your precious time and has an animal section on the platform to help you buy or sell your animals for Eid Ul Adha. All you have to do is, go on the OLX Website or the OLX app and browse "Livestock" under the "Animals" category and you will get an extensive list of more than 8000 animals listed for Qurbani. You can use the OLX Chat feature to communicate with the buyer or seller or even use their number to call them directly.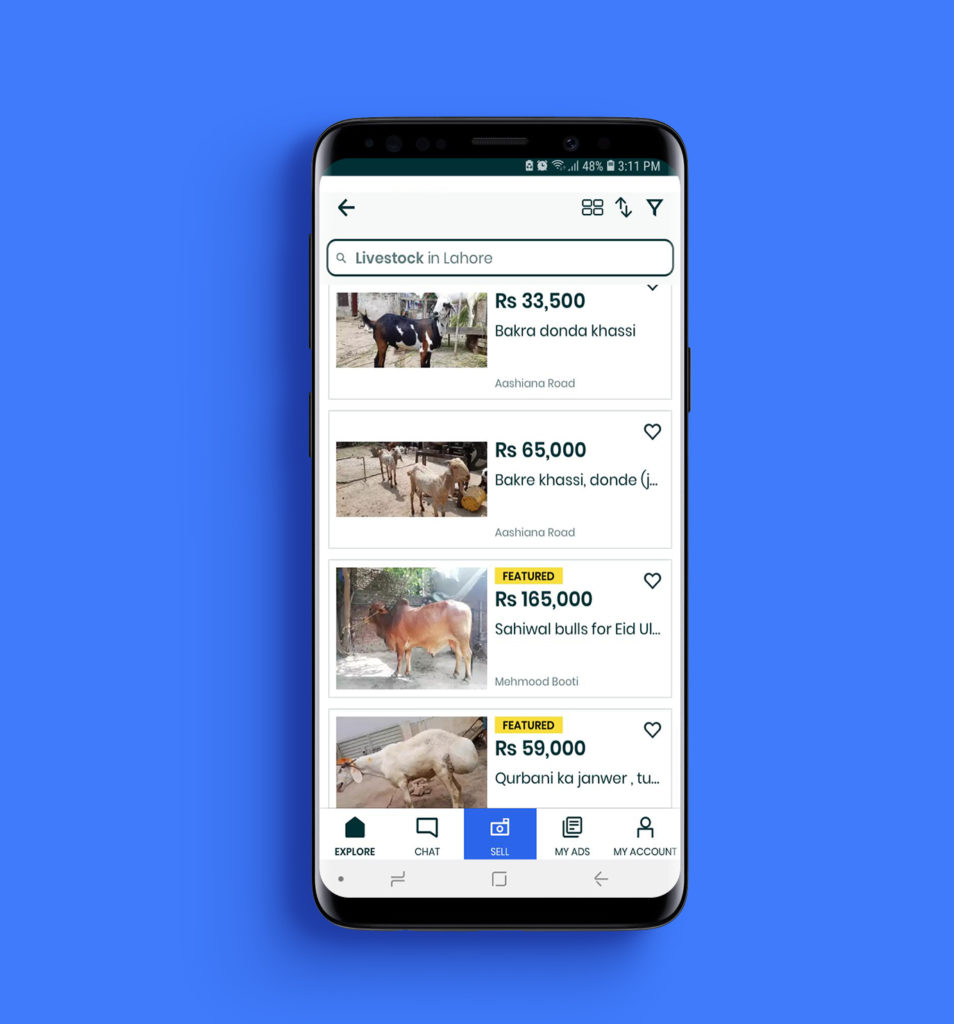 That's not it, OLX makes your worries go away by giving you a list of things you need to check when buying a goat or cow for Sacrifice. So, let's get to it!
Meet your buyer or seller in the daytime!
It becomes difficult to spot issues in an animal when its night. That's why meeting your buyer/seller in broad daylight is the best option for you.
When it's about animals for Sacrifice, Age is not just a number!
There are certain rules for Qurbani on Eid ul Adha. Age is one of them! Always ask the age of the animal you are going to buy. If it's a goat (Bakra!) it should be 3 years or older, if it's a cow, it should 2 years or older and if it's a camel it should be 6 years or older! Always check the front teeth of animals. They should be prominent in order to know that this animal is of the right age!
Don't buy an animal which is too old!
Always make sure that;
The animal is not blind or has lost a third or more of their eyes.
The animal is not missing a third or more of their tail or ears.
The horns are not broken!
The legs are not weak; they are able to walk on their legs, at least till the site of sacrifice on their own.
The animal is not excessively lean or thin.
They haven't lost half or more of their teeth!
If you are looking into buying or selling an animal for sacrifice, visit OLX Pakistan to find a wide range of animals and choose the one that best suits your preferences and budget. OLX offers products and services in other categories like property, electronics, home appliances, furniture, fashion, animals and much more! With thousands of ads posted daily, OLX is the smarter choice.
SELL IT | SEARCH IT | BUY IT