Though Apple refreshes its iPhone design and specs every few years, it hasn't changed the shape and design of its iPhone lineup since September 2019 when the iPhone 11 pro was launched.
Although the Apple iPhone 14 launch is no way near, rumors are rife about its specs, price and other information. Rumors are that this year might be the year of the incremental upgrade for the Apple iPhone lineup.
Read more: Google Pixel 7 2022: What to Expect From the Global Tech Giant
This blog will sum up every rumor and leak about the upcoming iPhone 14. So let's begin with the exterior of the phone first.
Exterior
Credits: Macrumors
With iPhone 14, Apple could leave the big notch at the top in favor of a hole-punch camera. It's speculated that this might only be for the Pro and Pro max models. The frame is also expected to get an upgrade. Rumors suggest that iPhone 14 might get a titanium frame rather than the stainless steel frame we have seen with previous generations.
The iPhone 14 might also be bulky hence encapsulating the huge camera bump within. Hopefully, it won't wobble on the plain surface like previous models. Aesthetically, this year's iPhone might be the cleanest looking due to no notch and camera bump on the rear. 
You may also like:
iPhone 14 Display Size
Credits: Macrumors
Apple iPhone 14 might feature a ProMotion display. A tech we have already seen in the Pro models of iPad and iPhone generations, so it's easy for Apple to mimic the same in the upcoming iPhone. Apple iPhone 14 display sizes are rumored to be as follows:
The iPhone 14 and 14 pro display is expected to be 6.1-inch, 1170 x 2532 OLED panel
While the iPhone 14 Max and iPhone 14 Pro Max is expected to have a 6.7-inch, 1284 x 2778 OLED panel
However, Apple has been avoiding 120Hz display for base models of iPhone 13. Leaks suggest this year iPhone 14 might get a 120Hz display though only for the pro lineup. iPhone 14 Base display could have 60Hz refresh rate.
Apple might use LTPS OLED display for iPhone 14 base models. Previously, the iPhone 13 has been rocking XDR Super Retina Display. The display might be even crisper and colorful due to the new display we might see in iPhone 14. A new variant iPhone 14 Max might also feature having a display size of 14 Pro Max.
iPhone 14 Max for iPhone 14 Mini
Apple might leave the mini-series of the iPhone for a new Max variant. This seems promising since the sales of mini-series are on the decline. People might prefer a simple and bigger version of the iPhone 14 lineup, namely the iPhone 14 Max.
iPhone 14 Camera
Credits: Hacker34
As mentioned earlier, the phone's exterior is also going to get bulky, allowing for the camera bump to settle in the body of the phone. The iPhone 14 Pro models are expected to come with a 48 MP camera for the first time in the history of iPhones, allowing them to record 8K video to rival Samsung Galaxy S22 series.
Leaks suggest a periscope lens in the works, but it's still unclear if this will be official in the 2022 or 2023 lineup. However, a patent by Apple supports the development of this periscope lens to increase optical zoom capabilities.
Battery
With the bulkier phone, you could expect to get a larger battery. We are expecting a longer battery life due to even advanced components like new display tech, advanced processors and bigger battery pack.
iPhone 13 was already an incremental upgrade in terms of battery life. If these rumors come out true then Apple will claim the longest battery life title from androids of the phone world.
iPhone 14 Specs
Apple iPhone 14 models might keep the good old 5nm A15 bionic chipset. The pro models are expected to switch to a 3 or 4nm A16 chipset. Switching to a 3nm or 4nm processor is quite a task for TSMC (a chip manufacturing company).
Apple is known for the excellent optimization of its phones, allowing the phone to perform best with only 4 or 6 GB of RAM. According to the leaks, Pro models of the iPhone 14 will feature 8GB of RAM while the base models will have 6GB of RAM. This sounds promising since an added RAM is always a bonus, especially when its rivals come with 8GB RAM for base models and 12GB for flagship models.
With so much going on in terms of performance these phones will heat up very quickly. Rumors suggest that the new iPhone 14 series will get an enhanced vapor chamber thermal system. This will efficiently dissipate the heat and keep the phone cooler for longer. This technology has been previously witnessed in gaming laptops for extreme and consistent performance throughout.
New Face-ID technology
Apple has been reportedly working on an under-display Face ID sensor. As rumors have suggested that Apple might go for notch displays, hence providing room for the new under the display Face ID tech to work. However, experts are speculating Apple might use a pill-shaped or a punch-hole cutout or both to house camera and Face ID sensors.
eSIM for all models
The new iPhone 14 might not use physical sim slots. Instead, it could have eSIM functionality. However, this might be problematic for countries having no eSIM facilities like Pakistan.
Better connectivity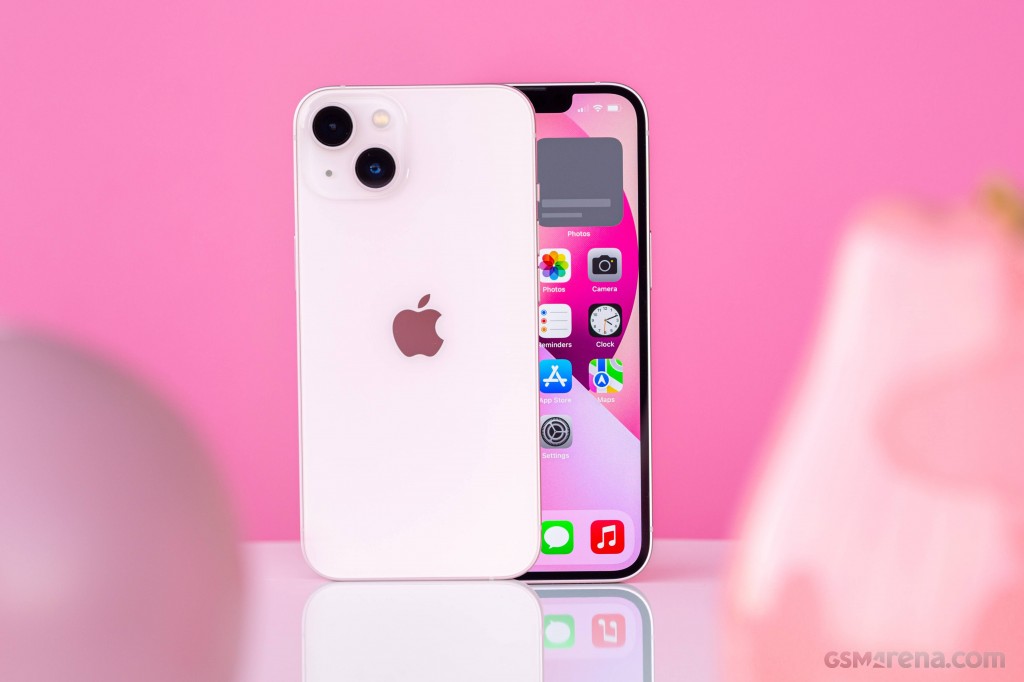 Credits: GSMarena
Rumors suggests, iPhone 14 might use Wifi 6E. It's in the air that Apple has just ordered 5G radio frequency chips from TSMC. These RF chips offer better 5G connectivity and Wifi 6E support.
According to the sources, Apple is also using the Qualcomm Snapdragon X65 modem. This is the world's first 10 Gigabit 5G modem and antenna system for mobile phones. If these rumors hold up true, Apple will be leading the industry in terms of connectivity.
iPhone 14 Price and Release Date
Credits: Hacker34
In the end, it's the price that matters most to many people. According to the rumors, the expected price of new iPhone 14 will be around Rs.460,000. If the proposed taxes are implemented, additional tax of around Rs.100,000 will also be added in it taking its price to Rs.560,000. Nightmare for many iPhone lovers. If this price seems too scary, you can buy iPhone 13 instead.
Much like the price, Apple didn't give us any hints or clues about the exact release date. However, the new iPhones are usually launched in the month of September. So, expect the new iPhone 14 to be launched in September 2022.
With all the rumors and leaks of the upcoming iPhone 14, this might finally be the year of incremental upgrades for Apple. Let us know what you hope to see in the new IPhone which you think has been missing in the previous iPhones.