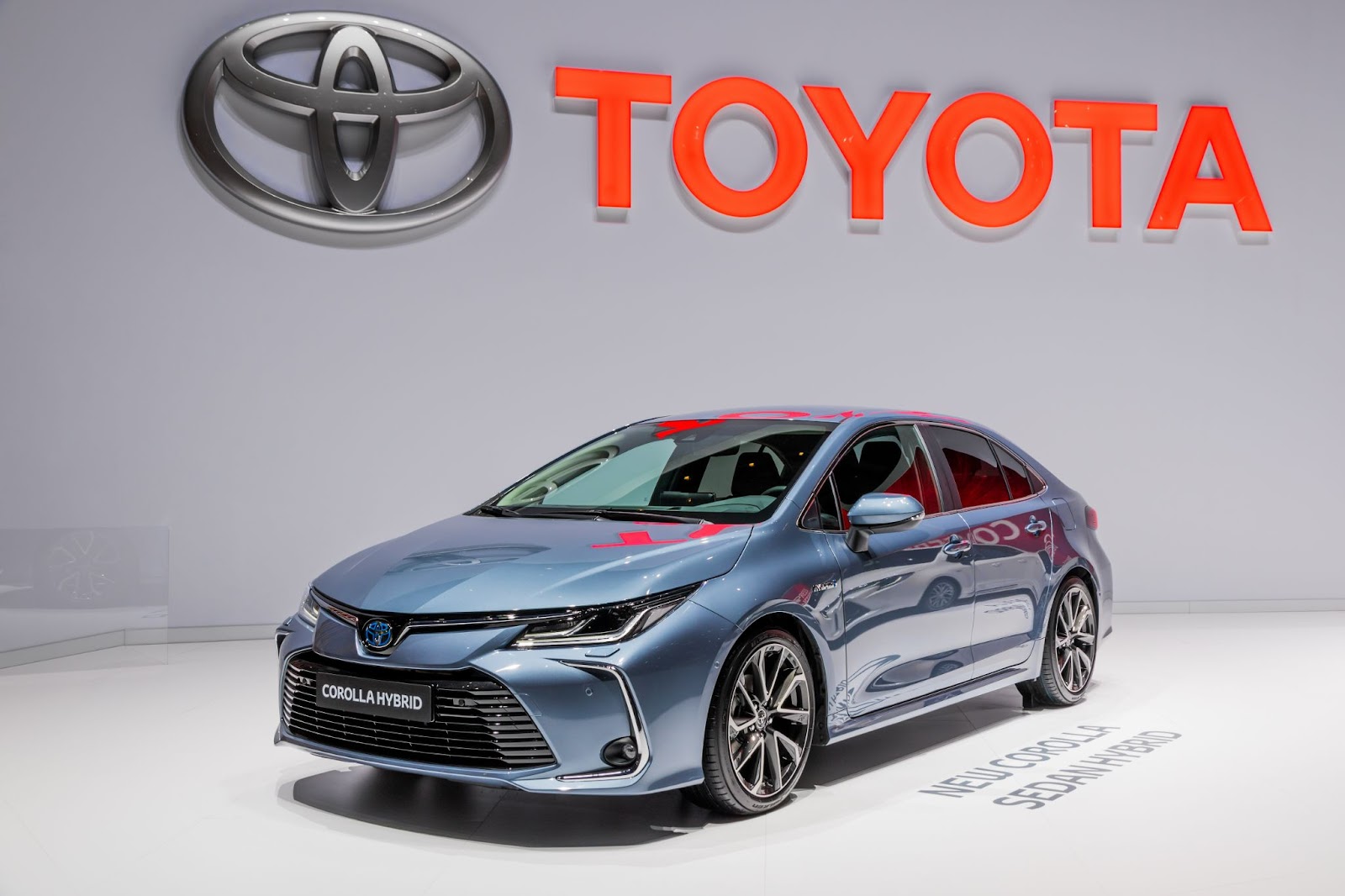 The world is shifting from internal combustion engines to EVs and hybrids. Every car manufacturer is going green. Toyota is also following a similar approach by adding hybrid options to its best-selling model of all time. In 2020, Toyota sold a total of 1.95 million hybrid vehicles globally. And the Corolla hybrid is one of the best-selling hybrid sedans from Toyota. Let's find out everything there is to know about the 12th Generation Toyota Corolla Hybrid 2022 in Pakistan.
You may also like:
Overview
Toyota launched the Corolla hybrid hatchback in 2018, while the Toyota Corolla Saloon hybrid was launched a year later. Toyota offers Corolla Hybrid 2022 in a single trim called LE hybrid. It's well equipped with all luxury features one would expect from a luxury sedan.
The reliability, durability, comfort, and technical upgrades of the 2022 Corolla Hybrid have made it a star product among midsize hybrid vehicles. Toyota sold 166,811 units in Europe alone in 2021. That's 16% of all Toyota sales of the previous year. Such sales figures speak for the quality and performance of the car itself.
Let's have a quick look at the specifications and features of the Toyota Corolla Hybrid.
Specifications and Features
| | |
| --- | --- |
| Length × Width × Height (mm) | 4631 × 1781 × 1435 |
| Wheelbase (mm) | 2700 |
| Seating Capacity | 5 |
| Fuel Tank Capacity (Litre) | 42 |
| Engine Capacity | 1800cc |
| Curb Weight (kg) | 1293 |
| Brakes | Disk brakes with Electronic Parking Brake |
| Front Headlights | Bi-Beam LED with DRL |
| Rear Lights | LED |
| Airbags | Ten Airbags |
| Safety Feature | Blind Spot Monitor, Lane departure, Dynamic Cruise Control, TSS 2.0, Road sign assist, Star Safety system, rear traffic Alert, Auto High beams |
| Hp and Torque | 121 hp @ 5200 rpm142 Nm @ 3600 rpm |
Exterior
Toyota Corolla Hybrid 2022 offers sporty and mean looks on the outside. The daytime running LEDs add to them along with the J-shaped LED headlights. The first thing you will notice on the front is the massive grille extending towards the shallow part of the front bumper. Corolla Hybrid comes with pre-installed fog lights.
The rear of the Corolla Hybrid 2022 resembles the previous generations of the Corolla. 2022 Corolla comes with wide extended front and rear bumpers like the previous Corolla X. This time around, it has a slightly elevated trunk with a sloppy curve around the headlights.
Due to the sporty profile of the car, it does lack the ground clearance Toyota Corolla is known for. Speed bumps may scrap your car from below if you are not careful.
Interior
Much like the exterior of the car, the Toyota Corolla hybrid is also well equipped on the inside. Toyota has kept things minimalistic yet functional. Soft plastic on high usability areas and an 8-inch multimedia screen featuring Apple Carplay and Android Auto improvise premium interior of the car. All Corolla 2022 models have standard wireless charging pads and two USB charging ports. The plastic on doors feels hard but not cheap at all.
One thing you may find common throughout the cabin is the extensive use of polished black trim across doors, dashboard, and centre console of the car. Such ergonomics deliver a punch and contrast to the interior of the car. The standard package comes with relaxing fabric seats, usability but you can upscale to sofTex leather seats with lumbar support, heated seats, and automatic adjustments.
Engine and Transmission
Lift the hood and you will end up with the same 2ZR-FXE 1.8L engine and Electronically controlled Continuously Variable Transmission (ECVT) you find in Prius. This engine is one of Toyota's most robust and efficient engines. Toyota Corolla hybrid 2022 packs in 55kwH hybrid battery.
What's worth mentioning is that the 2022 Corolla hybrid delivers a fuel average of 22 Km/l, as claimed by Toyota. That's impressive considering the reliability and power figures of the car. Speaking of which, Corolla Hybrid 2022 generates 121hp @ 5200 rpm and torque of 142 Nm @ 3600 rpm.
Such power figures coupled with ECVT ensure a seamless transition and a smooth driving experience. The regenerative braking of Corolla 2022 is harsher than one would expect in a smooth ride. It may feel underpowered at high speeds on a highway with a high curb weight of almost 1293 kg.
Safety Features
Toyota is always one step ahead in terms of safety and security. The trend continues with Toyota Corolla Hybrid 2022. It is equipped with:
Toyota Safety Sense 2.0 (TSS 2.0)
Lane Departure
Pedestrian detection
Auto-high beam
Dynamic Cruise control
Road sign assistance
10 airbags
Immobilizer
Head impact protection
Tire pressure monitoring
Hill start assist
Blind spot monitoring
Steel body panels, and
Whiplash-injury-lessening seats
Corolla hybrid 2022 classifies as Ultra Low Emission Vehicle 70 (ULEV), which means it's a greener option for the environment.
Comfort and Handling
Corolla Hybrid 2022 offers excellent comfort with multi-link suspension in the rear and Mcpherson suspension in the front. The rear multi-link suspension provides grounds for better handling.
Despite its extensive body, it's easy to maneuver. Thanks to great viewing angles and an advanced blind-spot monitoring system. Especially with 15-inch wheels, Corolla is more responsive and comfortable.
Toyota Corolla vs. Prius, which one makes more sense?
You have come this far, and you might be wondering which hybrid you should go for. Toyota has made some clever choices with Corolla Hybrid and Prius.
Corolla hybrid feels like a more traditional hybrid, sporty, modern, and luxurious. It makes more sense to own a Corolla hybrid, especially if you don't like the hatchback Prius. Though keep in mind that Corolla hybrid doesn't offer Plug-in hybrid capabilities like Prius.
However, there are some key areas where the Corolla hybrid lacks. For example, it has a moderate boot space compared to the ample boot space in Prius. The plug-in hybrid capabilities of the Prius give it an advantage over other regular hybrid vehicles. Though this may not be much of an advantage in Pakistan where there is a dearth of charging stations.
Prius is available at an ex-factory price of 9.27 Million PKR, while Corolla isn't yet released in Pakistan by Toyota Indus Motors. It comes to around 4.2 Million PKR when converted from USD to PKR. Unfortunately, due to high regulatory and customs duties in Pakistan, the Corolla Hybrid 2022 will probably be around the Toyota Prius price bracket.
Like other JDM cars, you can also import a Toyota Corolla hybrid 2022 from Japan, and it will cost you around 6 to 6.5 Million PKR. This is the only option available since Toyota Corolla Hybrid 2022 isn't launched yet in Pakistan. However, Toyota Prius 2022 is available and it suffers due to soaring ex-factory prices. You can import Toyota Prius 2022 for around 7 Million PKR.
Final Word
You can never go wrong with a Toyota in Pakistan. In fact, according to the Pakistan Automotive Manufacturers Association (PAMA), Toyota Corolla was the second most selling car in Pakistan in 2021. Toyota has already made its name in the hybrid market with Aqua and Prius in the market. Toyota Corolla hybrid would be an excellent addition to the market with its high performance, fuel average, and stunning looks. The impressive fuel average makes Corolla Hybrid 2022 make it very attractive, especially considering ever-rising inflation.
Let us know which one you would choose, the 12 generation Corolla hybrid or Prius, and why.
You may also like: