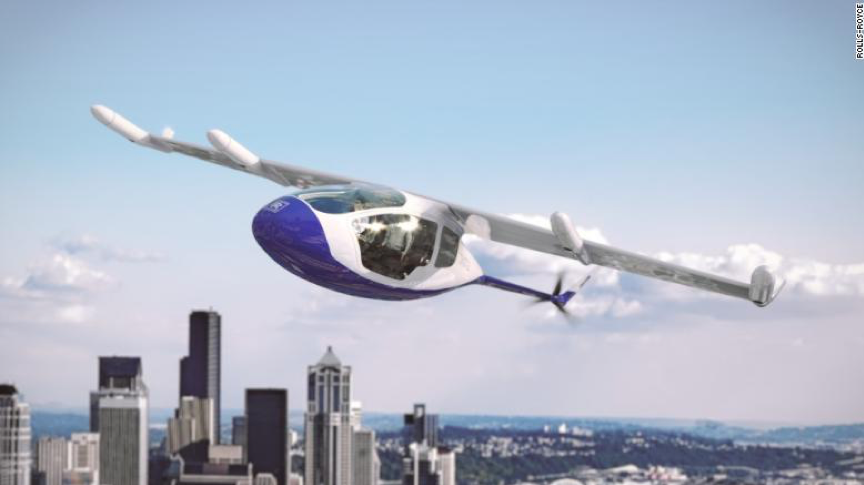 The idea of a flying taxi has been circulating in the auto sector for years and many automakers also took initiatives to tap into this venture. The latest initiative has been undertaken by the Rolls Royce Motors in the UK. Rolls Royce Motors make jet engines and many commercial aircrafts are powered by these jet engines. Recently Rolls Royce has started working on a hybrid electric vehicle that will be able to carry around four to five people and will be able to travel at a speed of 250 miles per hour.
Since it will be a hybrid vehicle, it will have gas turbines that will power batteries lodged in the vehicle. The first version of the flying taxi will have to be operated by a pilot and can have commercial, military or personal applications. The flying taxi from Rolls Royce will have the capability to takeoff vertically just like a helicopter and Rolls Royce has an edge when it comes to this aspect as it has provided jet engines for military aircrafts in the past. Rolls Royce provided engines for V-22 Osprey and Harrier Jump Jet aircrafts that could takeoff vertically. This is especially useful in congested places like a metropolis where you cannot rely on a runway for even a small-sized aircraft.
Other companies like Airbus, Uber and Kitty Hawk (by Google co-founder, Larry Page) are also looking into flying taxi services. Rolls Royce is also looking for partners in order to fully develop a prototype for the air taxi. More details regarding the air taxi from Rolls Motors will be revealed at the upcoming Farnborough Airshow. If such a taxi gets introduced, it will revolutionize the travel systems in big cities and can reduce traffic congestion to a great extent.
For more information on cars and other vehicles being sold in Pakistan visit OLX Pakistan's website. OLX is an online market place that sells a diverse category of products from automobiles to mobile phones and real estate.