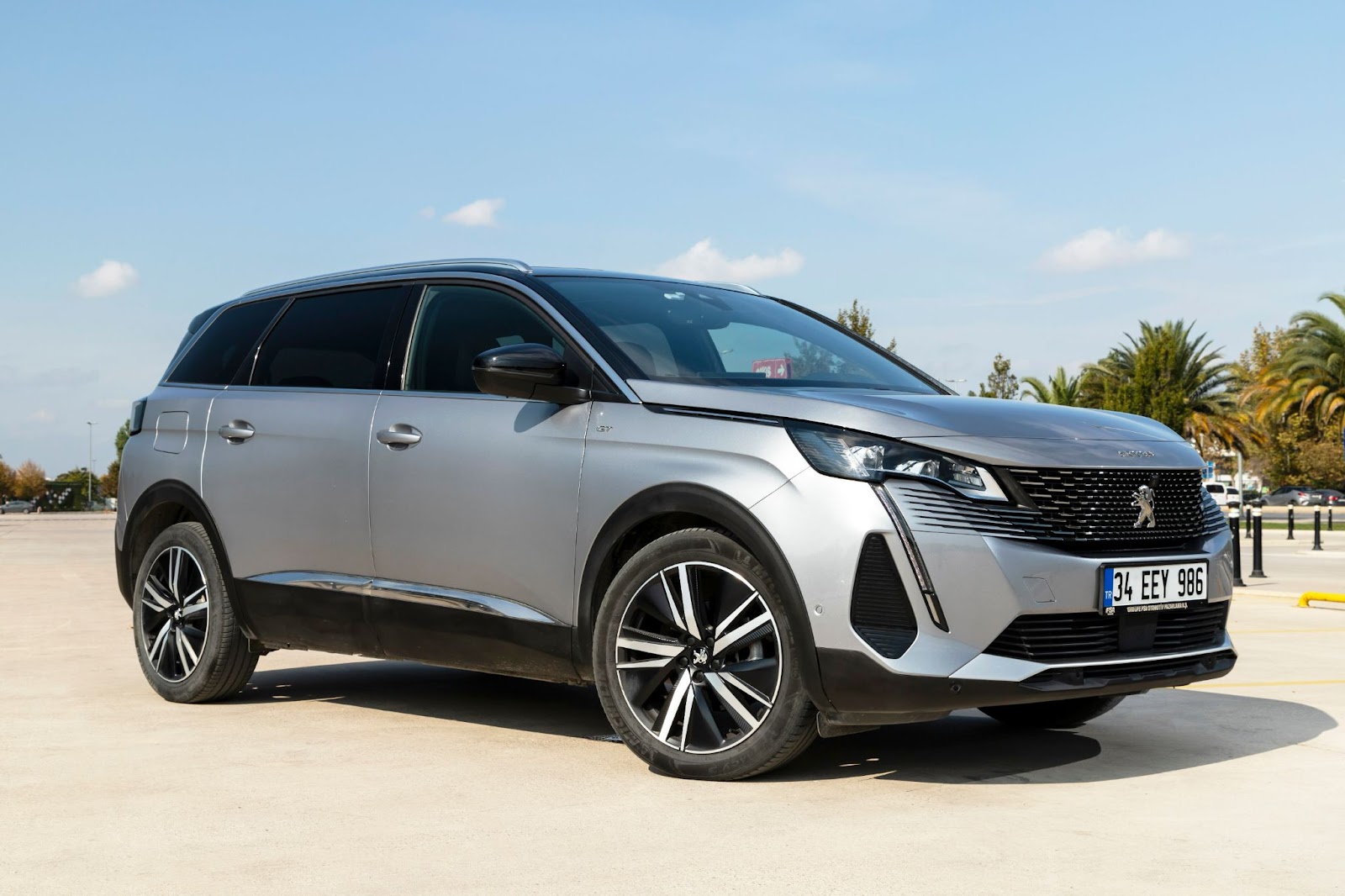 We have witnessed immense growth for 5-seater compact SUVs in the past few years. Let's see how the trend shifts with automakers entertaining the local market with 7-seater MPVs. KIA has already released its C-segment MPVs in the market, soon to be followed by Hyundai Staria and Peugeot 5008.
Let's find out everything there is to know about Peugeot 5008 – its features, specifications, price, and expected launch date in Pakistan.
Overview
Peugeot is a French automaker with a lot going on in innovation and design. In fact, Peugeot is now overtaking the design department with its super elegant cars. Peugeot launched its 5008 in 2009; the improvements in the following years have made it among some of the best 7-seater MPVs with half the price of its competitors like Audi Q5 and BMW X3.
The French auto giant in collaboration with Lucky Motors intends to introduce this MPV in the local market this year. It is worth reminding our readers that Peugeot has only recently turned heads with the launch of Peugeot 2008. Rumor has it Peugeot intends to launch another SUV – Peugeot 3008 also this year.
Peugeot 5008, A MPV in a body of SUV
If you simplify the Peugeot 5008 exterior, you will get a 7- seater MPV in the body of a sporty SUV. French designers really have done something with the looks and build of the Peugeot 5008. Peugeot 5008 boasts futuristic and modern-looking LED headlights with SDL function. What strikes more is the Fang-like vertical DRLs that also act as indicators (how Audi like).
Peugeot 5008 is loaded with chrome. The car's side profile shines with chrome roof rails, chrome door strips, and shiny rails across the windows. The rear window's glass extends to the back of the vehicle, which adds to the sporty profile of the sleek MPV.
The rear headlights are in a 3D Lion Claw design, much like three LED bars that come in Mustang. Each LED bar has three lines, just like a lion claw. It has the same scrolling indicator, much like German premium cars and SUVs. On top of that, smoked rear headlights feel sporty and aggressive.
Let's have a look at the specifications and features of Peugeot 5008:
Specifications and Features of Peugeot 5008
| | |
| --- | --- |
| Wheelbase (mm) | 2840 |
| Length × Width × Height (mm) | 4641 × 1844 × 1651 |
| Seating Capacity | 7 |
| Fuel Tank Capacity (litre) | 55 |
| Kerb Weight (kg) | 1430 |
| Brakes | Front: Ventilated DiscRear: Solid Disc |
| Headlights | Full LED with SDL Function |
| Rear Lights | 3D Lion Claw LED |
| Airbags | 6 |
Safety features of Peugeot 5008
Peugeot 5008 has many impressive safety features like,
Lane Departure Warning System
Front Collision Warning
EBA
ABS
EBD
Auto-hazard light in emergency braking
ESP
Auto rain and light sensor
Auto-dimming rearview mirror
TPMS
Front and rear parking sensors
Triple Indicator flashing
As mentioned earlier, the safety features are standard for any trim level. However, the following are exclusive to the top-tier Allure model.
Blind Spot Monitoring system
Lane Keeping Assist
Smart Beam Assist
Peugeot 5008: Aggressive outside, lean on the inside
If we can sum up the interior of this car, let's say you can get the German level design and ergonomics with half the price of Audi Q5 and BMW X3. With its layered interior, the inside of this MPV feels like a cockpit. There is a lot of soft plastic, which gives it a premium feel though this softness wanes as you move along the lower side panels of this MPV.
The interior is very sturdy and doesn't make any squeaky or rattling noise. Expect the same sportiness inside as you have observed on the outside. The oval-shaped steering wheel feels light and small, and it has all priority controls like cruise control and all multimedia controls in it.
The meter cluster is a massive 12.3-inch display with digital information. Apart from that, there is an 8-inch multimedia screen in the base model and 11-inch screens in higher variants. Right below the infotainment display, there are physical buttons in case you don't want to use the main multimedia display. We have seen this before in KIA Sportage and it works well.
The interior of the car is very practical with an amazing storage space in the doors. Added features like wireless charging, wireless Apple Car Play and Android Auto, rear AC vents and 12V charging dock, along with 5-speakers with a 12 channel amplifier to boost the audio make it a fully-loaded MPV.
The passengers in the 2nd and 3rd row of this MPV remain at ease with its flat floor and reclining seats. Unlike other MPVs, it fits 7 people very comfortably. With all 7 seats in place, the boot space is only limited to less than 200 litres. But the good thing is that the rear seats are modular and can be removed. You can tuck them beneath the rear boot cover.
It can be extended up to 780 liters once you remove the third row which is amazing. You can also fold down the 2nd row to make a complete flat bed with a boot space of 2150 liters. That's beyond amazing.
Peugeot 5008 Engine and Transmission
Peugeot 5008 offers a variety of engine options, from naturally aspirated engines and turbo charged engines to even a diesel variant. Let's find out in the table below.
| | | | |
| --- | --- | --- | --- |
| Engine | HorsePower (hp) | Torque (Nm) | Fuel Average |
| 1.2L -Turbo | 131 @ 5500 rpm | 230 @ 1750 rpm | 16-17 Km/l |
| 1.6L -Turbo | 181 @ 5500 rpm | 250 @ 1650 rpm | 13-14 Km/l |
| 1.5L Diesel | 131 @ 3750 rpm | 300 @ 1750 rpm | 23-24 Km/l |
| 2.0L Diesel | 175 @ 3750 rpm | 400 @ 2000 rpm | 20-21 km/l |
All of the above-mentioned engine options come in front-wheel drive. Either coupled with a 6-speed manual or 8-speed automatic transmission. You might think it's 1.2L engine might underperform but do not be fooled by the number – once the turbo kicks in the power delivery is optimal for every engine configuration.
However, the 1.5L Diesel option delivers the best fuel efficiency and power across the board.
What's comfort and handling on a Peugeot 5008?
Peugeot 5008, much like GAC GS3 and Hyundai Staria, comes with a front-independent McPherson suspension for utmost reliability and comfort. While the rear deformable torsion beam suspension provides a smooth ride.
The car handles sharp corners pretty well due to its sporty profile. The added optimized features like Traction control, Sports mode, Advanced Grip Control, Adaptive cruise control, Vehicle stability management, ABS, EBD, Hill Assist, Road SIgn recognition, and night vision improve Peugeot's driving pleasure. The Sport mode and pedal shifter enhance the car's throttle response by a mile.
Depending upon your selected trim, Peugeot 5008 comes in tyre sizes of 225/55R18 and 215/65R17. This adds to the responsiveness of the car.
Price and Launch date of Peugeot 5008 in Pakistan
Peugeot rolled out its first-ever locally assembled SUV, Peugeot 2008, on January 28, 2022. Peugeot 3008 and Peugeot 5008 are yet to launch in the Pakistani market. We will let you know once the launch is confirmed, so stay tuned.
The official price of Peugeot 5008 is expected to start from 7.5 Million and can go up to 8.5 Million depending upon the trim level you select.
What competition will the Peugeot 5008 face?
Peugeot 5008 price in Pakistan makes it an easy pick for a premium MPV. However, other 7-seater MPVs in the market may give tough competition to the Peugeot 5008. KIA Sorento and Hyundai Staria are its direct competitors.
You can't compare it with the Toyota Fortuner. It's a mid-size, 4 ✖ 4, off road SUV, while Peugeot 5008 is an urban MPV that is practical, comfortable, and even delivers an excellent fuel average.
What do we think of Peugeot 5008?
Once launched, Peugeot 5008 would easily be one of the best seven-seater SUVs in the market. Apart from being a 7-seater, it's hard to tell if the Peugeot 5008 is a super sporty SUV or an MPV. It delivers excellent fuel economy, comfort, power, and handling—more than the competitors we have mentioned above.
Its superior features make it a better option than the already struggling KIA Sorento.
We have witnessed the SUV boom in Pakistan. With the addition of such MPVs in the market, we may expect Pakistan to become a hot MPV market.
Let us know in the comment section what you think of Peugeot 5008.
You may also like: