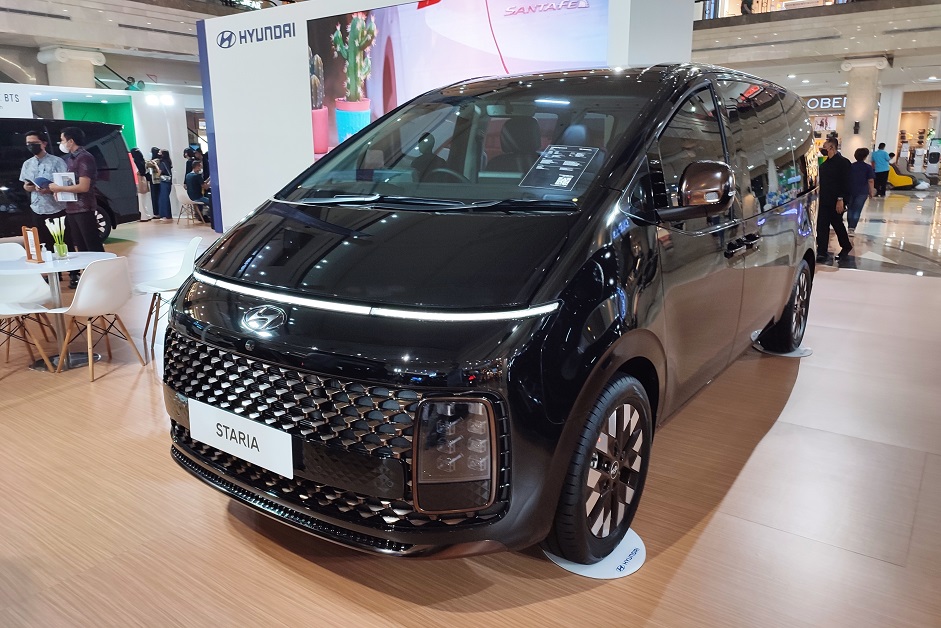 Everyone has been curious ever since Hyundai STARIA was spotted in Pakistan (Emporium Mall Lahore). It can be an indicator of a company's intentions to launch it in the local market. Four CBU units are already here, which means testing in local conditions has already begun. It can be great news for many people looking for a new MPV (Multi-Purpose-Vehicle). 
In Pakistan, Hyundai already has one MPV vehicle named Hyundai Grand Starex, which is not doing well as compared to its competitor KIA Grand Carnival. It might be the reason why Hyundai wants to launch another MPV to compete in this category. 
Hyundai STARIA Variants
Global Hyundai STARIA has three main variants with sub-variants. Here is an overview that will help you understand them better.
STARIA Premium
It is a top of the line variant of STARIA that comes with 7 or 9 seats. Let us discuss both of them.
7-Seater
It is a luxurious variant in which premium relaxation sofa seats with adjustable leg rest are the main highlights. Passengers get a great panoramic and unobstructed view from side windows and sunroof. It has the biggest legroom (1,400mm) for the 2nd-row passengers when we compare it with other variants. This variant is available in both automatic and manual versions.
9-Seater
In the premium category, this variant has the highest number of seats. There aren't any relaxation seats with leg rests. But passengers in the 2nd row get swiveling independent seats. It means they and passengers of the 3rd row can meet face to face while enjoying the journey. Other specifications are the same. There is a difference in the head, leg, and shoulder rooms discussed in the specification section.
STARIA Wagon
It doesn't matter if you have a big family or want to get a vehicle for commercial purposes. STARIA Wagon can help you in both cases. It has two variants having 9 and 11 seats. Let us see them in detail. By looking at the variants arriving in Pakistan, we can assume that the company might be planning to test this variant in the local conditions.
9-Seater
The 9 Seater variant of this MPV is different from the premium one as it has 3 rows as compared to the 4 rows of the premium one. Also, it doesn't have rotatable seats. Some differences in the leg, head, and shoulder room are also there, which are described in the specification section.
11-Seater
This variant has the highest number of seats due to which passengers sitting on the 1st and 4th rows might feel constrained. These extra seats are most suitable for kids. Moreover, this variant comes with fully flat seats which means you can fold the seats of 2nd, 3rd, and 4th rows to create a big space of around 2,468mm. Some other differences are mentioned in the specification table.
STARIA VAN
The company has focused on commercial use when designing this variant. It is the reason you will find more space and fewer seats in it.
3-Seater
Truly commercial, it is what everyone thinks after looking at it for the first time. It has just three seats in its first row. The rest of the vehicle has ample cargo space of 4,935 L. It comes with sliding doors on both sides.
5/6 Seater
5-Seater
6-Seater
It is the 5 and 6 seater variant of Hyundai STARIA having 1.6 m long cargo space. There are twin swing doors at the backside that make it quite an impressive commercial as well as a family vehicle.
STARIA Exterior
STARIA doesn't look like a conventional 9 seater as it has a spaceship-like look. You can have a better idea about its modern design after looking at its sleek full bar LED light which is stretched across the vehicle's width. Elegant vertical headlamps have a large pixel-like shape that makes the front side of its premium variant more glorious. With its honeycomb front grille, the company seems to make this variant unique in every manner. Its Wagon and Van variants get rectangular mesh grille along with 4 block headlamps. Large panoramic side windows are common among all the variants. At the back, it has a spoiler and long vertical tail lamps accompanied by a large rear window.
STARIA Interior
Hyundai STARIA has a premium and spacious interior with many modern features. Its interior resembles a cruise ship that gives a luxurious feeling and ample space. Panoramic windows give an exceptional view to passengers and create a stimulating environment. The placement of the digital cluster provides an unobstructed view for the driver. It comes with a 10.25-inch touch screen display. Get ready for a surprise as its premium variant has a button-type electronic shift lever.
The Premium 9 seater variant also comes with swivelling independent seats in the second row. It allows the passengers of the 2nd and 3rd rows to sit facing each other. The STARIA 11-seater Wagon variant has full-flat seats, which means it can be turned into a large 2,468mm long room. Legroom is not a problem in any variant. Moreover, this vehicle comes with an ambient mood lamp that has 64 colors. This vehicle also has various interior color options.
Performance and drive
Globally, STARIA comes with 2 engine types.
It is a 3,470 cc V-type 6-Cylinder engine that produces 272ps horsepower @6400 RPM and 331.4 Nm torque @5000 RPM. This variant comes with 8-speed automatic transmission only.
It is a 2,199 cc inline 4-Cylinder that produces about 177PS horsepower @3800 RPM and 431.5 Nm torque @1500-2500 RPM. This variant comes with 8-speed A/T / 6-speed M/T.
Fuel efficiency
Fuel consumption varies as per the engine, conditions, and other factors. Here is an average (urban, long, suburban) fuel economy as per engine type.
Petrol Engine: 9.5 Km/l
Diesel Engine: 12 Km/l
Hyundai STARIA specifications
Official specifications of Global STARIA are as follows.
*Images taken from https://www.hyundai.com/worldwide/en/
Smart and safety features
STARIA has a lot of regular features such as a big display, multifunctional steering wheel, and many more. Here are the highlighting smart and safety features that can help you have a better idea of this vehicle.
| | |
| --- | --- |
| Forward Collision-Avoidance Assist (FCA) | Lane Keeping Assist (LKA) |
| Blind-Spot Collision-Avoidance Assist (BCA) | Safe Exit Assist (SEA) |
| Smart Cruise Control (SCC) | Lane Following Assist (LFA) |
| Rear Cross-Traffic Collision-Avoidance Assist (RCCA) | |
Source: https://www.hyundai.com/worldwide/en
Hyundai STARIA Price in Pakistan
STARIA is just spotted in Pakistan, so it is too early to discuss its price. To have a wild guess, let us see its price range in Indonesia. Its price starts from 888M IDR (PKR 10,950,000 approx.) for that can go up to 1.02B IDR (PKR 12,580,000 approx.).
Hyundai STARIA Expected Launch Date in Pakistan
Currently, no information regarding its launch is available as it is in the testing phase. If rumors are anything to go by then the company might launch it at the end of 2022 or in the start of 2023.
Will STARIA do better than Grand Starex?
Hyundai didn't do too well with its previous MPV (Grand Starex). However, STARIA has a futuristic look, and many modern features and better specifications might give it a chance to compete with KIA Grand Carnival. Let's see how it performs if the company launches it in the local market.
What do you think about the design and features of this vehicle? Do let us know in the comment section.