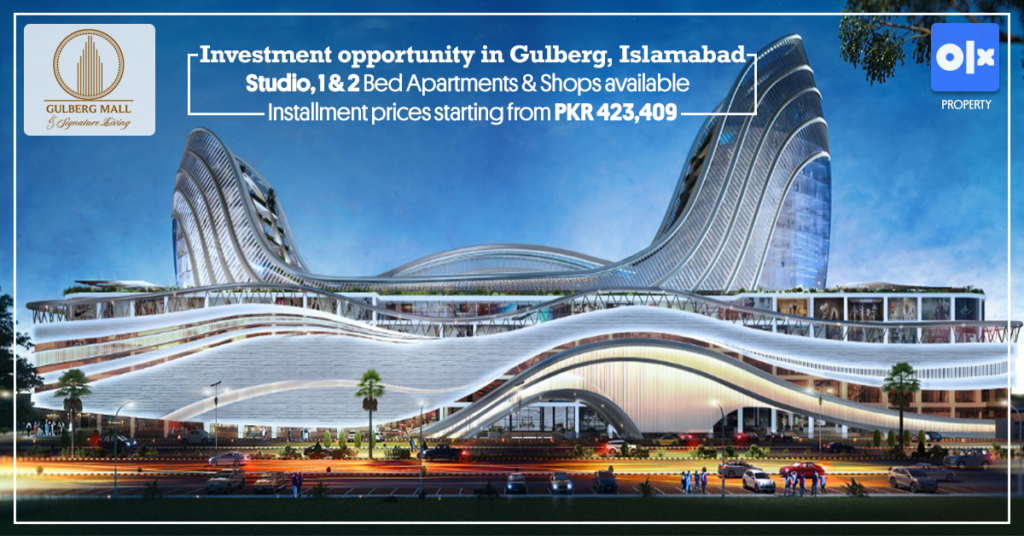 Ideally located in the scenic Gulberg Greens of Islamabad, Gulberg Mall & Signature Living is a megaproject. A 20-minute drive from Islamabad Expressway and Benazir Bhutto International Airport, Gulberg Mall & Signature Living will be the second-largest mall in Islamabad after The Centaurus.
The architecture of the beautifully designed building emanates extravagance and is a feast for the eyes. The residential and commercial complex consists of 14 floors with spaces for shops and luxurious apartments. Two complete floors have also been dedicated to the food court.
The duplex food court has been allocated the second and third floors and is the largest culinary hall in the entire capital, having the capacity to cater to a multitude of visitors making it a great investment opportunity for business ventures.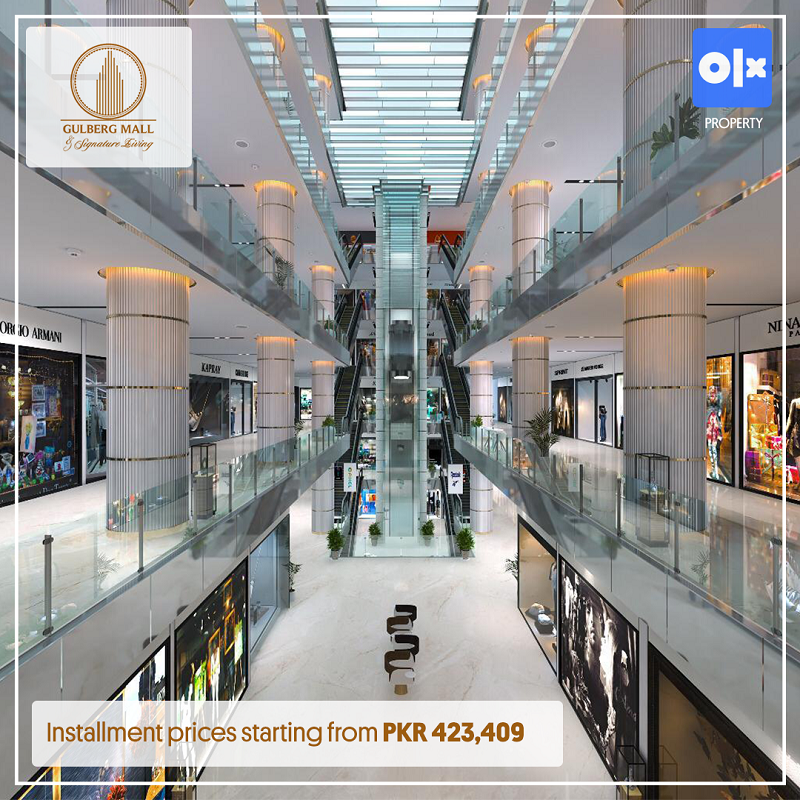 Continuing with the magnificence in design, the apartments have been planned to make you experience the brilliant views through the grand glass windows while maintaining the warmth of a home. The kitchen specifically has been designed to make you enjoy cooking to the fullest with its immaculate countertops and contemporary cooking cove adorned with ultra-modern utensils.
For the resident's recreation, amenities such as a swimming pool and The Marquee have also been planned. Other features that are offered include:
Central Cooling and Heating System, for the first time ever in twin cities.
24/7 Security
The studio, 1 and 2-bed apartments, as well as space in the food court, are available for booking now, with 25% as down-payment and the balance to be paid back in quarterly installments over a period of 3 years. The installment price for the apartments is starting from only Rs. 436,909. For shop space in the food court, the installment price starts from Rs.387,545 only.
This project is being marketed by Seven Star Real Estate, Prism Estate & Builders and Madina Estate & Builders.
For more information regarding the project visit Gulberg Mall & Signature Living Project on OLX Pakistan. OLX is a pioneering platform for real estate listings with a diverse array of listings to meet your budgetary requirements and other specifications. Find the perfect real estate listing for yourself through OLX today.
If you want to read about more investment opportunities or to get an update on the happenings in the Real Estate Sector of Pakistan you can click right here! We also have blogs about other topics, from what's trending in autos to what's the latest in mobile and electronics! You can check those out right here!