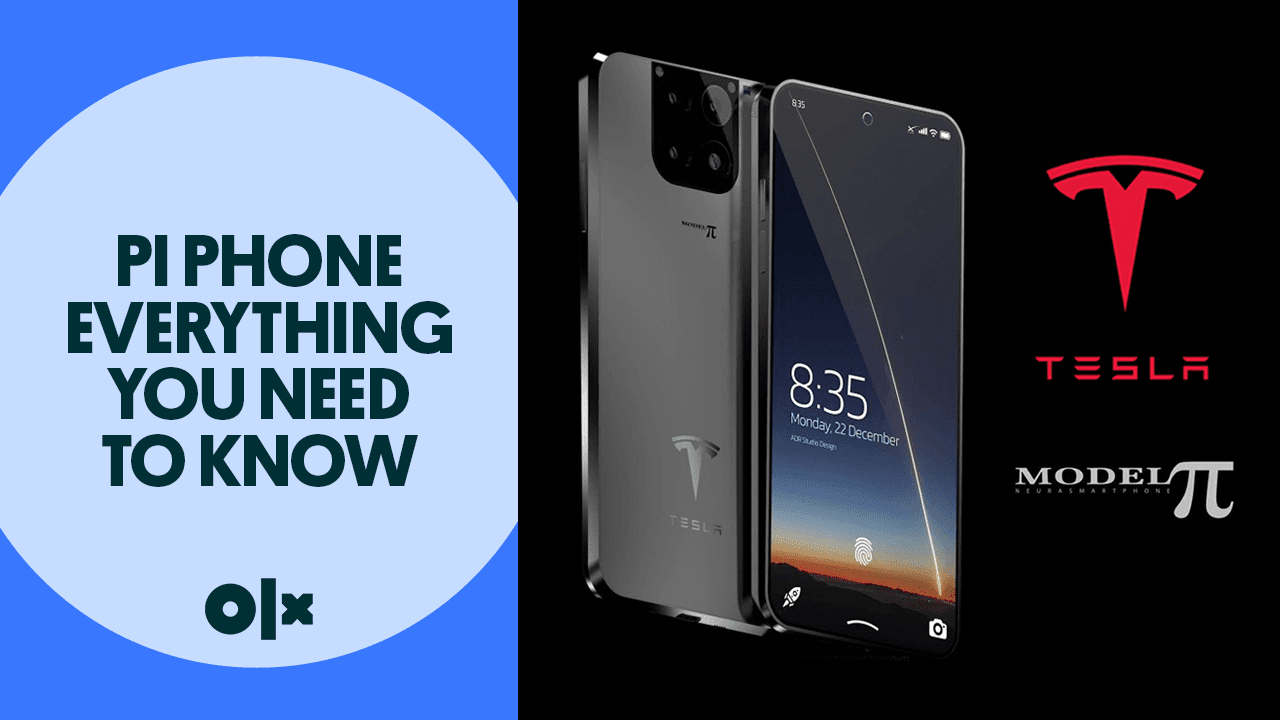 Believe it or not, but the most talked about mobile phone in the world is neither iPhone 13 Pro nor Samsung Galaxy S21 Ultra. It is rather a phone which no one has seen before, since it has never been launched.
People expect unusual and exceptional stuff from Elon Musk and therefore nothing short of an unusual and exceptional phone from him will satisfy them.
The rumored name of Tesla's first phone is Pi. Many also call it the Tesla phone. Pi is associated with the circumference of the circle, quantum physics, space fights, medical procedures, and more. This explains a lot about the kind of device it is going to be and the futuristic features it will have.
Possible Highlights of Tesla Phone
No one knows the official highlights of this smartphone. However, analyzing other companies, products, and initiatives of Elon Musk give us some ideas about the possible aspects of this gadget.
Starlink connectivity
Most of us know about the Starlink by SpaceX that provides satellite internet access across most areas of the world. This mobile can come with Starlink's internet connectivity to help people access high-speed internet directly from the satellite in every part of the world. Currently, you cannot do it even with 4g or 5g as some remote areas don't have this technology. That will not be the case with this mobile phone.
Official mobile phone on Mars
Elon Musk is pretty ambitious about the SpaceX Mars program that will take humans to Mars in 2026 (as announced by Elon Musk at the Axel Springer Award 2020). What do you think will be the official mobile phone on Mars? If this device gets launched in time, it might be the official cell phone on Mars. And don't be surprised if people make calls back home – earth – using this phone.
Monitor and control Tesla products
It is quite understood that the Pi smartphone is going to have connectivity with other Tesla products. One of its major advantages is the connectivity with Tesla cars. You may be able to control the car by using this mobile. The company might provide apps to monitor the battery and other elements of the car through this device.
Compatibility with Crypto
We all know that Elon Musk is curious about Cryptocurrency. It will not be a surprise if we see the Pi phone having compatibility with crypto. It might be compatible only with the cryptocurrencies that Musk has purchased.
Body and Build
With no announcement from the company, you cannot rely on the information circulating on the internet about the build, style, and body of the Tesla phone.
However, everyone is confident that this gadget will come with a unique design and impressive build quality. According to some rumors, we might see a solar panel on the backside. You can find many concept designs on the internet. None of them is official and might not be even close to the actual design the company is planning.
Expected price of Pi Phone in Pakistan?
Many people are searching for Pi phone prices in Pakistan. But nothing can be said about it at the moment. The only way to have a guess is by looking at the price of an iPhone 13 Pro Max. It cost around $1100. If Tesla is going to compete with Apple, the price can be near the top of the line model of its competitor. So, its price range can be from $1000 to $1200.
What can be Pi Phone specs?
Everyone is curious to know about the specifications of this device. We can only assume some specifications by analyzing the best smartphones available these days. Here is a list of expected specs.
Finger Print scanner / Ultrasonic sensor / Full-screen finger Print scanner
Face ID
The latest back and front cameras (triple or quad)
Zeiss Optics
5G and Starlink connectivity (antennas)
Best CPU and GPU
1TB or more memory with 8 to 16 GB of RAM
OS: Android or Tesla's own operating system
Large battery capacity
Display: Best available mobile phone display
Protection: Gorilla Glass (latest version) and IP68 dust/water resistant
Solar panel (backside)
News and release date of Tesla Pi Phone
There isn't any official news on the release date of this phone. We can be optimistic and expect that the company will release it at the end of 2022 or the start of 2023.
Rumors
Rumors about the Tesla Phone are trending these days. The device itself is a rumor until it is officially launched or revealed.
Here are some of the rumors that might be true about this gadget.
Solar panel powered battery
Many people believe that this gadget is going to have a solar panel on the backside due to Musk's green initiatives. But such a small panel will take a very long time to charge the battery. So, this may just be a rumor.
Mind control
Neuralink is a company of Elon Musk researching to produce implantable brain-machine interfaces. This company is a significant cause behind this rumor. Many believe that Tesla's mobile phone will have brain connectivity. But this company is far from implanting chips in the human brain. It means this device is not going to have the stated feature anytime soon.
Tesla Pay
It is a rumor based on some facts. Musk was the person behind PayPal so, we can expect the introduction of the Tesla Payment system in this gadget. It means you will be free from carrying debit and credit cards, and using other payment systems.
Best smartphone battery
We can count on this rumor as Tesla has by far among the best lithium-ion battery systems used in electric vehicles. So, we can expect that its mobile phone will have the same level of efficiency and technology.
Is Apple in Danger?
Apple, the world's biggest company when it comes to market value, will be the only direct and major competitor of Tesla. Yes! Sales of the iPhone can be in danger as Musk can bring revolution in this market as well.
All Apple mobile phones are almost the same in the way we use them since the launch of the first iPhone model. Their specifications and features just got better, but nothing innovative or revolutionary was introduced in them. We know Tesla as it has revolutionized the Automobile industry, and it can replicate that effect in the smartphone industry as well. So, one can confidently say that Apple will face tough competition in every aspect due to lack of innovation.
What is its future?
The future of Tesla's smartphone is brighter than many people think. Even if this device comes with half of the features we are expecting, it can become a game-changer. With the satellite technology and better connectivity with Tesla cars, it will take no time in becoming a popular and preferred choice of many people all over the globe. But it is only possible when Tesla announces this device officially, which isn't the case yet.
What do you make of this smartphone from Tesla? When launched, would you be interested in buying it? Tell us your expectations from this futuristic gadget in the comment section.