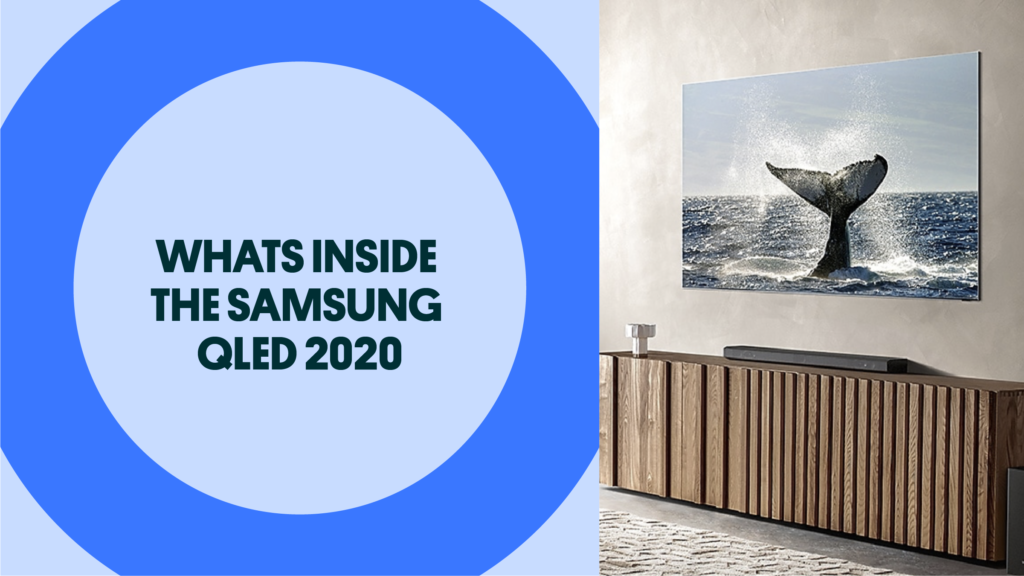 Samsung has recently launched their 2020 QLED 4K/8K TV which is believed to be their best to date! In their own words, it has the ability to 'turn ordinary days into extraordinary discoveries'. Samsung is renowned for their 8K TVs and has remained the no.1 TV brand for the past 14 years.
You may also like:
Best LED TVs in Pakistan with Prices and Pictures
Their new QLED 8K TV has 33 million pixels and provides incomparable clarity at a resolution 4 times more than that of 4K regardless of the source of the content being displayed. That is to say, the video being displayed need not be shot in 8K to be viewed at 8K. This is done through AI upscaling whereby every single scene of the content being viewed is analyzed and optimized The TV has an infinity screen meaning that the display stretches from end-to-end without being cut off by bezels. To us, that's reminiscent of watching a film at the cinema, and to be able to watch anything (even the news) that way is a truly riveting concept.
What is QLED?
To fully understand the magic of this TV set, let's dig a little deeper and try to understand what fancy words like QLED and Quantum Processor actually mean in layman terms. QLED stands for Quantum Light Emitting Diode and QLED TVs, according to Samsung, use Quantum Dots which are a conducive material that emits light in accordance with the size of nanoparticles. This is basically a different way to produce colour pigment without the use of colour filters. These 'dots' produce different colours depending on their sizes which range from 2 to 10 nanometers in diameter. Quantum dots can produce better saturated colours.
QLED TVs are believed to be the future of TVs because of the massively improves color precision and high-quality images.
QLED Vision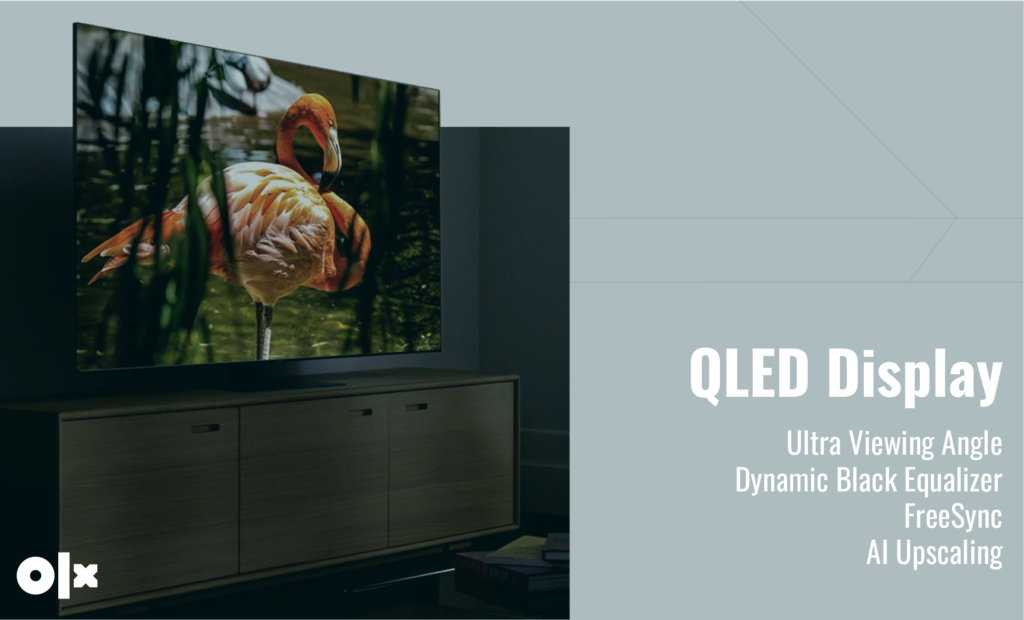 This is to say that Samsung's take of QLED gives them the ability to work in unparalleled brightness levels up to 2000 nits pushing them into the groundbreaking territory. Samsung's QLED TV also provides a more dynamic range of colour tones because of how different amounts of light impact colour tonality. Another very important feature of the Samsung QLED TV is the fact that it is immune to screen burn. Logos and graphic elements can be left in the same place for a long period of time without the element burning into the screen.
The Samsung QLED TV utilizes Ultra Viewing Angle making it possible for you to get the same view from all sides and angles. It also has a Dynamic Black Equalizer which brightens up dark areas. This can be especially useful while watching dim-lit films/documentaries, or gaming. To further enhance your gaming experience, the QLED TV is equipped with FreeSync (Variable Refresh Rate) to minimize lag and stuttering.
QLED Audio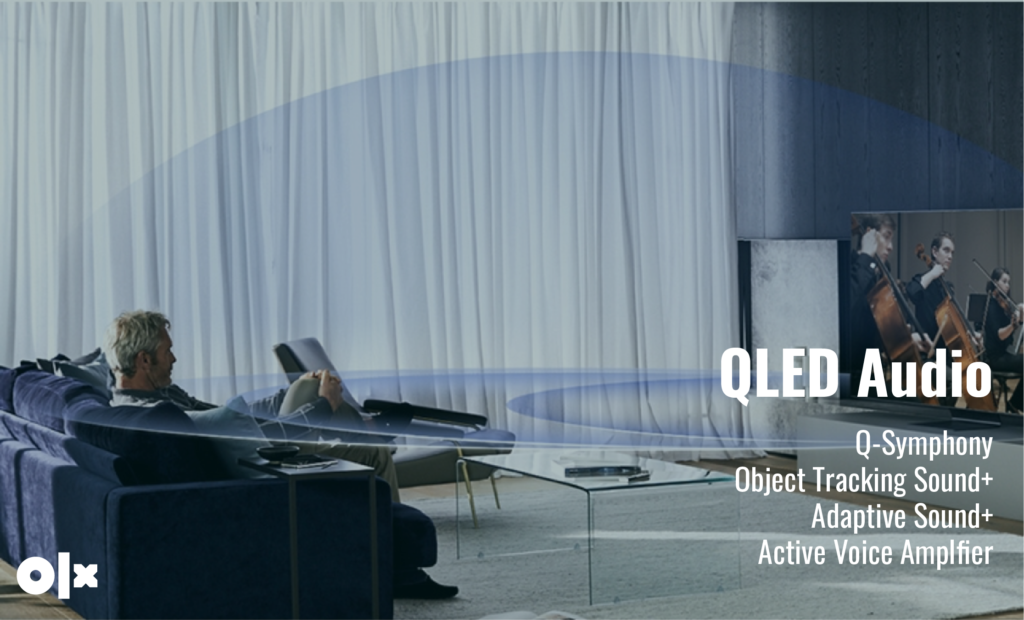 Furthermore, when it comes to the sound quality the TV is engineered to sync its audio to the Samsung soundbar automatically to provide a more holistic and immersive experience. Two of the speakers within the TV set are located on the top left and right corners to enhance the sound. The use of the in-built high-places speakers along with the immersive soundbar is referred to as Q-Symphony.
The Samsung QLED TV is also equipped with Object Tracking Sound+ enabling the sound to travel along with the objects on the screen to give it a more three-dimensional and immersive feel. Other sound features include Adaptive Sound+ (which separates audio input in real-time to extract and highlight the elements that fit the scene best) and Active Voice Amplifier (to reduce noise and elevate dialogue).
QLED Smart TV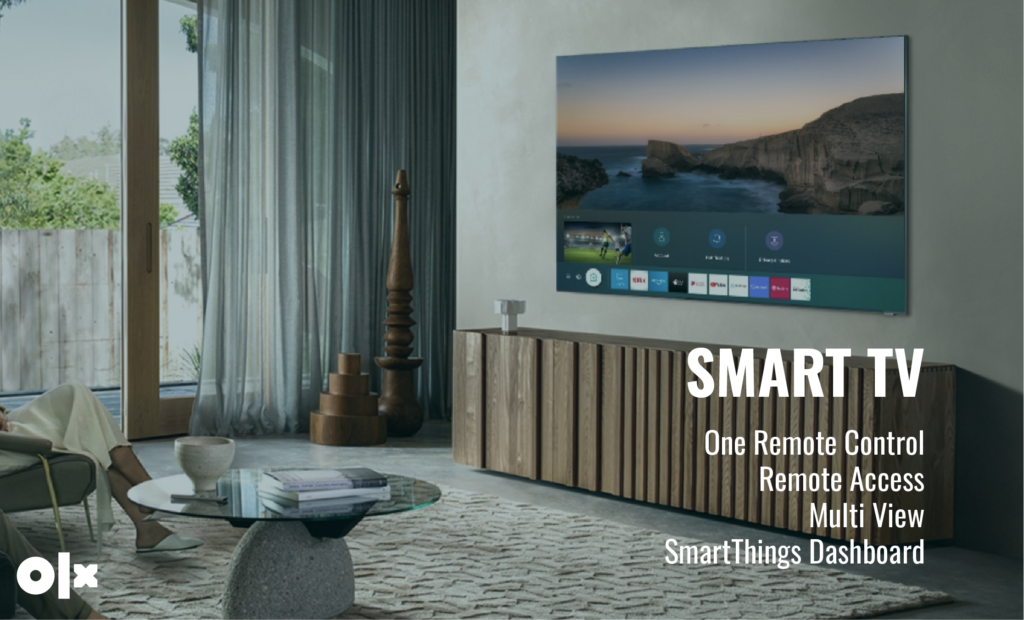 Moreover, the Samsung QLED also has Smart TV features powered by TIZEN with features such as One Remote Control (for effortless access and control without the need of multiple remotes), Remote Access (to mirror your computer or laptop's contents on the TV wirelessly), Multi View (like with split-screen windows on your cellphone, the QLED TV allows you to view what's on your TV and your phone at the same time). To make the entire experience seamless, it also includes the SmartThings Dashboard to connect all your devices on one screen.
OLX Pakistan as an online classifieds' marketplace is providing access to affordable devices to a large population of this country, and playing its role in the digitization of the country. Explore your options of choosing the best electronics within your budget.
You may also like: