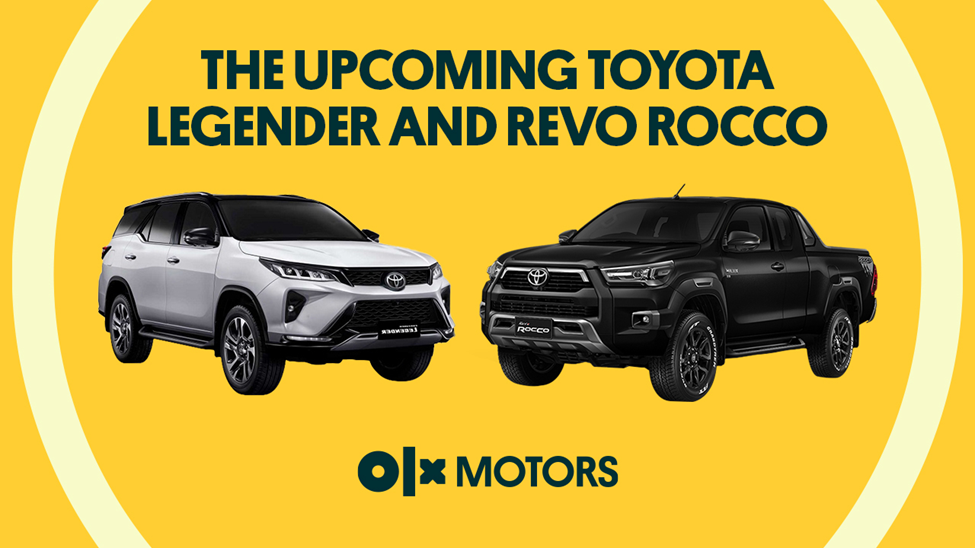 After receiving a great response for the first three variants of Revo and Fortuner, Toyota is going to launch their fourth variant. The news about the launch of Fortuner Legender and Revo Rocco has gone viral and motorheads are super excited.
From their price to expected launch date, here is everything you need to know about these upcoming variants.
About the variants
Most of us know about Fortuner and Revo. However, expect their fourth variant to be different especially in terms of design. 
Toyota Fortuner Legender
Toyota Fortuner has been the favorite mid-size SUV of many who want to enjoy the ride of a cheaper Land Cruiser. With no specific information about what the Legender in Pakistan is going to have, we can rely on the information from its global model.
The nearest market, in which it is launched, is India and we will probably get the same version. Legender's Indian version has a 2755 cc diesel engine that produces around 204PS horsepower. Its torque is around 500 N m @ 1600 to 2800 rpm. If the same variant is launched here, it is going to impress many local consumers.
Toyota Revo Rocco
Toyota Hilux Revo Rocco is the other SUV that is going to be launched very soon. Revo already has three variants in Pakistan. The Rocco variant is going to have a facelift.
Rocco has a 2755 cc diesel engine that produces around 204PS horsepower with a 500 N m torque @ 1600 to 2800 RPM.
Toyota Fortuner Legender Specs and Features
Legender has many features and specs that aren't available in other variants.
For a distinctive look, it has:
New LED sequential headlamps
New front bumper
Redesigned radiator grille
Some major changes in its interior design and features.
New leather design on the steering wheel
Dual-tone (black and maroon) color scheme
Ventilated front seats
Ambient lights in the doors
12V USB charging connector
Parking Sensor (Clearance Sonar on front and backside)
Toyota Revo Rocco Specs and Features
The specifications and features of this SUV are almost the same as the other variants. However, you will see some minor changes in features and designs.
Parking sensors (front and back)
New 18 inches alloy rims
New bumper style (front and rear)
New over fender
New grille
New design for tailgate garnish
New headlamps
All these features are not yet confirmed but they are gathered from reliable sources.
Rocco's Price in Pakistan
The Revo Rocco price in Pakistan is the most anticipated thing about this car. As per the official website of Indus Motors, its price is about Rs. 8,279,000 making Rocco the costliest variant of Revo in Pakistan. This price can change as most of the companies increase their price even in a month after launching their cars.
Here are the prices of Revo's other variants.
Revo 4×4 G (Manual): Rs. 6,789,000
Revo 4×4 G (Automatic): Rs. 7,139,000
Revo 4×4 V (Automatic): Rs. 7,849,000
Legender's Price in Pakistan
Legender is going to be the highest priced Fortuner in Pakistan. This SUV has a price tag of Rs. 10,349,000. Well, it might be a surprise for most of us as even Fortuner is going to cross the landmark of 10 million Rupees in Pakistan.
These are the prices of its other variants.
Fortuner G (4X2 2 TR STD Petrol): Rs. 8,179,000
Fortuner V (4X4 2 TR HI Petrol): Rs. 9,489,000
Fortuner Sigma (4X4 1 GD HI Diesel): Rs. 9,919,000
Expected launch
Good news for people searching for Toyota Revo for sale in Pakistan and Toyota Fortuner for sale in Pakistan. According to different sources, Toyota is going to launch Rocco and Legender this week. It means people will be able to book these cars sooner than they think.
Success chances
No one can predict the sales numbers of these two new variants. The main reason is the already available variants with lower price tags. Fortuner Legender is going to face tough competition as many other SUVs of this category are available in the local market. Its major competitors are Kia Sorento, Audi Q3 and Isuzu MU-X and others. 
Rocco would face stiff competition from Isuzu D-MAX. Though its competitors may not be many, it is priced higher than the D-MAX. So, let's see how these new cars perform in the local market.
Would you be interested in buying the highest-priced variants of Fortuner and Revo? Share your opinion in the comment box below.
You may also like: