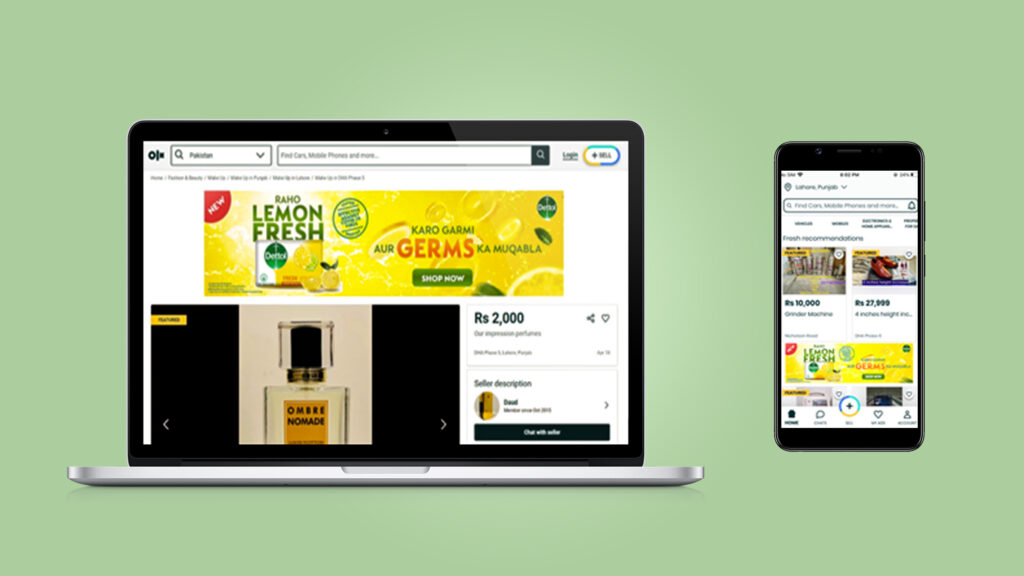 OLX Pakistan recently executed an innovative awareness campaign for Dettol to reach brand's target audience which are affinitive to home and personal care, health & hygiene categories.
OLX with 10 million unique users a month and 1 billion impressions , was tasked by the media team at Reckitt and their agency AdCom to serve ads to those segments who will have a higher relevance with their customer verticals and not serve impressions which get fragmented in the clutter.
In today's age of data driven audience segmenting, targeting on intent beyond demographics has allowed for more relevant ad serving for consumers which leads to improved CTRs and better ROI and this was the solution required for the Dettol campaign.
OLX was involved right from the planning stage working with Reckitt and AdCom to first identify those verticals on OLX that provided overlaps with health & home care categories. This allowed them to identify those consumer groups on the platform that will provide higher levels of interest with the brand.
As next steps using Google Ad Manager 360 integrated with website OLX created segments of users based on their onsite behavior which narrowed down particular consumer demographics and segments to whom the ad impressions were to be served.
For this campaign, OLX created an audience segment which was directly associated with Dettol's target audience. Keeping in mind Reckitt's approach for laser targeting, we started to keep a track of audience buckets who were interested in ad listing affinities like homecare products, personal care, makeup, jewelry & kitchen appliances and made a purchase on OLX in the last 7 days.
Campaign Results
The campaign reached more than 70% of SOV on the relevant audience set and on an average each user was exposed to the ads 5 times, making the impact more lasting. Moreover, an average impression served stayed on the screen for around 15 seconds.
This campaign is a testament to Reckitt, Adcom Zenith and OLX's partnership on accelerating change through the use of technology.OLX has always strived to come up with ground breaking ideas and execute innovative funnel campaigns through several platforms with the latest campaign for Dettol being no exception.