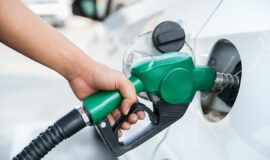 All Pakistan Petrol Pump Dealers Association (APPPDA) strike begins today. Petrol pumps will not be supplied with petrol till the time the Association reaches an agreement with the government.
Where did it all go wrong?
The APPPDA has been demanding an increase in the dealers profit margin by 6%. Their justification is that the rising inflation has made it hard for them to run their businesses. 
According to them, the Association and the government have had meetings over the matter in which the government had apparently agreed to the Association's demand. However, the government is now dragging its feet on the matter, resulting in today's strike. 
The government's stance however is that it has sent a summary to this effect to the Economic Coordination Committee (ECC) and is now waiting for its approval.
Simply put, people are paying for the bureaucratic red tape.   
Panic buying
Since there's no end to this strike in sight therefore it has unsurprisingly led to panic buying. Long queues have been witnessed across the country where motorists and motorcyclists have been seen getting their tanks filled up. In some cases, this has led to traffic jams and frustration has led to brawls. 
Some petrol stations have already closed down after running out of their petrol reserves. 
It's not all doom and gloom
Interestingly, however, there is more to this strike than meets the eye. Some petrol stations, especially company owned have announced that they will not be a part of this strike and that they will continue to sell petrol. 
Among them, some Pakistan State Oil (PSO), Total, Hascol, GO and Shell petrol stations would be selling petrol.
Where can you get petrol from?
Lahoris can go to the following Shell pumps to get petrol:
SPL Abbott Road
SPL Shimla Hills
SPL Model Town
SPL Maulana Shaukat Ali Road
SPL Garden Town
SPL Iqbal Town
SPL opposite Liberty Cinema
SPL near Mouzang Chongi
SPL Gulshan-e-Ravi Civic Center
Karachites may find petrol at the following PSO pumps:
PSO S/S 3 (MG Motors) – Clifton Road
PSO Service Station (70) COCO – SD/2 Block AKDA Scheme No.2 North Nazimabad
PSO S/S 23 Defense – M.S. 11, Korangi
PSO S/S 25 Ittehad – P-I Main Khayaban-e-Ittehad
PSO S/S 7 A.B. Ghazi – AT Abdullah Shah Ghazi, Clifton
PSO S/S 28 Bhittai – 28 A-9 Main Korangi Road
PSO S/S Ideal – Near KDA Workshop, Shahrah-e-Faisal 
Residents of the twin cities (Rawalpindi/Islamabad) may find it at these PSO pumps:
PSO S/S 1 (SECRETARIAT) – M Block Pak, Secretariat Islamabad
PSO S/S 13 (Al Hayat Capital) – 13 Capital Islamabad
PSO COCO Site S/S 53 – Airport Road, Civil Lines, Rawalpindi
PSO S/S 20 – 3A, The Mall, Rawalpindi 
PSO S/S2 – Diplomatic Enclave, Islamabad
Did you have to wait for hours to get your tank filled up? Share your experiences with us in the comments section below.