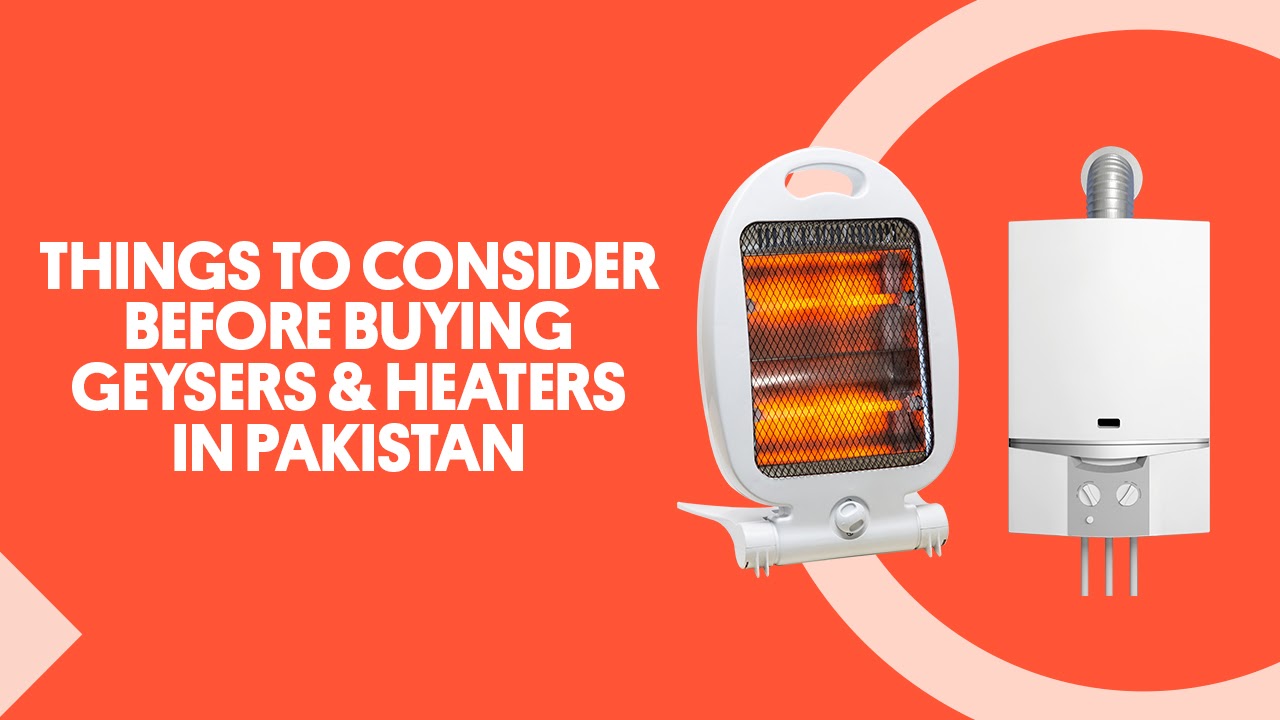 In some parts of Pakistan, snow has begun to fall. Winter will soon be upon us. Due to the adverse effects of global warming, we are experiencing extreme summers and winters, dropping temperatures in many areas below zero. Thankfully, people have various ways to keep themselves warm. Heaters and geysers are a popular choice of many.
You may also like:
Different types of heaters and geysers are available in the market. It is important to understand which one is suitable as per your requirements. So, here are some vital things to consider before buying them.
What to Look for When Buying a Heater?
Heaters are among the top things people buy during December and January in Pakistan. Since there are so many, it is therefore essential to know which is the best for you. Follow these tips to get the best one. Let's start with the types of heaters.
Heater Types
Different types of heaters are available these days. The one you need must be affordable, must have optimum heating ability, and least power consumption.
Electric Heater
We all are familiar with this type of heater. Electric heaters use electricity to generate heat. Some of them cover small areas, while others can even heat entire buildings. Here are some of their popular variations that you can get in the market. Here are some Popular electric heater types.
It is an electric room heater that has a heating element and a fan. It is only beneficial when you sit close to it. This device is not made to heat an entire room. Its price starts around Rs. 2000 but the better one with good features and durability can cost you over Rs. 4000. It is the choice of people who have kids at home as it has a plastic safety grill.
This type of heater is among the most popular all over Pakistan. The heating element is enclosed in a quartz tube, and an aluminum panel on the back helps in heat reflection. As a result, it can help you in warming your hands quicker. You can choose a model having more quartz tubes if you need more heat. Price is another significant reason behind its popularity. You can get it for almost 4,500 to 6,000 rupees.
It is a less common type of electric heater. Yes! It consumes electricity to heat the oil in it. That oil then keeps the surroundings warm for a long time. It is a costly device that comes with a lot of modern features that make it suitable for many people. If you have children at home, this might be among the best choices. You can control its temperature. There aren't any exposed electrical rodes. You need to consider the number of fins when buying it as the more fins it has the more heat it will transfer. A better oil heater will cost you more than 10,000 rupees.
It is a heater popular in many parts of the country. A halogen heating element is incorporated within the bulb that produces direct heat. This ability makes it suitable for outdoor conditions as well. It can heat every surface that receives light from its halogen element. It is not suitable if you are looking to heat the room. You can get a better one for 8000 rupees.
Gas Heater
Gas heaters are among the most popular ones in the local market. Its price starts from almost 2000 rupees and can go up to 12,000 rupees. 
Electric vs gas heaters: Pros and cons
Electric Heater
| | |
| --- | --- |
| Pros | Cons |
| Safe | Expensive in long run |
| Modern features | Slow heat |
Gas Heater
Pros
Cons
Quick heat
Cannot leave them on in night
(health hazard)
Cost-effective in long run
Lack modern features
What Specifications and Features to Look for in a Gas and Electric Heater?
Specifications and features are the most important factors to consider when buying the heater. They depend upon the type you want to purchase. These are some significant features and specs to consider.
It is among the most important things you should look at when buying a heater. A popular way is to look for the wattage on the device. A device consuming more electricity produces more heat than the ones that need less energy.
Apart from the heating ability, you should be concerned about the electricity bill. A 2500 W device will heat your room quickly, but will also significantly increase your bill. It is not a great idea when electricity prices have increased in Pakistan by about 4 rupees in 2022. You can buy a 400 to 1200 Watts device to minimize your bill.
It is an important point for everyone with kids at home. Choose the heater (gas or electric) that has better safety grills. In an electric heater, there must be a child lock that can prevent many hazards.
After other features, aesthetics have huge significance. It is because you are going to place this device in your room. You don't want your guests to see a poor looking heater in your room, right?
This point might not seem vital, but it might become a huge issue later on. A noisy heater can disturb you a lot at night. The same is the case when you are studying. So, always check the noise level of the device before buying it.
It is a good idea to go for a portable heater. You need to have the flexibility to put it at desired locations at home. Sometimes, you might need it in the drawing-room even if you originally purchased it for a bedroom.
The length of the cord must be long enough to help you place this device without any restrictions. A 3-meter cord length is generally good. You can look for the specific length as per your requirements.
Brand and warranty
Brand and warranty are two major aspects you must consider before purchasing a heater. You may have to pay more when choosing a better brand, but it will give you peace of mind. Also, look for the warranty and after-sales services of different brands when making your buying decision. Here is a list of popular heater brands in Pakistan.
Canon
Super Asia
Nas Gas
Sencor
Gaba National
Rays
Japanese Vs Chinese Heaters
Most Japanese companies are manufacturing their heaters in China these days. Purely Chinese heaters are not liked in Pakistan. Even a Japanese heater manufactured in China is considered better than a purely Chinese one. Many people prefer to buy used Japanese heaters. In the end, the choice is yours as you don't get a warranty for these devices. 
Price is the Key
Price usually trumps everything else. Since everyone has a budget therefore buying the best option within that budget is the priority.
What to Look for When Buying a Geyser?
Other than the heaters, geysers are the hottest sold item in the winter. As with heaters, there are some important factors you must consider before purchasing a geyser. Here are the most important ones.
Choose a Reputable Brand
Choosing a reputable brand is the wisest thing to do. It would be durable as well as aesthetically pleasing. It is the reason why many people search for Canon geysers and many others from popular brands. You will have an official warranty if you purchase this device from a reputable brand. Here are some famous geyser brands listed on OLX Mall. 
Canon
Fischer
Super Asia
Ray
Gaba National
Nasgas
Crown
Hanco
Boss
Care
Pay Attention to Price
Focusing on price is always essential when you buy a geyser. Their price varies a lot as per their specs and features. So, decide as per your budget. It is important to avoid getting an overpriced item. Look for its features, make, warranty and other factors when purchasing a product.
Types of Geysers
There are different types of geysers available in the market. You should pick the one which is most suitable for you. You will find every type of geyser in two categories. One is an instant geyser, while the other is a storage geyser.
High heating rate
Small capacity
Automatic
Continuous heating
Large capacity
Low heating rate
Consumes more energy
Due to gas shortage, electric geysers are becoming highly popular these days. These geysers use electrical elements to warm up the water. It is the best choice for people facing gas load shedding in their area.
Gas geysers are the most popular ones in Pakistan. You will find two variations in it. One is the conventional large geysers that are operated manually. The other one is automatic geysers. It starts automatically when a person turns on the tap and stops when the tap is turned off. It might be a better option when you don't have any gas load shedding in your area. It is also a cheaper option than the electric one.
It is a relatively new concept in the Pakistani market. This type of geyser uses solar energy to heat the water. Its price is higher, but you won't need to worry about paying high gas bills in winters when using it.
Specifications and Features to Consider When Buying Any Type of Geyser
The capacity of a water geyser is an important factor. Their capacity can vary from 6 to 35 litres. Don't always go for a high capacity one as it will consume more power. Just focus on your needs and buy accordingly.
2 to 3 family members: 6-Litre instant geyser or 10-15 litre storage geyser
4 to 8 family members: 10 Litre instant geyser or a 25 Litre storage geyser
This advice is important when you plan to buy a new or even a used geyser.
If you are going to install it in your bathroom or at a visible place, consider its aesthetics. Style and design are crucial in this matter. If you are going to install it in an isolated location, you might overlook its aesthetics.
Power consumption of the geyser is a major factor you should consider before purchasing it. It depends upon the type and capacity of your geyser. Buy the device that fulfils your requirements with minimum power consumption.
Watch for Gas and Electricity Shortages
No one can deny electricity and gas shortage in Pakistan, especially during the winter season. If you face more electricity load shedding in winter than the gas shortage, you can opt for gas geysers and heaters. People that face more gas load shedding than electricity shortage can purchase electric heaters and geysers.
Have more tips or suggestions about buying geysers and heaters? Let us know in the comment section.