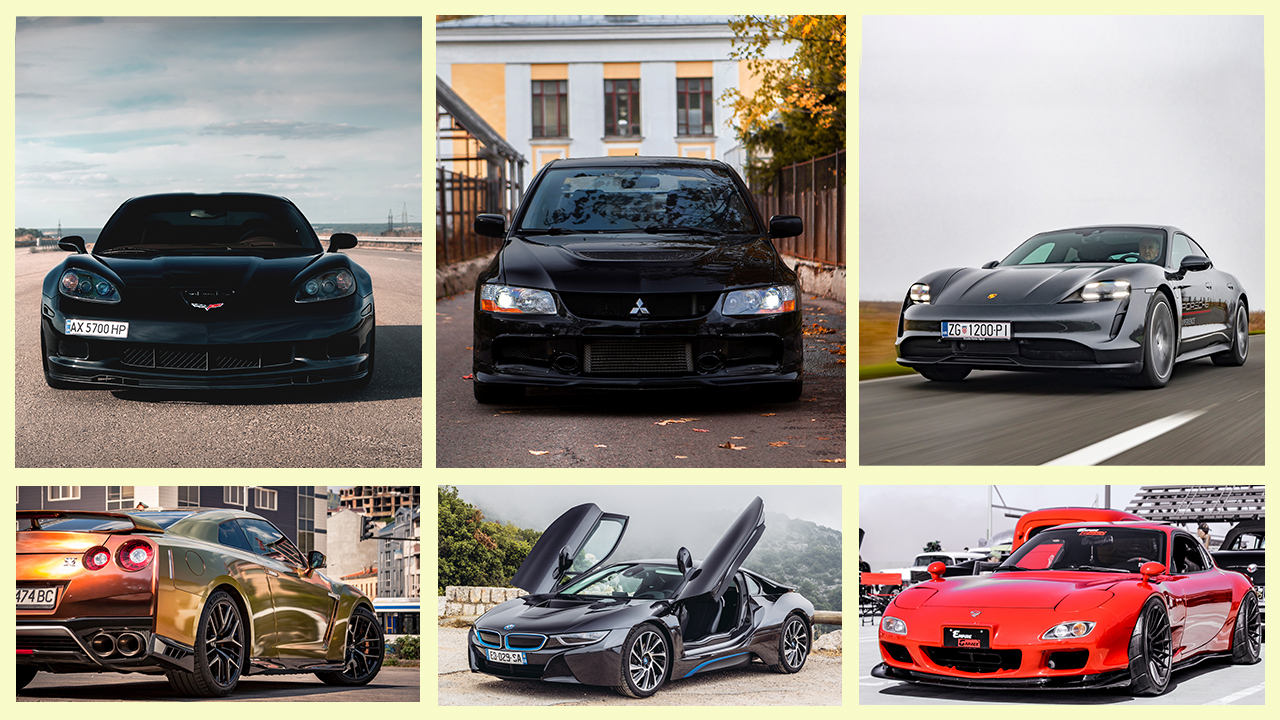 Owning a sports car is a dream shared by millions. If growling engines and loud exhausts fantasize you, then you are at the right place. Here is the list of some of the most common sports cars you have seen on the roads of Pakistan.
1. Nissan 350z
Nissan 350z, aka Nissan Fairlady Z or Z33, is a two-door, two-seater sports car. Anyone can tell it belongs to the legendary Nissan sports series by the looks of it. 350z houses a powerful 3.5L engine mated with either a 5-speed automatic or 6-speed manual transmission.
Nissan initially launched this legendary car as a coupe, while the roadster version debuted a year later. Nissan refreshed 350z with a new and powerful VQ35HR engine, generating 306 hp and 363 Nm of torque from this V6.
2. Nissan GTR
Nissan GTR, aka Godzilla or R35, is a two-door, 4-seater coupe. Apart from the name, it shares a lot with the Nissan Skyline GT-R. It's a successor to the iconic Skyline GT-R. Nissan's engine block is a V6 3.8L twin-turbocharged engine coupled with a 6-speed dual-clutch automatic transmission.
Nissan GTR went through a facelift in 2017, boosting the already exotic power figures to 565hp and 633 Nm of torque. In 2019, Nissan tuned the transmission to reduce the gear lag to 0.15 seconds. This sports car can handle any modification you throw at it.
3. Toyota Supra
Here comes the king, Toyota Supra. Supra is one of the best-suited cars for modification and performance tuning. Although Toyota is now rolling the 5th generation of Supra, the 4th generation MK4 Supra is the most popular; after all, it's a legend.
Originally Supra came with a 3.0L 2JZ engine generating 220 hp to 276 hp depending upon the turbo and engine adjustments. The torque of this car also ranges from 284 Nm to 451 Nm. It's normal to have over 1000 hp dyno-tuned Supra's around, thanks to the huge turbo and superchargers you can throw at this engine.
This car is a hot favorite in race groups in Pakistan. A renowned cricketer, Shoaib Malik also owns a Supra.
4. Mazda RX8
Mazda RX8 is a four-door Japanese coupe. This car is well-known in the dragsters and racers community. As the name suggests, RX8 is a successor to the Mazda RX7. Mazda continues to use the rotary engine in this rear-wheel-drive car, just like it does with all other RX series.
You might have seen these in "posh colonies" all over Pakistan, especially on Sundays. It may look like a two-seater coupe, but it actually has four seats in it. However, the rear seats aren't practical. Mazda doesn't have any B-pillar in this coupe. However, Mazda uses structural reinforcements in the body of the RX8 for enhanced rigidity. Mazda did lots of variations in the engine with time. Despite being a 1.3L engine, this car has incredible power and acceleration. Mazda RX8 produces 189-238 hp depending upon the dual rotor configuration of this machine. This is coupled with a 5-speed manual, 6-speed manual, 4-speed automatic or 6-speed automatic transmission.
This car's sales suffered initially due to its high price. But with decreased demand, the price dropped to a point where it became a favorite for enthusiasts in Pakistan and all around the world. This car cost around Rs.2-3 million depending upon the condition.
5. Mitsubishi Lancer Evolution
Mitsubishi Lancer Evolution, aka Evo, is well known for its massive and bulky look. This car is designed based on the Mitsubishi Lancer that we commonly see in Pakistan. This is a four-door sedan with a mid-engine configuration powering all four wheels of the car. The heart of this car is a 2.0-litre turbocharged engine.
Evo had lots of facelifts in the past three decades. Specifically, there were ten generations of Evo offered in lots of transmission options. The 10th generation of Mitsubishi Evo became extinct after 2016. The engine configuration of the 10th generation Evo generated 219 hp and 407 Nm.
In its prime, this dethroned king outraced both Audi RS4 and Porsche 911 Carrera 4S in Bedford Autodrome. It's heart-wrenching to see these crowns crumbling while manufacturers shift to EVs for good. In Pakistan, you can get Mitsubishi Evo for around Rs.2-2.5 million depending upon the car's tuning, performance, and condition. 
6. Nissan Skyline R34
Who doesn't know Nissan GTR? Every legend has a mentor and peer, which lays the basis for a better generation. Skyline was the prequel to Nissan GTR, aka Godzilla. R34 carries the legacy of the R32 skyline. Nissan Skyline R34 only lasted till its fifth generation in 2022.
Skyline R34 offered a 5.8 LCD with live stats from the engine and performance stats. It was offered in two engine configurations, a 2.6L and a 2.8L engine. Both were twin-turbocharged engines pumping the wheels with 330hp.
Nissan Skyline and Skyline R34 are tuned and modified by various garages in Pakistan. It costs higher, and a Skyline in decent condition can cost around Rs.6-7 million.
7. Porshe Taycan
Porsche spawned the Porsche Taycan in 2019 as its first electric production series car. Porsche Tycan sales are 7.4% of Porsche's total sales for the year 2020, and that's impressive. Porsche uses a 79.2 kWh or 93.4 kWh liquid-cooled battery to power two electric motors placed on the front and rear axles.
Taycan is offered in various variants, yet we only see Taycan 4s as the most common sports EV in Pakistan. The Taycan 4s does 0-60 in 3.8 seconds, and it only takes 4 seconds to do 0-100 km/h. Porsche has used aluminum as a prime material for its build. 37% of the weight of this car is based on aluminum metal.
Porsche Taycan costs around Rs.40 million to Rs.52 million depending upon the model, range and interior of the car.
8. Mazda Rx7
Another one on the list by Mazda, its RX7. RX7, like all other RX series cars, uses a rotary engine configuration. It's the precursor of the RX8. It's the third generation of Mazda RX7 that we commonly see here in Pakistan. Mazda offers RX7 in plenty of variants, using twin-turbo and twin rotors in a 1308 cc engine.
This rotary engine generates decent horsepower ranging from 252 – 276 hp and 294 – 314 Nm of torque. These variants are equipped with either a 4-speed automatic or 5-speed manual transmission. This car is a very popular drifter due to its rear-wheel drive and optimal power.
This car cost around Rs. 6 million in Pakistan. However, you have to take extra care of these fragile rotary engines as they can lose compression if not adequately maintained.
9. Ford Mustang GT
Ford Mustang GT is an American muscle car, which has been in production since 1964. Mustang Ford is the original muscle car that was a significant success, inspiring other manufacturers to step in and make muscle cars.
Mustang left its impression in the international markets with its fifth and sixth generations. It's well-known for its big engines roaring and grinding on the roads. However, Mustang dropped those super-charged heavy engines in favor of environment-friendly and low CO2 emitting engines. From 2020 onwards, the Mustang is an electric crossover.
The sixth generation of Mustang GT is most popular here in Pakistan. It comes in various engine configurations ranging from 2.3L Ecoboost engine to 5.2L V8. Ford Mustang Shelby GT350 produces 526 hp and 582 Nm of torque. Ford Mustang GT price in Pakistan is around Rs.30 – 40 million.
10. Corvette C06 Z06
A 2-door coupe, with a front mid-engine powering the vehicle's rear wheels, Corvette is an American sports car that is known for its sheen looks. With an engine displacement of 7000 cc coupled with a 6-speed manual and automated transmission, these stealthy machines are the hot favorites of many sports car enthusiasts in Pakistan.
11. BMW i8
BMW i8 is a plug-in hybrid sports car by BMW. It comes in a coupe and a roadster body style. The design of this car makes it extremely enticing. BMW i8 comes with a 1500cc turbo charged engine and electric motors, which generate a collective 357 hp and 570 Nm of torque. For BMW i8 models produced after 2018, the hp and torque figures are improved to 369 hp and 570 Nm of torque.
BMW i8 is often seen on the roads of Pakistan. The Pakistani government also incentives the import of electric cars, making it a great value car in Pakistan considering its features and brand name. This car cost around Rs.30 million.
Final Verdict
Irrespective of your age, sports cars are the dream of many. The cars mentioned above are the epitome and marvel of engineering and taste of craftsmanship. Luckily enthusiasts in Pakistan know the value of these glorious rides, and that's why we often see these growling on the roads of Pakistan.
Let us know what other sports cars you have seen lately? Also, share your thoughts about the ones we have already mentioned, in the comments section below. 
You may also like: