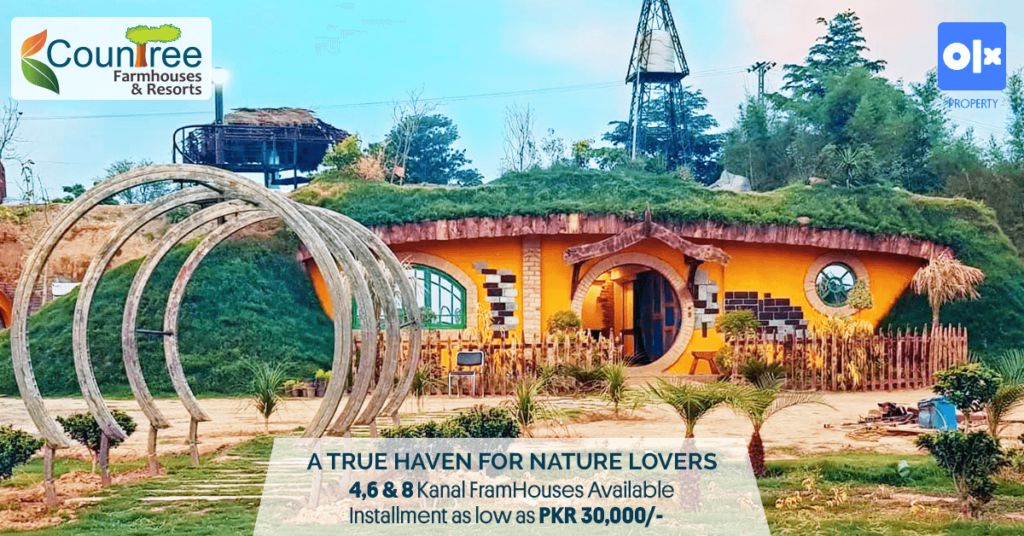 CounTree Concepts is known to be an expert in land development and marketing in the real estate sector of Pakistan. They have quite an impressive list of projects under their belt such as Islamabad Farm Houses, Metro Homes, and Unique City. Their latest project CounTree Farmhouses & Resorts is one such project.
CounTree Farmhouses and Resorts gives you a chance to move away from the stress and pollution that comes with living in the city and experience nature at its best. The following reasons are why you should consider investing in CounTree Farmhouses & Resorts.
The Location
Ideally located on Adyala Road, Rawalpindi, a few minutes away from the New Ring Road and a just a few KMs away from Islamabad, CounTree Farmhouses and Resorts' location give its residents easy access to both the city of Islamabad and Rawalpindi.
The Environment
The society is surrounded by wide green belts and lush parks. With greenery as far as the eye can see and both fruit-bearing and non-fruit bearing trees planted throughout the society, CounTree Farmhouses & Resorts is truly a haven for nature lovers. Furthermore, construction is only allowed only on 25% of the land, making the atmosphere very environmentally pure.
The Payment Plan
The icing on top, for this project, is its payment plan. CounTree Concepts is offering 4,6 and 8 Kanal farmhouses on easy installments, starting from only PKR 30,000, with the balance to be paid back in 6 years.
The location, environment, and the very pocket-friendly payment plan make CounTree Farmhouses & Resorts an investment opportunity that should not be missed. So INVEST NOW to experience a modern lifestyle in environmentally friendly surroundings.
For more information regarding the project visit CounTree Concepts Project on OLX Pakistan. OLX is a pioneering platform for real estate listings with a diverse array of listings to meet your budgetary requirements and other specifications. Find the perfect real estate listing for yourself through OLX today!