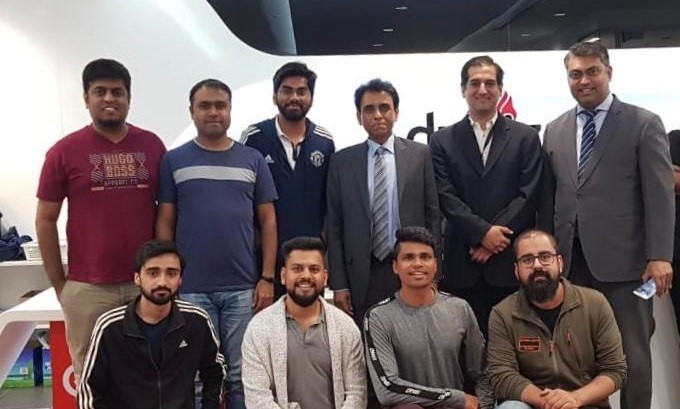 Dubai; OLX MENA Headquarters. Bilal Bajwa (CEO, OLX Pakistan) meets with Dr. Khalid Maqbool Siddiqui (Federal Minister for IT & Telecom) along with Zeeshan Bokhari (Director General, Ministry Of IT & Telecom).
Sharing economy is observing a hockey stick growth pattern globally with the launch of ride sharing, room sharing, and other such services. One of the main catalysts to this growth is the widespread technology apps adoption in emerging markets such as Pakistan. From providing day care of dogs to borrowing your neighbor's cars, the sharing economy is connecting people in amazing new ways and unlocking a dormant economy worth billions of dollars and providing meaningful livelihood to thousands of people.
Pakistan is one of the countries where this sharing economy is growing and platforms like OLX are facilitating the process by connecting people who want to share, sell or buy items. The Ministry of Information Technology & Telecommunication has taken notice of this trend and signaled a strong interest in facilitating the growth of the sharing economy as part of a bigger push to encourage the growth of the tech industry in Pakistan.
During a recent visit to the OLX regional headquarters in Dubai, the Federal Minister for IT & Telecom, Dr. Khalid Maqbool Siddiqui, and Mr. Zeeshan Bokhari (Director General) met with Mr. Bilal Bajwa (CEO – OLX Pakistan) to discuss the landscape around sharing economy. The idea of the visit was to view how successful international companies in Dubai operate, meet with some Pakistani overseas tech workers, and discuss ways in which the Pakistani government can tap into this invaluable expertise and resource pool.
Dr Khalid Maqbool Siddiqui and Mr Zeeshan Bokhari met with some of the Pakistani expatriates working in OLX and listened to their stories while promising them that the government of Pakistan wants to help. During this visit, the officials from the IT ministry also invited OLX for further conversation as part of a task force being developed around the sharing economy and the growth of IT sector.
After the meeting, Mr. Bilal Bajwa (CEO, OLX Pakistan) said, "We see a massive growth potential in Pakistan and are excited by this outreach from the government. As the #1 marketplace in Pakistan, OLX is activating a massive dormant local economy in the form of household and business items the value of which goes into billions of rupees. In addition, OLX is training the next generation of technology workers and entrepreneurs that we hope will help Pakistan become a global tech powerhouse!"
Dr. Khalid Maqbool Siddiqui (Federal Minister, IT & Telecom) said, "A bend in the road is not the end of the road until and unless you fail to make a turn." He explained that "Pakistan is at such crossroads where we have a unique opportunity to take advantage. Tech brands like OLX can provide their specialized support to the government to bring impact at a greater scale. The IT ministry is planning many interesting things in the future with companies like OLX, which will have a big impact in educating, employing and empowering our youth and growing the technology industry in Pakistan"
In addition, Mr Zeeshan Bokhari summarised the meeting by saying "There are businesses within a business and there are opportunities within an opportunity. The sharing economy is a great example where we can unlock big opportunity by working with businesses like OLX. Such business and government partnership can help propel the IT industry in Pakistan forward and we invite OLX to share their ideas and work with us for the betterment of the IT industry."
OLX pioneered the concept of sharing economy in Pakistan since its launch in 2012 and has been experienced double-digit growth over the years. Every month over 7 million Pakistani's use OLX with a new item being listed on its platform every 2 seconds. The impact of the platform is immense and it is estimated that every month used goods* worth (est.) Rs. 20 Billion are circulated in the Pakistani economy through the platform.
Looking at the avid interest of IT ministry in this area gives a ray of hope to Pakistan's booming tech industry. This serves as a positive sign for international tech brands as well who are planning to bring investment in Pakistan.
* Used Goods indicates 14 different categories on OLX in which prominent contribution comes from Property, Cars & Bikes, Mobiles & Electronics