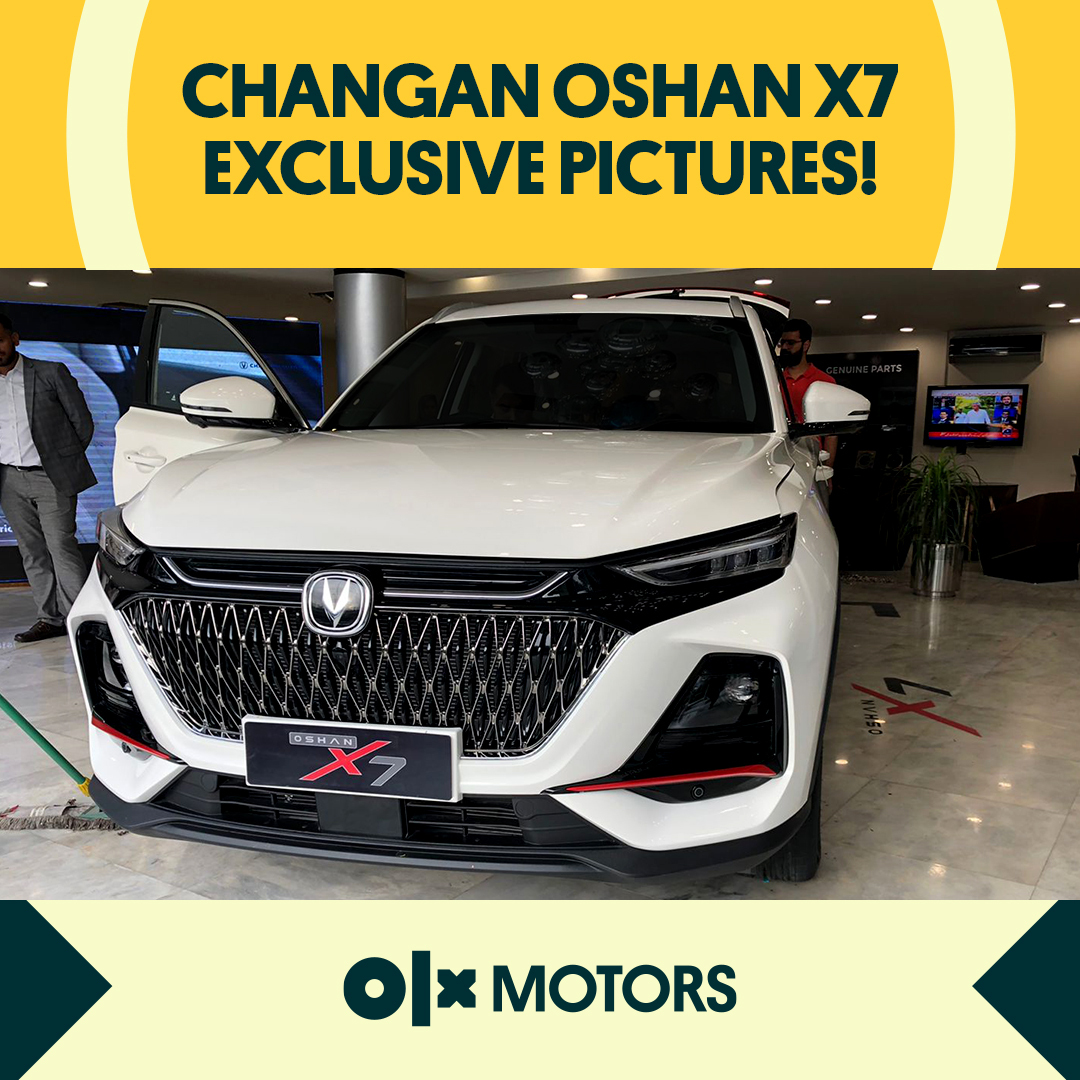 Changan is known for its affordable and value for money cars in Pakistan. Today Changan has launched its first mid-size crossover SUV in Pakistan – Oshan X7.
This SUV has been launched in two variants, a 5-seater, and a 7-seater. Let's find out a bit more about it.
Overview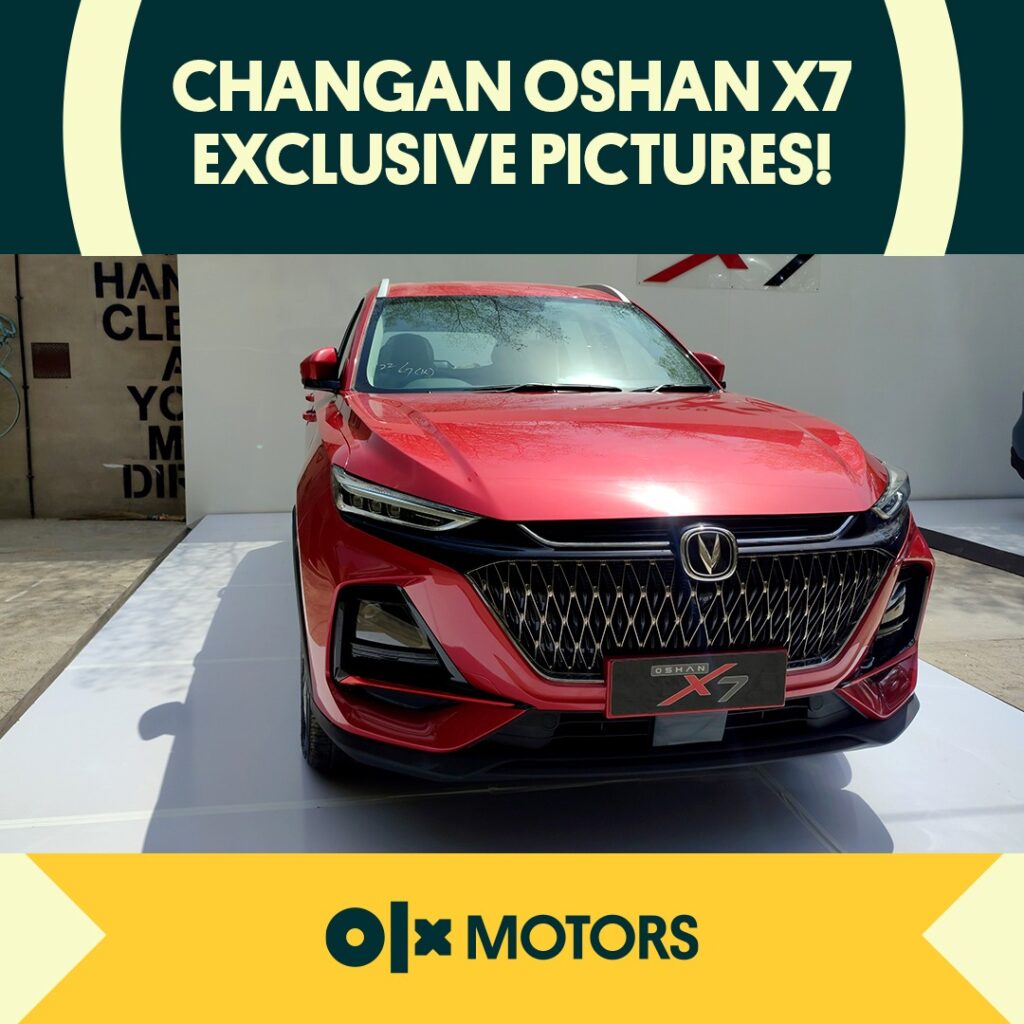 Changan is the fourth largest auto manufacturer in China. It made its debut in 2019 in Pakistan with its affordable and feature-packed vehicles.
Changan has today released its first SUV in Pakistan. Changan Oshan X7 is a D-segment SUV with dimensions comparable with Toyota Fortuner and features exceeding many locally manufactured SUVs. Let's start with the exterior of Changan Oshan X7.
Changan Oshan X7 Exterior
This SUV has sharp, modern, and futuristic looks. Oshan X7 is heavily loaded with plastic and piano black elements on the outside. The front LED headlights are sleek, extending towards the lateral sides of this SUV. 
You may also like:
There is a lot of piano black material on the exterior around the fog lamps, and on the lower part of the front bumper. The use of contrast with the piano black plastic around the fog lamps feels super-premium. You may also see red accent strips across various black parts of the vehicle. It gives sporty and aggressive look to the car.
On the side, the car is plain and simple. However, the silver garnished roof rails and plastic lining around the lower parts of the car, can't go unnoticed. The rear of the car is rather simple with a large chrome rail dividing the rear into two halves.
The rear windshield comes with a wiper. The headlights are placed above this chrome lining with a piano black accent between them. Rear parking lamps and reflectors are placed on the diffuser bumper with dual cut out for the exhaust.
Oshan X7 Futuristic interior
The interior of the car is loaded with luxury and comfort. You will find a leather interior on the inside with stitching on it. The attention to detail is enticing. Toned down beige color along with the black and silver interior adds a premium feel to the interior.
The panoramic sunroof and rear AC vents focus on luxury for rear passengers. Much like the outside, the interior is also loaded with the piano black element. Soft-touch plastic on the side panels adds to the comfortable seats. Leg space and headspace are decent.
All doors have bottle holders and one-touch auto window controls. This car easily has one of the best and most luxurious interiors considering the price of it.
The boot space in case of Oshan X7 Futuresense is amazing. But for 7-seater Oshan X7 Comfort, it's won't be as much. Since the boot is now occupied by 2-seats in the rear leaving less room for luggage.
According to the Changan, Oshan X7 has a maximum luggage space of 1,407 liters depending upon the configuration options.
Much like other Left-hand drive cars that are converted to Right-hand drive, this too has its flaws. The infotainment display is more tilted towards the passenger side and the parking controls still remain on the passenger side. We have seen this trend in Haval SUVs, Alsvin, and Proton Saga previously.
Oshan X7 Variants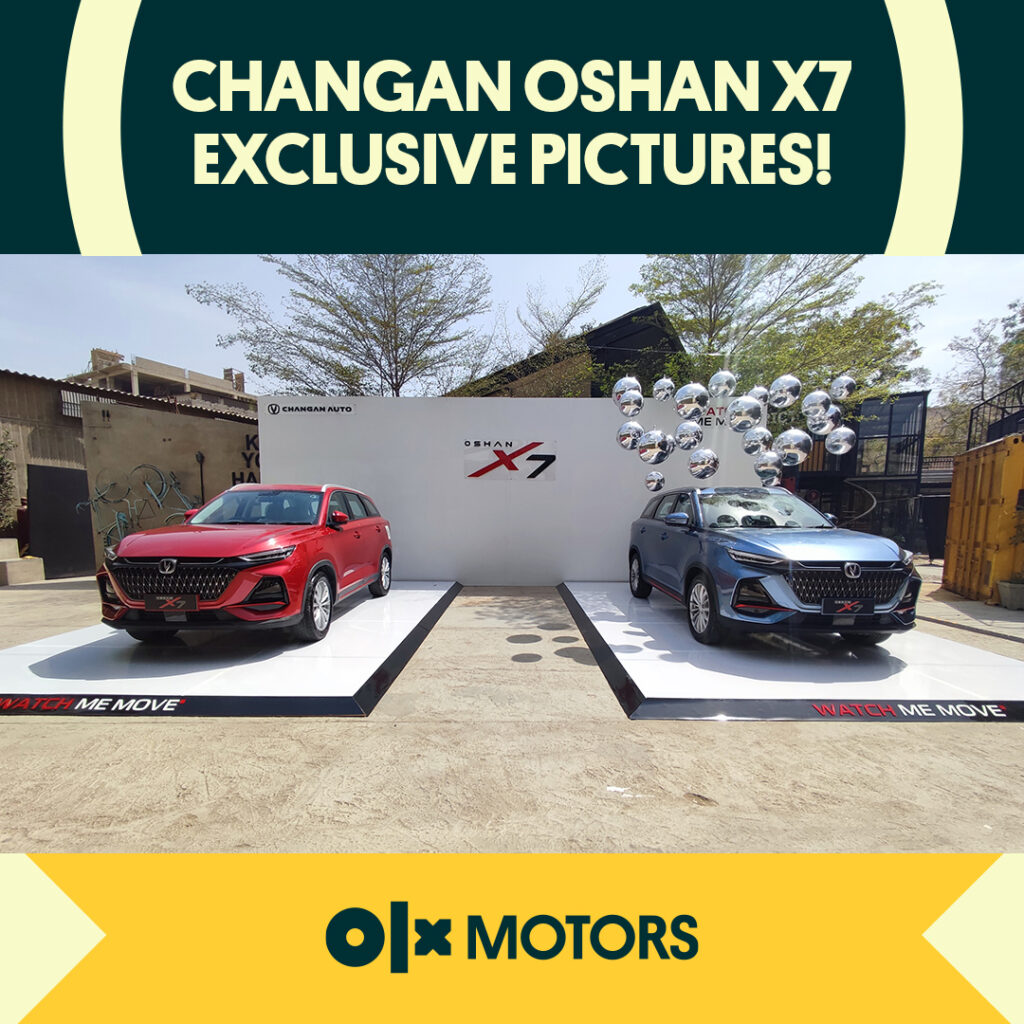 Changan is offering X7 in two variants. There is a 5-seater and a 7-seater variant. The dimensions, engine, and transmission are identical. However, there are some features that are exclusive to the 5-seater variant. More on it later, but before that here is what Changan is calling these variants.
Oshan X7 FutureSense (5 Seat)
Oshan X7 Comfort (7 Seat)
Changan is headlining its five-seater variant as the top model. Which is true since it has advanced Futuresense capabilities.
Oshan X7 colors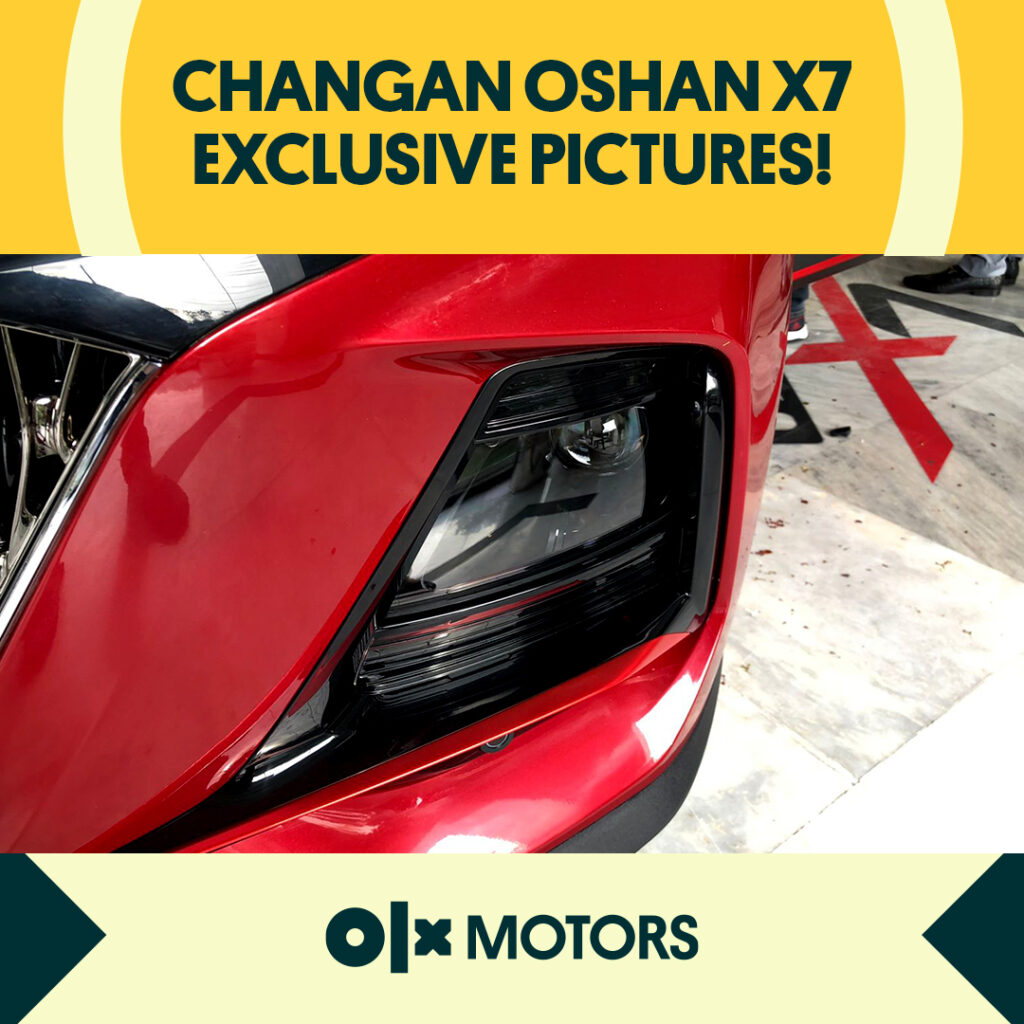 All new Changan Oshan X7 is offered in the following 7 colors,
Orion Blue
Cosmic Red
Space Gray
Lunar Silver
Stellar white
Galaxy Black
New Features of Changan Oshan X7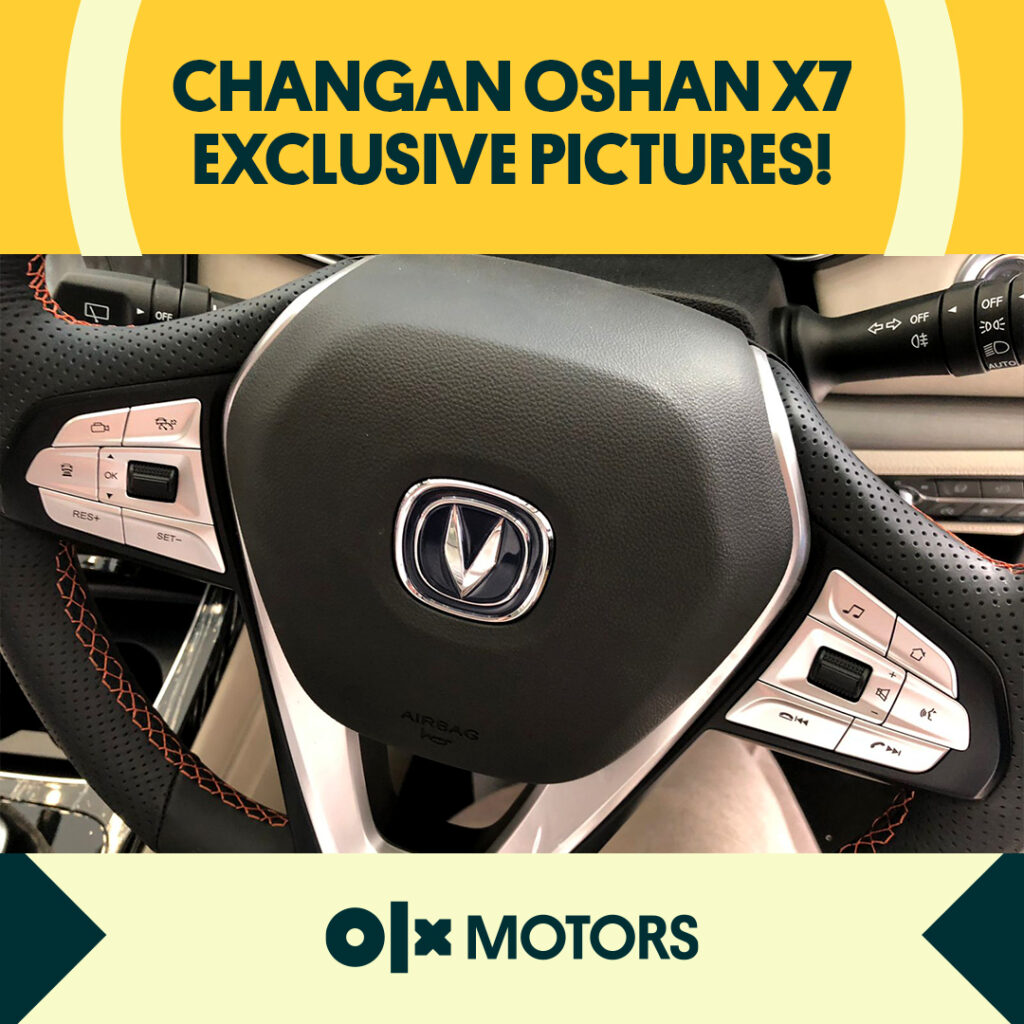 Changan Oshan X7 is the first locally made Euro 6 car in Pakistan. Changan is already manufacturing Alsvin and Karavan on Euro 5 and Euro 4 technologies.
Changan has introduced some new safety features in X7. Chagan calls it FutureSense. Let's find out what it is.
Futuresense- A new safety benchmark in locally made cars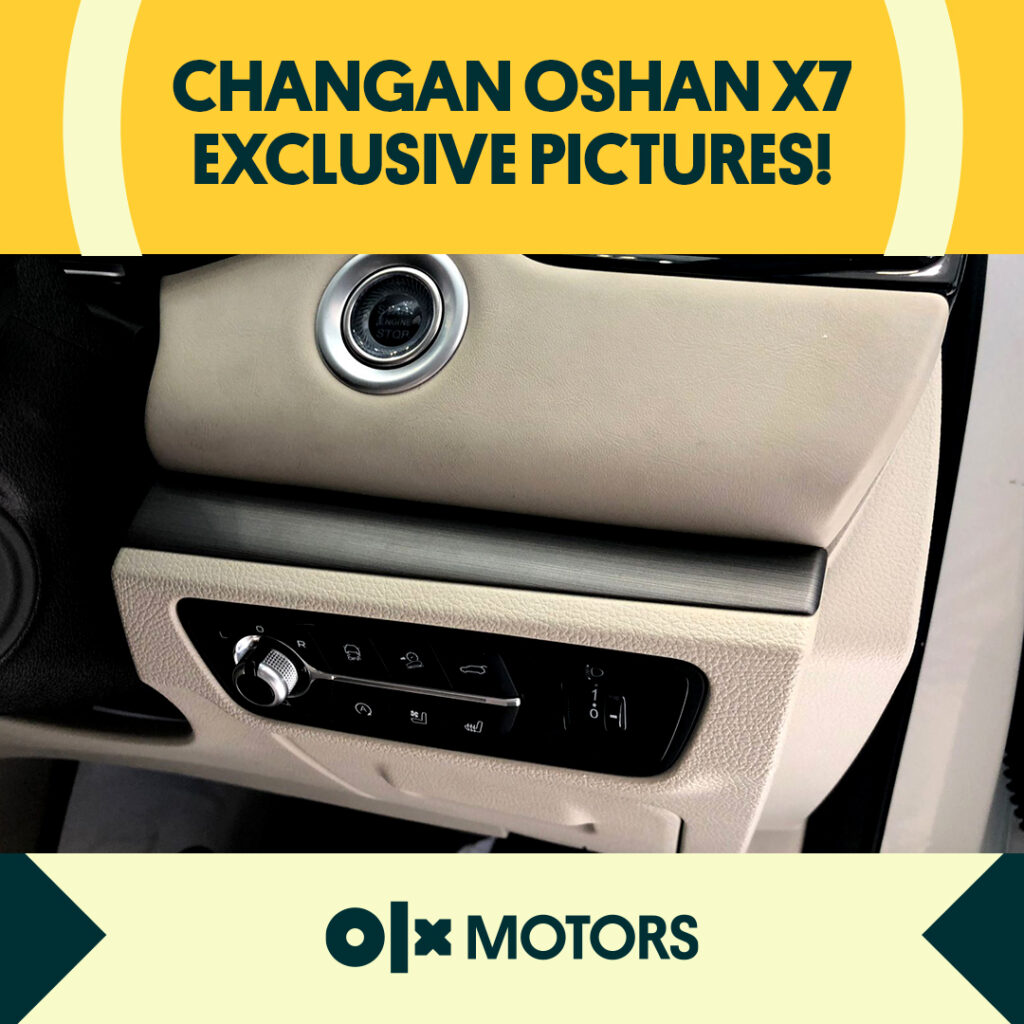 Futuresense is basically an array of safety features like Dynamic Radar Cruise Control, Forward Collision Warning, Automatic Emergency Braking, Digital Video Recorder, welcome package, 360 panocam, and Heated and Ventilated Seats. These options are available in the top-of-the-line, 5 seater model – Oshan X7 FutureSense.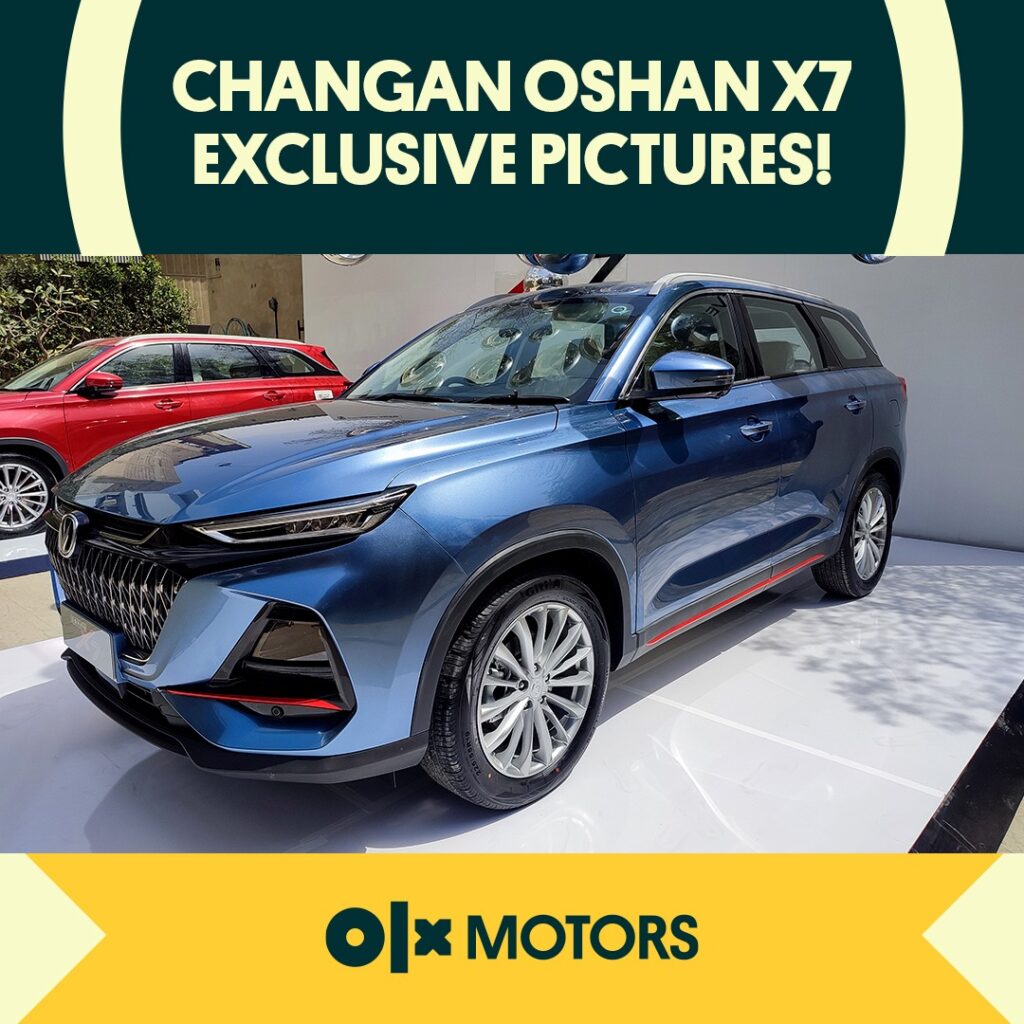 However, many other safety features are common in both variants. For example, Heated Side Mirrors, 4 Airbags, Hill Hold and Hill Descent controls, Electronic Stability Control, Traction Control, ABS, EBD, and Braking Assist are offered in both variants.
Specifications of Oshan X7
Oshan X7 is loaded with impressive specs and features. So much so that it can compete with rival D-segment luxury SUVs in the local market, without their price tag.
| | |
| --- | --- |
| Dimensions (mm) L×W×H | 4730 x 1870 x 1720 |
| Engine | 1.5L Turbo charged |
| Hp and Torque | 185hp (138kW) and 300 Nm |
| Seating capacity | 5 & 7-seater options |
| Fuel tank (L) | 55 |
| Tyre size | 225/25/R19 |
| Drive type | Front-wheel drive |
| Suspension front | McPherson |
| Suspension rear | Multi-link |
Comfort features
Features
Oshan X7 Futuresense
5-seater
Oshan X7 Comfort
7-seater
Power windows
One-touch Auto
One-touch Auto
Power steering
EPS
EPS
Headlight adjustment
Auto
Auto
Alloy wheels
✓
✓
Side mirrors
Power + heated
Power + heated
Steering Wheel Adjustment
Tilt
Tilt
Infotainment system
10.25-inch
10.25-inch
Smart keyless entry
✓
✓
Remote engine start
✓
✓
DRL
LED Matrix Continuos running
LED Matrix Continuos running
Information Display integrated into the meter cluster
7-inch
7-inch
Auto headlamp
✓
✓
Climate Control
Single zone digital
Single zone digital
Rear AC vents
✓
✓
Sports mode
✓
✓
Seating comfort
6-way auto adjustable driver + passenger seats
6-way auto adjustable driver + 6-way manual adjustable passenger seats
Speakers
6
6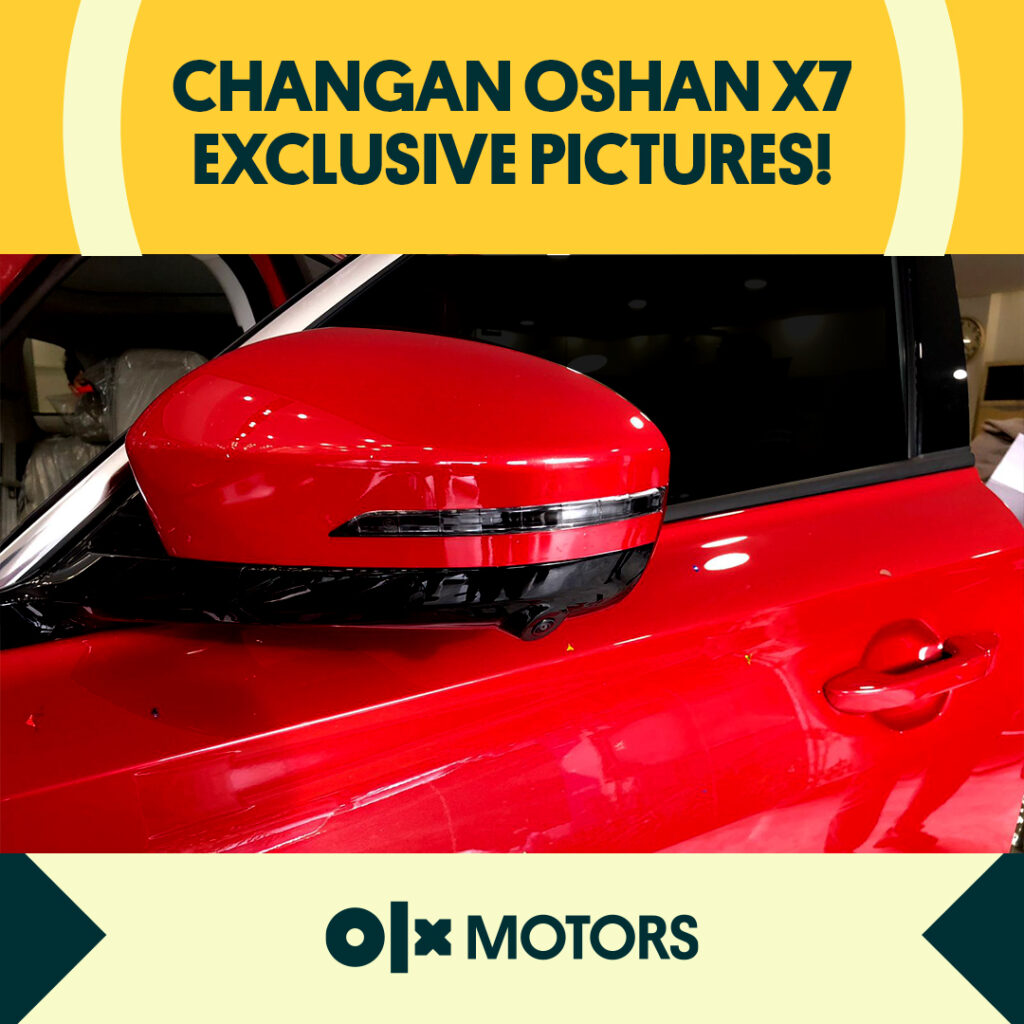 Safety features
Features
Oshan X7 Futuresense
5-seater
Oshan X7 Comfort
7-seater
Dynamic Radar Cruise Control
✓
–
Parking sensor
Front + Rear
Rear
Smart Exit
Autofold side mirror + auto-close sunroof+ windows
Autofold side mirror + auto-close sunroof+ windows
Cruise Control
Dynamic
Standard
Forward Collision Warning
✓
–
Automatic Emergency Braking
✓
–
Digital Video Recorder
✓
–
Heated and Ventilated Seats
✓
–
Airbags
4
4
Heated Side Mirrors
✓
✓
Hill Hold Assist
✓
✓
Hill Descent controls
✓
✓
Electronic Stability Control
✓
✓
Traction Control
✓
✓
Braking Assist
✓
✓
ABS with EBD Brake
✓
✓
Isofix child seats
✓
✓
Changan X7 engine specifications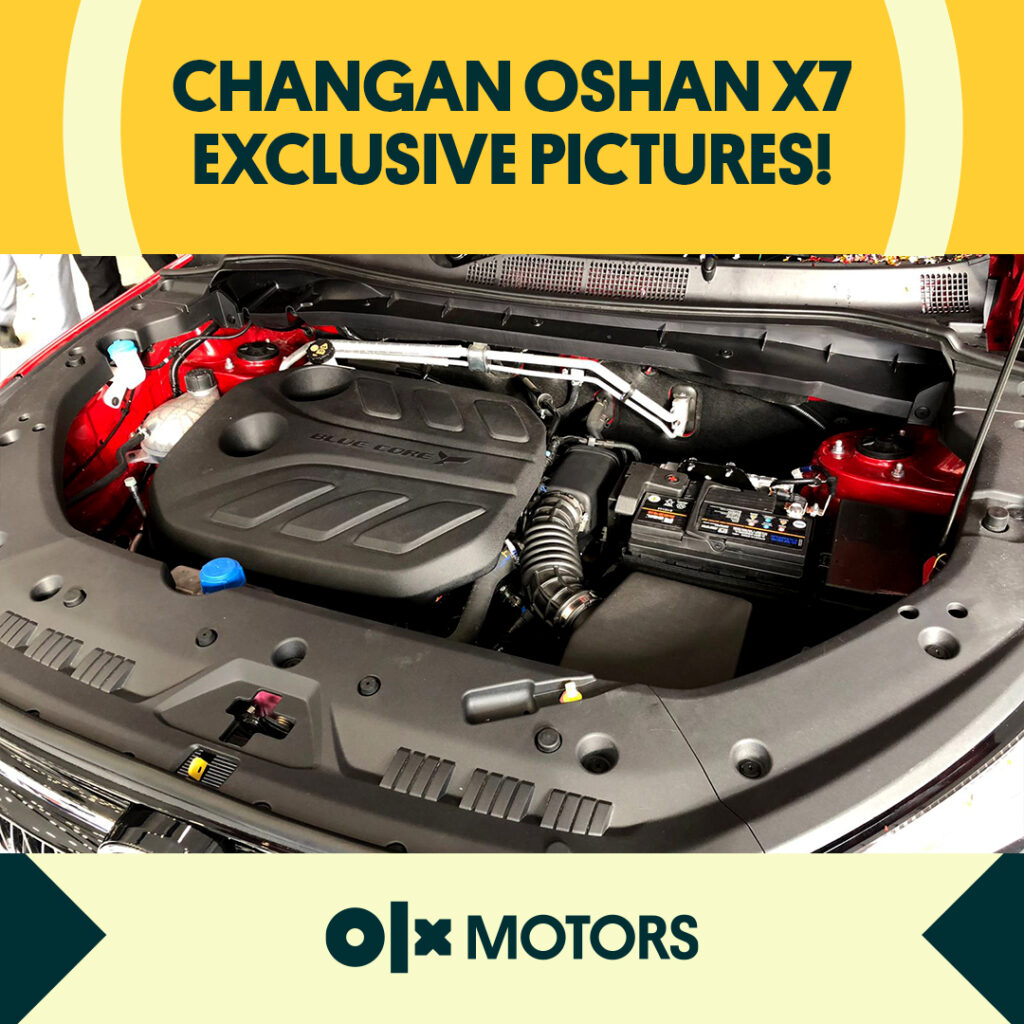 The heart of this SUV is a 1.5L Turbo charged engine, which produces a whopping 185hp and 300 Nm of torque. For reference, Toyota Fortuner V which has a 2.7 L naturally aspirated engine only produces 164 hp and 245 Nm of torque. X7 does 0 – 100 km/h in 8.23 seconds. That's simply stunning.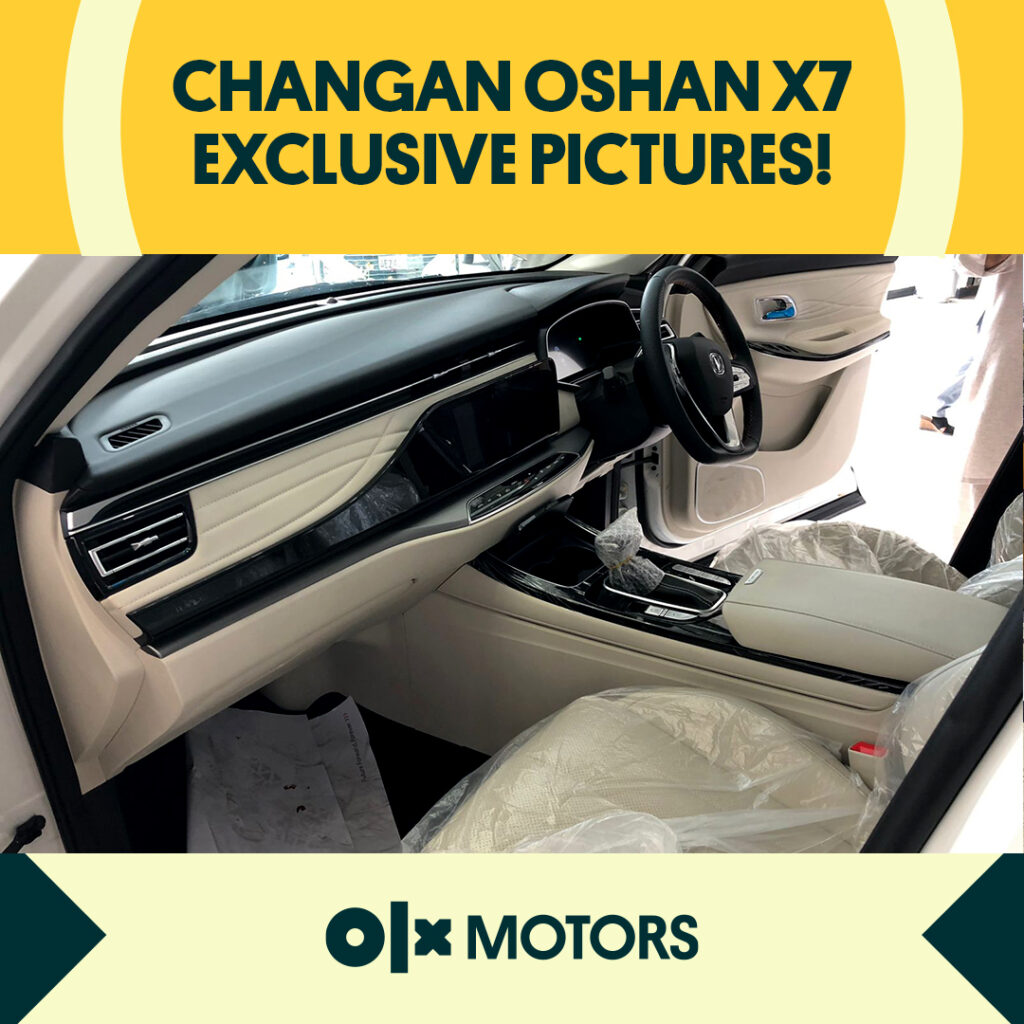 X7s powerful engine is coupled with a 7-speed DCT transmission for seamless delivery of power. Changan has also reduced the throttle response to 0.05 seconds, so you can expect some really good response time from this vehicle.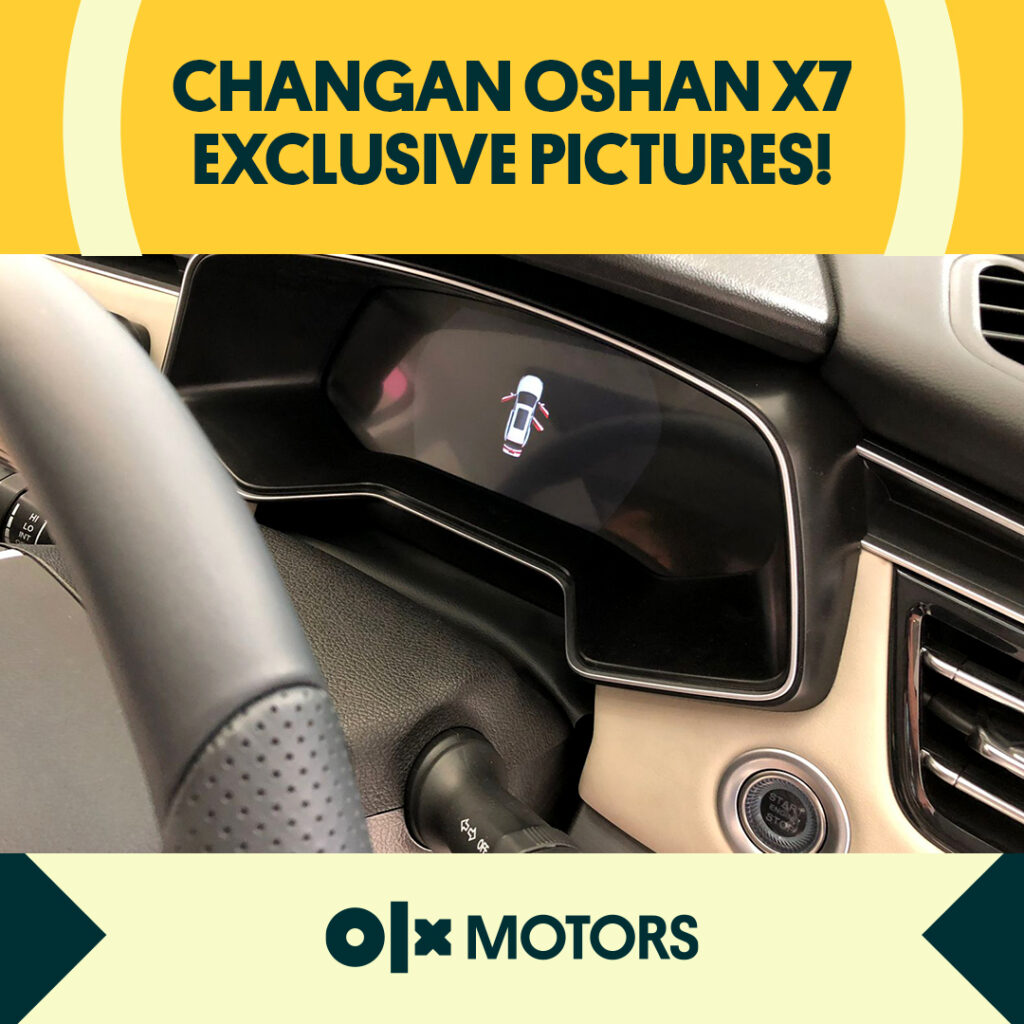 In addition to these impressive figures, the X7s engine is environmentally friendly. Changan uses Euro 6 technology in this SUV which further reduces the harmful emissions from this car. This is the first car with such low emissions in Pakistan.
Oshan X7 fuel average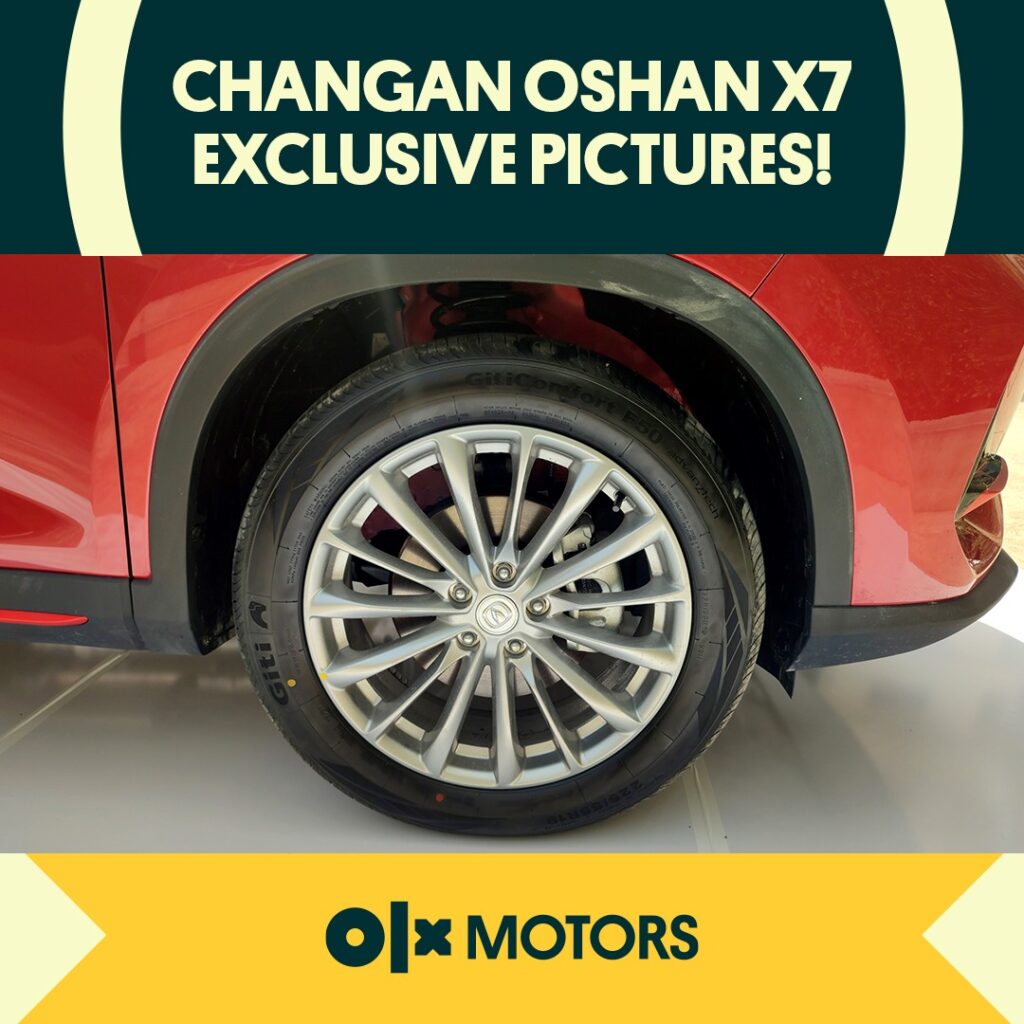 A smaller and more efficient engine with Euro 6 technology is expected to consume less petrol. Changan is claiming the fuel average to be around 12 to 14 km/L depending upon the traffic conditions and driving habits.
Oshan X7 price in Pakistan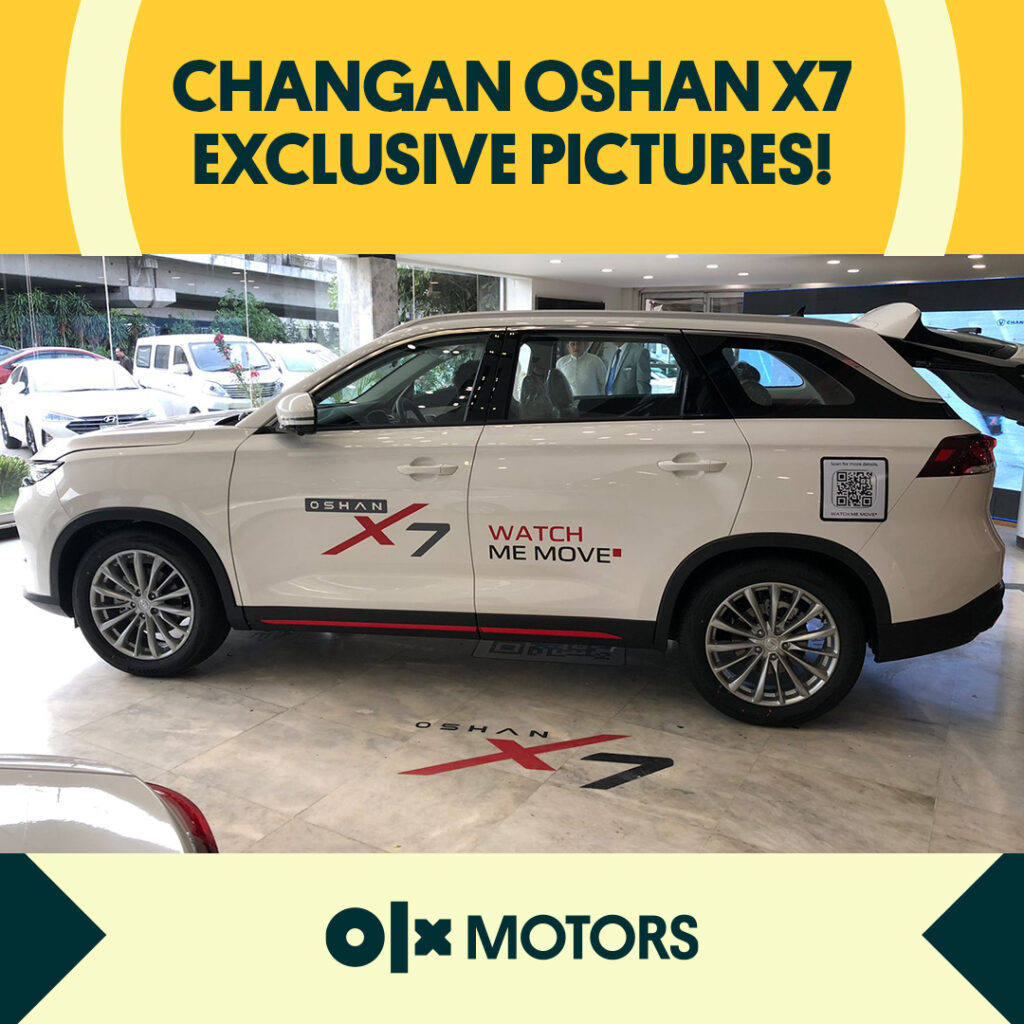 Price has always been the most impressive feature of Changan. We have already witnessed it with Changan Alsvin and Karvaan. This SUV comes in two variants, a 5-seater, and a 7-seater. Quite surprisingly, the 5-seater is the top variant with premium safety features.
Here is the price of Chagan Oshan X7 in Pakistan.
| | |
| --- | --- |
| Models | Price (Rs) |
| Oshan X7 Futuresense (5-seater) | 5,950,000 |
| Oshan X7 Comfort (7-seater) | 5,750,000 |
Booking information
Changan Oshan is available for booking and anyone can visit the nearest dealership to check the SUV. The booking price for Changan Oshan X7 is Rs. 12 lac and if you book it today, it would be delivered in April 2022.
Is it any better than the rest?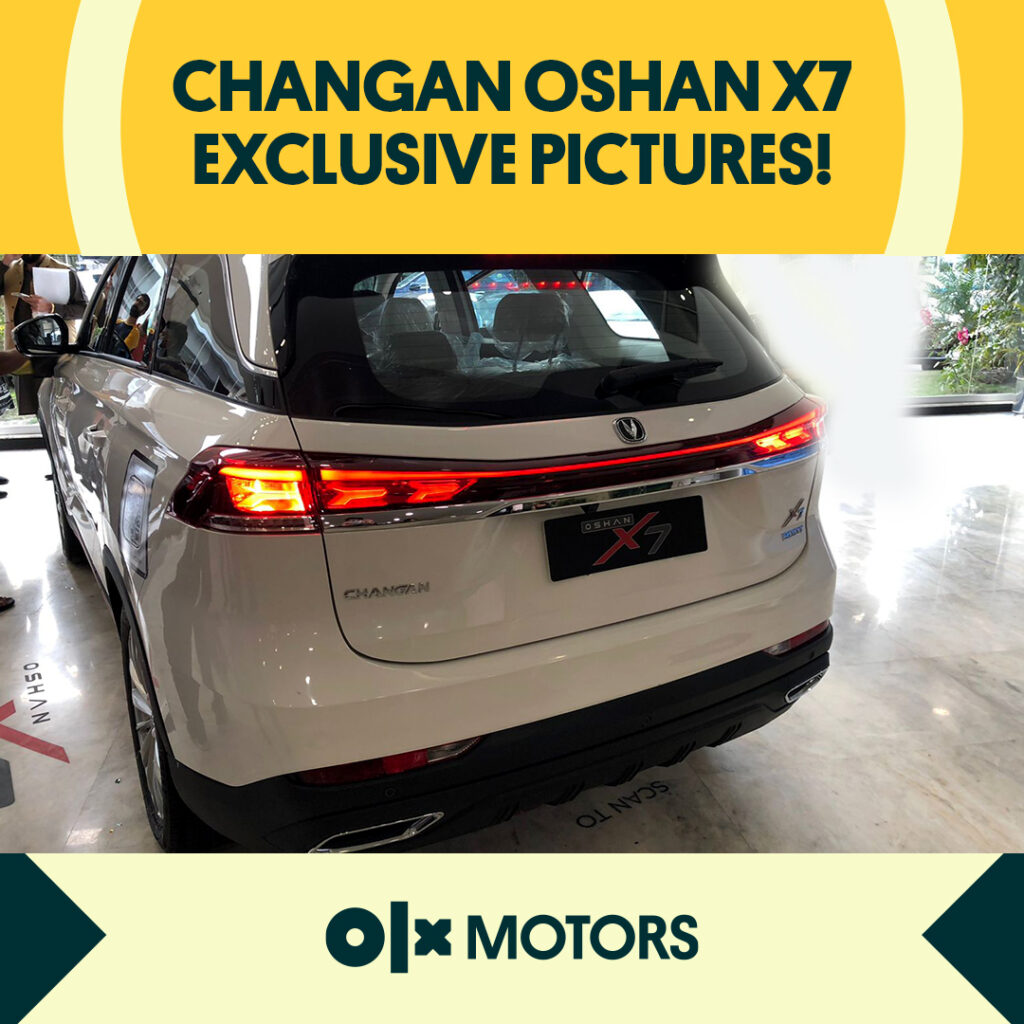 Changan has priced this SUV well. With its price, X7 will target and compete with many premium sedans and C-segment compact SUVs. Changan X7 offers more modern and futuristic looks than its competitors. Time will tell how well this SUV performs against its competitors.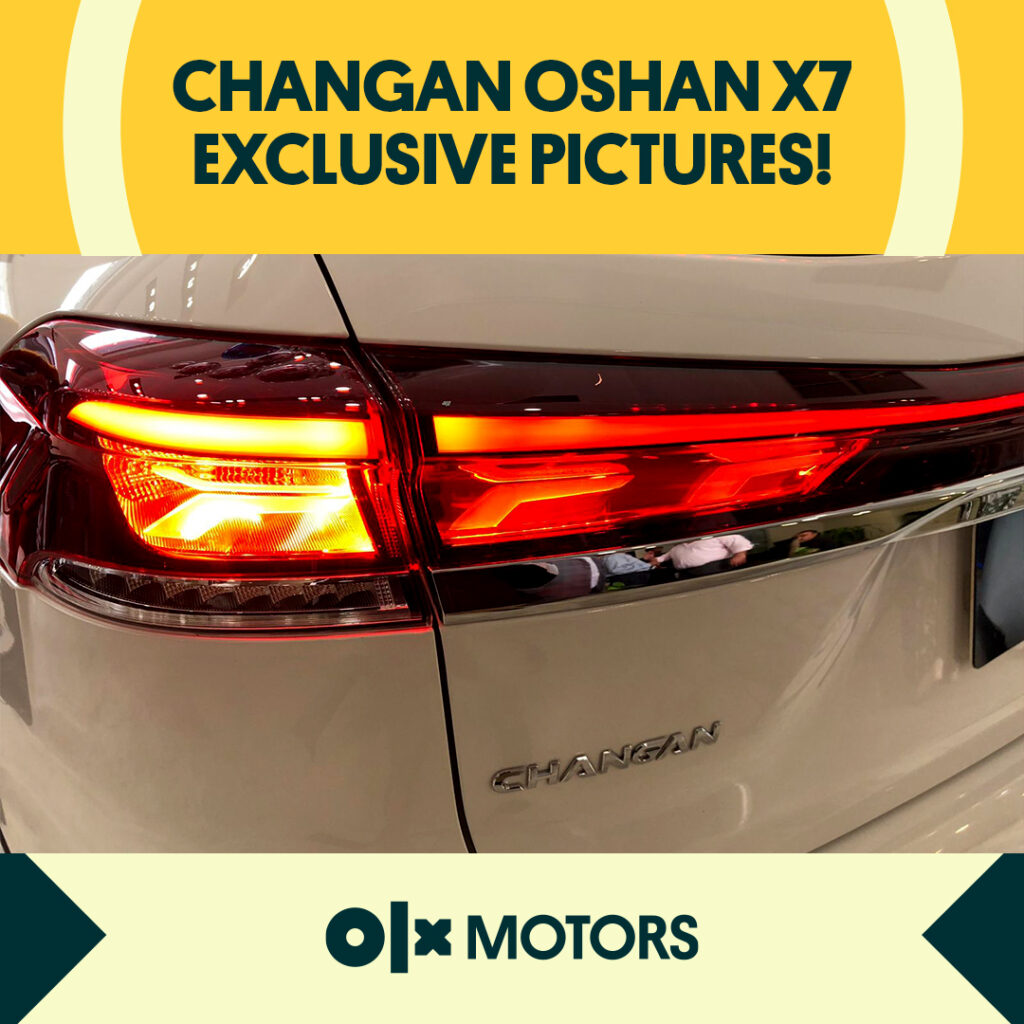 The size of it makes it Fortuner's competitor, though it is priced much lower than Fortuner. Changan X7 prioritizes safety and Oshan X7 FutureSense (5 Seat) offers such features that are absent in many locally manufactured vehicles.
What to learn from this blog?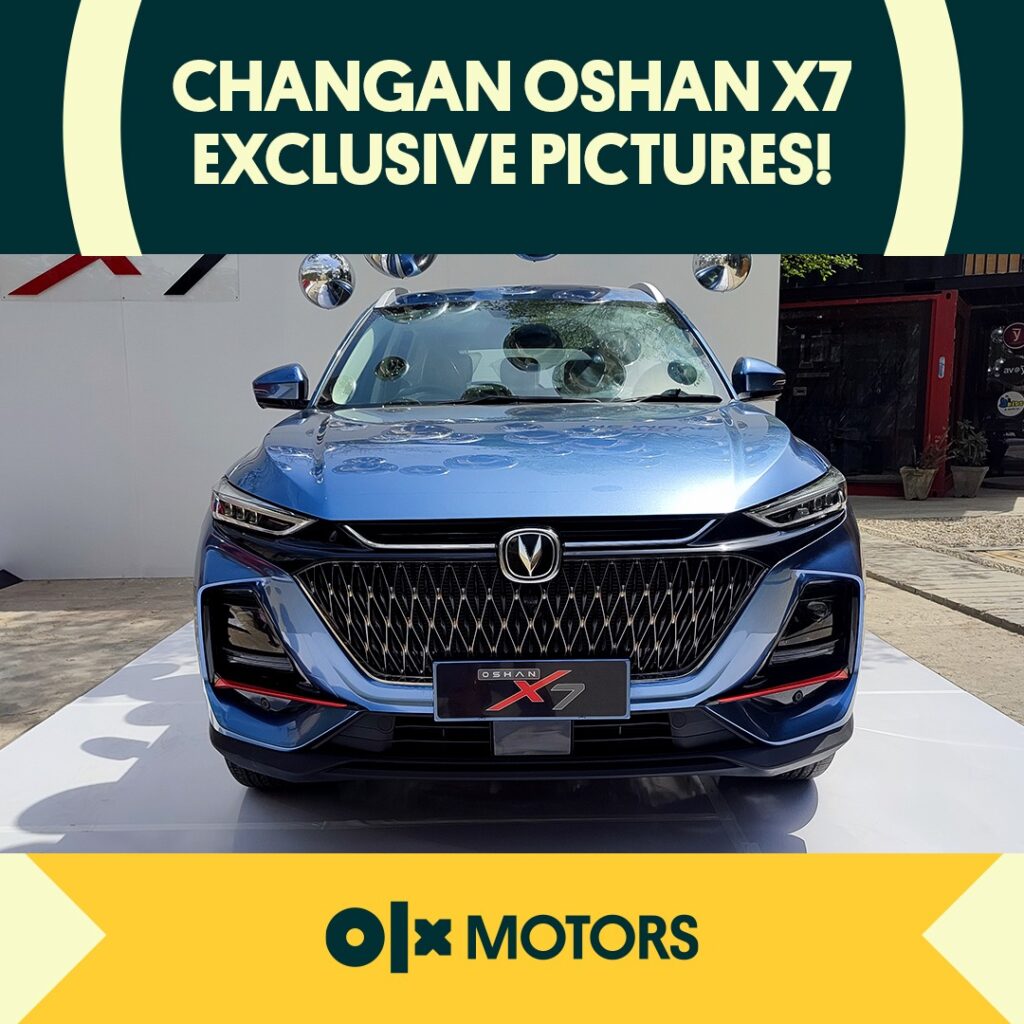 Oshan X7 is the first SUV by Changan in Pakistan. Oshan X7 seems like a complete ride with all the comfort, safety, and security features. X7 is not a compact SUV, rather it's a mid-size D-segment SUV, much like Fortuner. But surprisingly, it's been priced at an attractive, Rs. 5.75 – 5.95 million. Let's hope local auto manufacturers learn from Changan to provide the public with the latest and safe rides.
You have many options in this price range like KIA Sportage, Hyundai Tucson, Glory 580 Pro, and more. However, many of these are previous generations of what's offered internationally. Oshan X7 is the first Right Hand Drive (RHD) model that's launched in Pakistan and China simultaneously before being launched in the rest of the world.
How well will this SUV be received? We will have to see how people find this SUV and if they can let go of their "Made in China" mental block.
After reading this blog, would you be interested in buying this SUV? Whatever your answer, let us know your reasons for liking/disliking Changan Oshan X7.
You may also like: