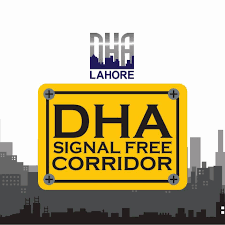 The signal free corridor is an ambitious project undertaken by DHA Lahore to provide a smooth and signal free drive to motorists passing through one of the posh housing societies in Pakistan. The signal free corridor will stretch from Defense Mor on Walton Road to the Lahore University of Management Sciences (LUMS) near Lalik Jan Chowk in DHA Lahore. The project is being built in collaboration with the Maaksons and is scheduled to end in 6 months approximately.
It will be conducive to solving the ever growing problem of traffic that grapples a metropolis like Lahore and will lead to price hikes of properties inside DHA. The proposition for this project was accepted in 2017. The traffic jams in Lahore are becoming commonplace and projects like these can make the life of everyday commuters easy.
According to the development plan made public by the DHA authorities, there will be two flyovers and three underpasses in the entire signal free corridor. One of the flyovers which is situated on the Defense Mor has started functioning for the motorists and is not only convenient for the vehicles coming in and out of the DHA but also for vehicles travelling on the Walton Road from Cantt to Ferozepur Road. In order to facilitate the flow of traffic in the interim in which the project is being built, an alternate route plan has been shared with the public.
What are your thoughts on it?