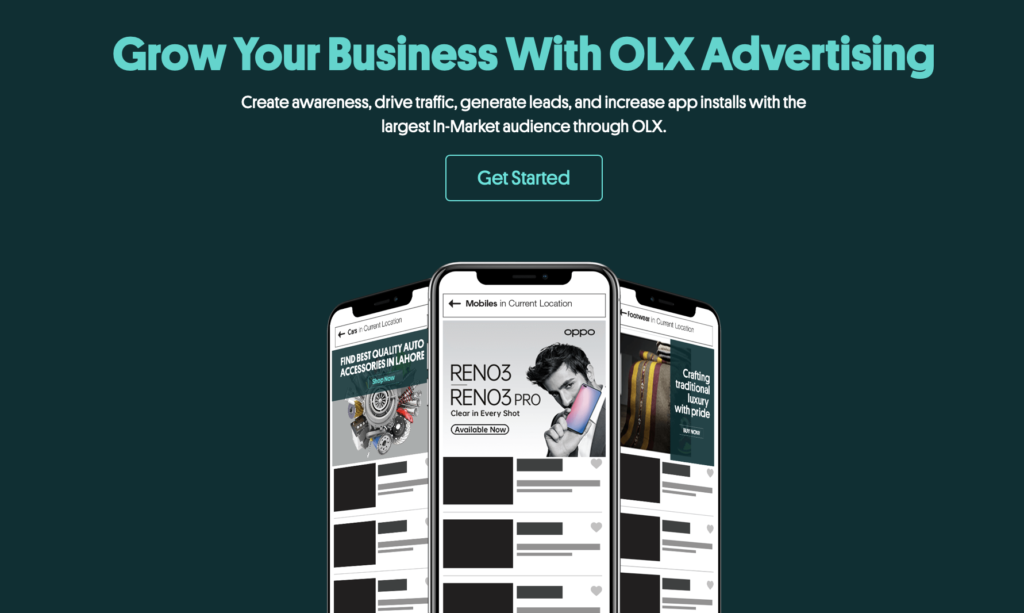 What Is OLX Self-Serve?
OLX is Pakistan's number one online marketplace with 950K+ daily active users. With over 1B impressions to serve monthly, OLX has a massive user traffic which makes it the ideal platform for all businesses to advertise themselves. OLX is a great advertising platform especially for SMEs looking to reach a wide audience with ease. With 14 categories and over 100 sub-categories ranging from property to electronics, fashion and accessories, OLX caters to all audiences making it extremely easy for businesses to find their most relevant audience.
The OLX Self-Serve tool is as simple to use as shopping online. In 4 simple steps, it gives the advertisers complete autonomy of the advertising process. They can customize their campaigns in the most effective way including the name, description and exact positioning of the advertisement without any hassle. 
Why Do You Need It?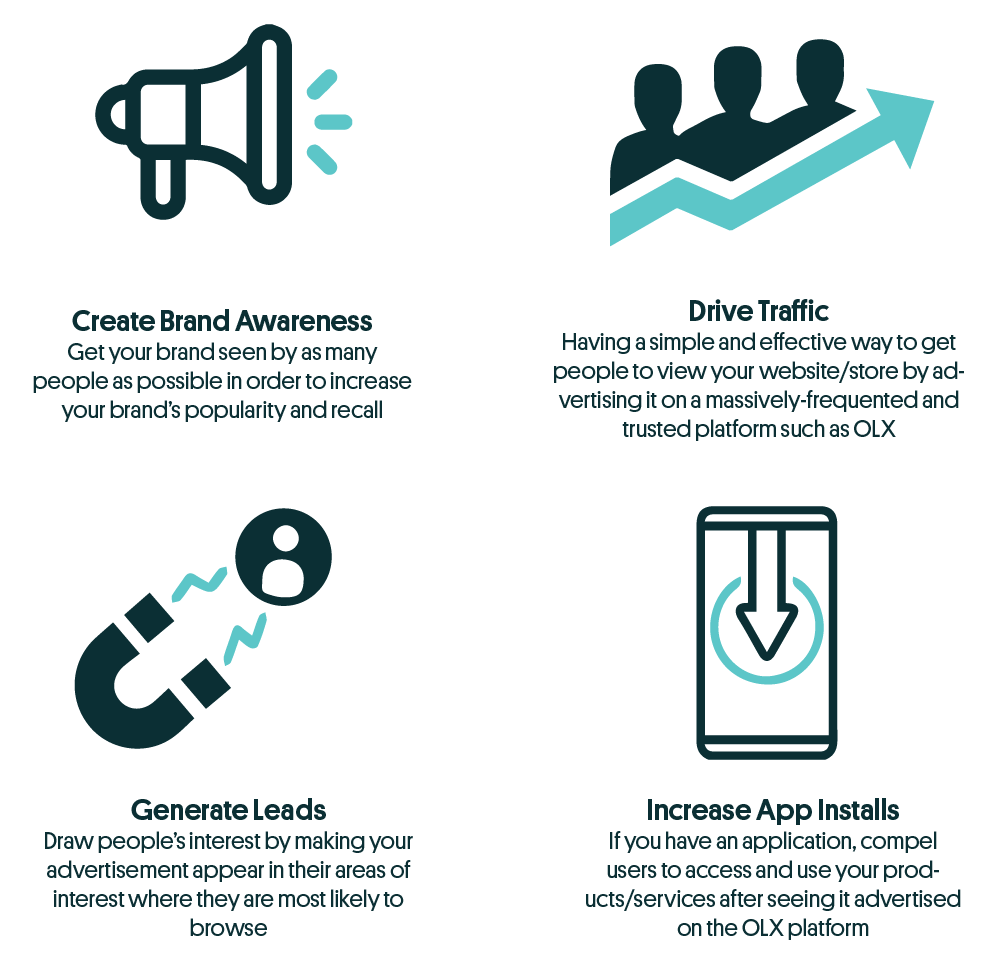 When advertising on OLX, one might wonder how visible their advertisement can truly be. The OLX Self-Serve tool gives you the power to decide where you want your advertisement to be placed and how you want it to appear. There are various platforms where your advertisement can be placed such as Android application, MobileWeb, and Desktop screens.
The placement of your advertisement on MobileWeb can appear as follows where you get to choose which of the three placements you want for your advertisement.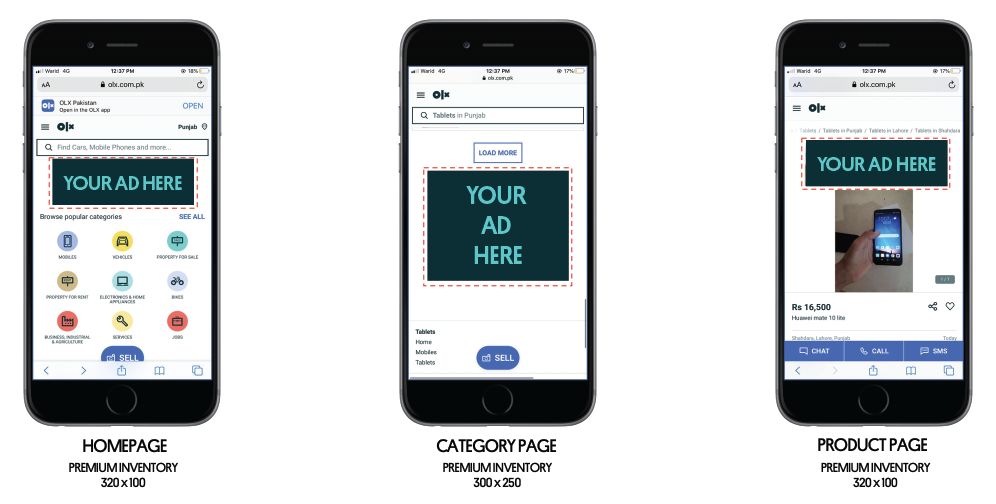 Similarly, on a Desktop screen, your advertisement would appear in any of the following placements.

Moreover, in the Android application, the advertisements can be placed as follows: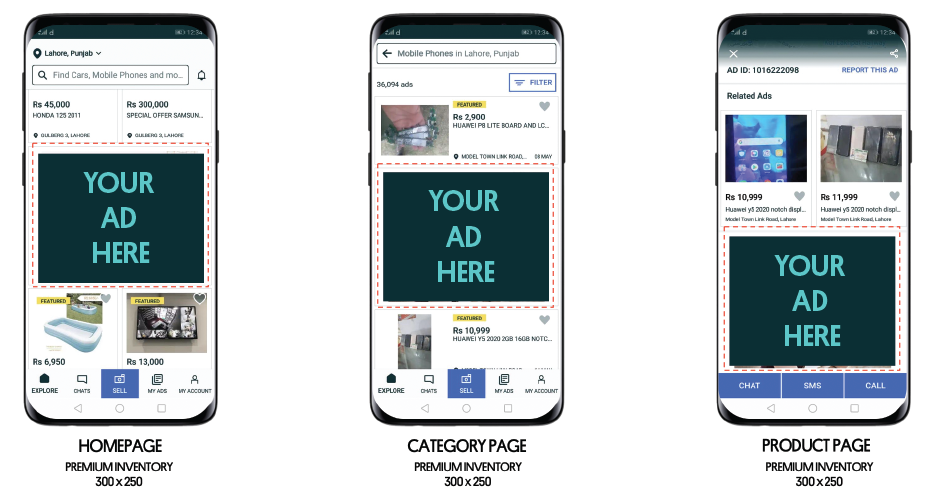 How Can You Create Your Campaign?
Create Your Acount
To begin the process, create your account using the Login tab in the header and fill up your details in the designated slots
To set up your campaign, follow the 4 simple steps below:
Step 1: Objective & Type
Decide whether the purpose of your campaign is to create brand awareness, promote your own website, or to promote your OLX shop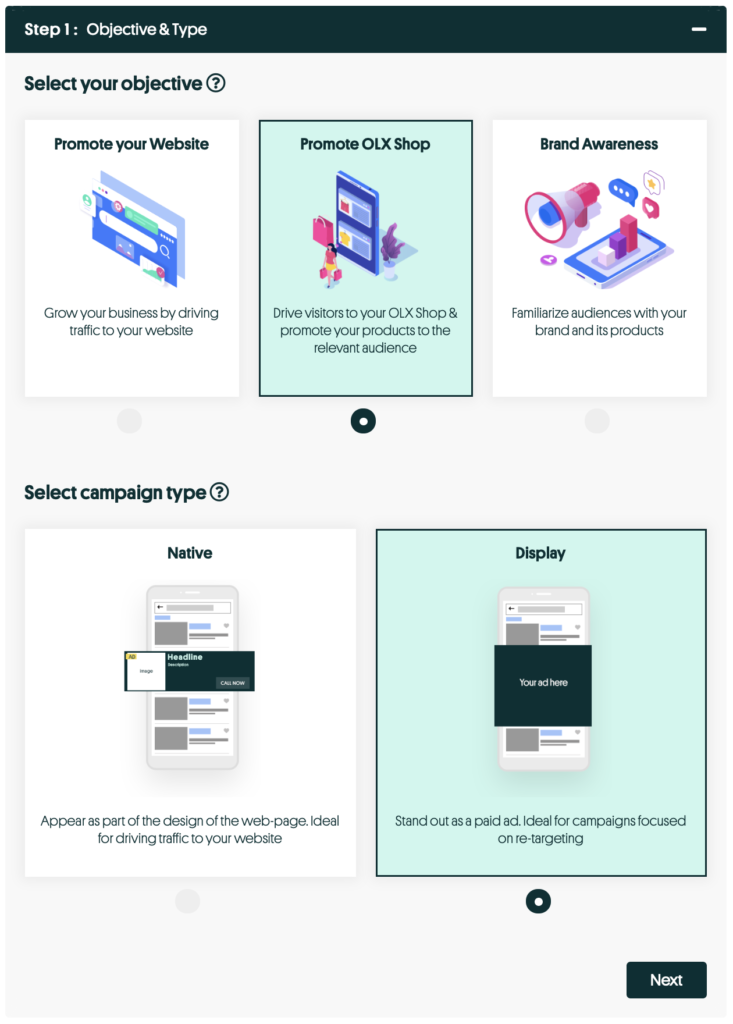 Step 2: Duration & Budget
Decide a name for your campaign as well as how long you want your it to run and how much money you want to spend on it. Note that the maximum duration for a campaign is 30 Days and the minimum budget is as low as PKR 10,000.
Step 3: Location & Targeting
Now choose your audience based on the cities you want your campaign to run in. Select which categories or subcategories you want your ad to appear in. You can also get an estimate of the impressions that can be served according to your specifications by hitting the "Calculate Impressions" button.
Step 4: Create Ad
In the final step of setting up your campaign, customise the appearance of the ad by selecting a title for it and adding a description as well. In this part of the process you will also upload a photo in jpeg or png format to go on the advertisement and put in the link for your page/website that you want the user to be directed to.
At the checkout point, choose your method of payment. At present your payment options can either be payment via credit card, payment via Easypaisa (Over The Counter), or payment via Easypaisa's mobile application.
Believe it or not, that's about it!
Your campaign has been set up and will be live shortly after.
To test the OLX Self-Serve Tool yourself and set up your campaign in minutes, check out the link here —–>https://olxadvertising.com.pk
Looking to read up on more interesting topics from what's happening in autos to what's the latest in mobile and electronics!
For more information visit OLX to find a wide range of products and services and choose the one that best suits your preferences and budget. With thousands of ads posted daily, OLX is the smarter choice.