Several choices are available when it comes to imported cars, especially in relation to Japanese import cars. Every now and then, you will see a new import from Japan cruising the roads of Pakistan. Here we are mentioning a few of the cars that might strike your fancy.
Please note that the cars mentioned below are listed according to popularity metrics of 2017 and onwards.
1. Toyota Vitz 
The 3rd generation of Toyota Vitz is roaming the streets of Pakistan's metropolitan cities. It has a sportier look and a great-looking aerodynamic body.
Specs (F 1.0L)
It is a front-engine, four-wheel-drive hatchback which comes in these trims: A F 1.0L, 1.3L, and 1.5L. The F 1.0L or 1.3L trims are the common versions, especially the F 1.0L. Specifications are below:
Automatic Transmission
Suspension: Tube Shocks with Coil Springs for Front and Rear 
Brakes: Front – Ventilated Discs, Rear – Solid Discs
Tyres and Wheels: 165/70/R14, 14-inch, Steel wheels with wheel caps
Dimensions (LxHxW): 3,930 mm x 1,530 mm x 1,695 mm
Let it be known that the 1.0 version is sluggish because this variant of the engine is underpowered for a car like Vitz, which leans towards the heavier side of the weight spectrum, and that too for a hatchback. The 1.3 variant is much lenient for the user in this matter.
Features
Here are some of its features:
Power Features (Windows, Locks)
Airbags
Stereo Speakers
Heated Seats
Climate Control
Cruise Control
Front Fog Lights
Price
Different models are available at prices that come in between PKR 15 Lacs and PKR 22 Lacs.
Resale And Maintenance
Due to this car's popularity, resale is good enough but spare parts are a bit expensive.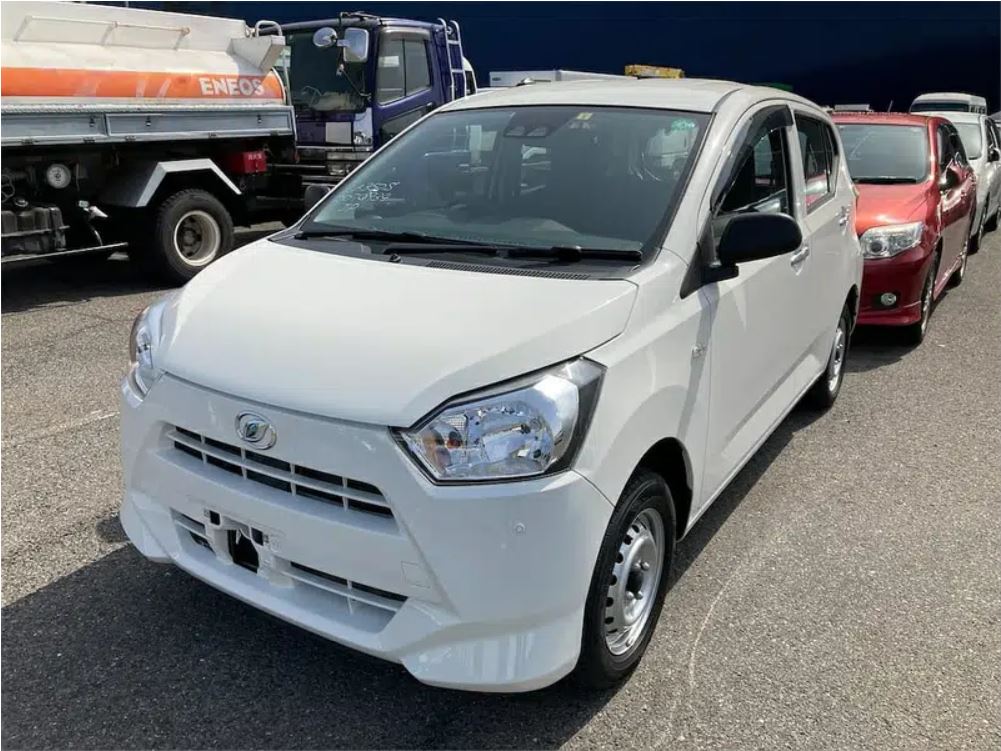 2. Daihatsu Mira 
Another great addition to the Japanese import cars. You must be seeing this Kei car from Daihatsu a lot nowadays.
Specs (e:S)
Mira has got a 660cc inline-3 DOHC Valve-12 engine and a CVT gearbox. Daihatsu Mira is a reasonably priced JDM car and that is what is special about it. It comes in many variants. Specs are below:
Continuously Variable Transmission (CVT)
Suspension: Front – Macpherson Strut, Rear – Torsion Beam
Brakes: Front – Solid Discs, Back – Drums
Tyres and Wheels: 155/65 R14, 14-inch, Alloy Wheels
Dimensions (LxHxW): 3395mm x 1500mm x 1305mm
Features
These are some of the options:
Power Features (Windows, Locks)
Traction Control
Remote Boot
Front and Rear Speakers
Rear AC Vent
Price
You can find pre-2010/early 2010s' models at around PKR 1 Million and the latest like the new e:S can go beyond a 2 million rupees price tag. For more information on price, check out our listings.
Resale And Maintenance
You might want to put in some time to find its expensive spare parts and you should know that it is maintained expensively. These are the kind of things that adversely affect the resale value.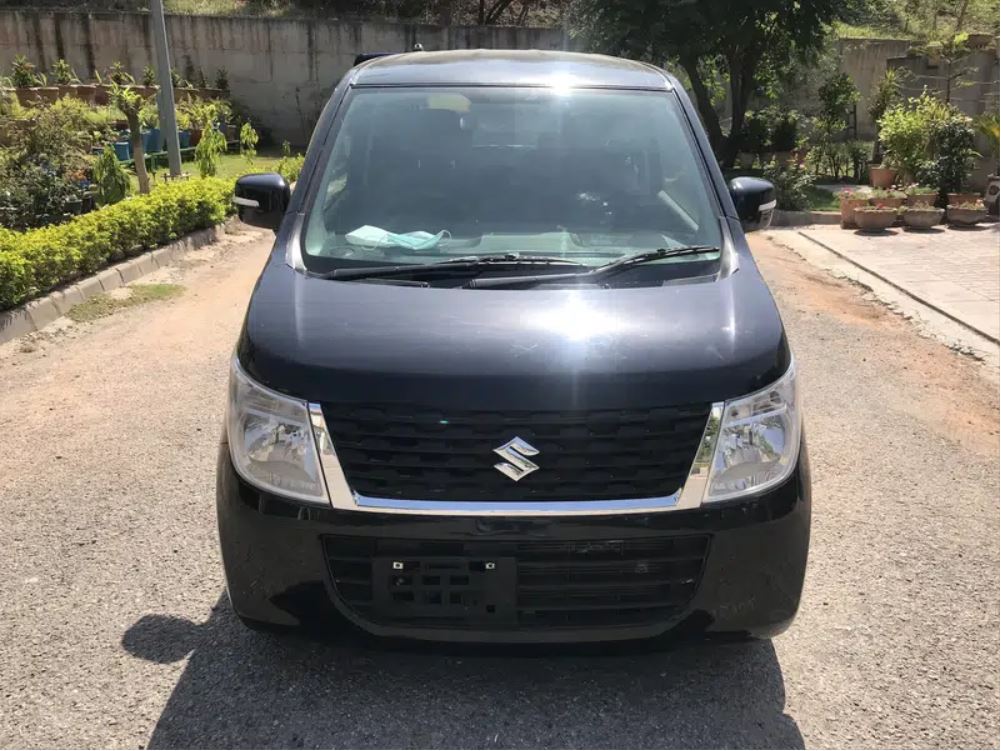 3. Suzuki Wagon R (Imported)
Like its local counterpart, the imported car version of Suzuki's Wagon R is pretty big in Pakistan. It was what motivated the local version to be available. And the newest generation might just be able to strike your fancy. It has great headroom and an incredible resale for local streets.
Specs (FX)
Specifications are as follows: 
Continuously Variable Transmission (CVT)
Drivetrain: Front Wheel Drive (FWD)
Dimensions (LxHxW): 3395mm x 1640mm x 1475mm
Tyres: 155/65R14 75S for both Front and Rear
Features
Immobilizer Key
Keyless Entry
Airbags
Power Features (Windows, Doors)
Navigation System
Price
The newer generation (post-2014) can be above or around a 2 million PKR price tag and an older generation (pre-2014) can be found at a much more competitive price compared to others in the same class.
Resale And Maintenance
You can find parts for it easily and it has great resale value for the older models.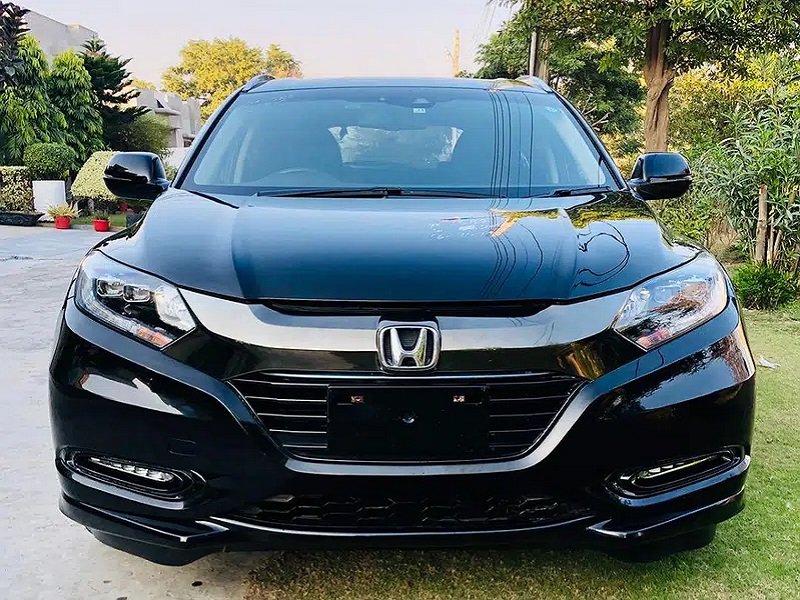 4. Honda Vezel
Pakistan loves sport utility vehicles, hybrids, and crossovers. And Vezel is popular enough to decorate streets like a motley of beads on a necklace. In looks, performance, and utility, it is a direct competitor of Kia Sportage, BMW X1, Audi Q3, and perhaps the Toyota CH-R. Non-Japanese versions are called HR-V. Its USP is a complete package of hybrid capability wrapped in a beautiful chassis with sports utility advantages.
Specs (Hybrid Z 2014-2018)
Vezel has a 1.5L i-VTEC hybrid engine. Read on for more:
Transmission: 7-Speed Double Clutch 
Suspension: Front – Macpherson Strut, Rear – Axle Type
Brakes: Front – Ventilated Discs for Front and Discs for Rear
Tyres and Wheels: 215/55 R17, 17-inch, Alloy Wheels
Dimensions (LxHxW) mm: 4295 x 1605 x 1770
Features
The car has an exceptional list of features. You can have:
Heated Mirrors
Cruise Control
Airbags
Automatic Climate Control
LED (Light Emitting Diode) Daytime Running Lights
Satellite Navigation (Optional)
Leather Upholstery (Optional)
Price
Most imports of it are available in the hybrid trims and these sell around the price bracket of PKR 4 Million for models ranging from 2014 to 2017.
Resale And Maintenance
Parts are expensive due to it being an imported vehicle. Moreover, the resale value is also somewhat good.
5. Toyota Land Cruiser 
Pakistanis love Toyota Land Cruisers. It is a popular export from Japan. Land Cruiser is a full-size/off-road SUV and is known for reliability and sheer toughness. It has gone up against the most dangerous of terrains. It is one of the best-known examples of Japanese import cars.
Specs (Post 2015 ZX)
Land Cruiser (J200) has four trims available in Pakistan as import variants. These are AX, AX G Selection, GX, and ZX. These variants usually possess 4608cc DOHC 32 Valves with a Dual VVT-i V8 Petrol engine. Follow through for additional details. 
Transmission – 6 Speed Automatic
Brakes: Ventilated Discs – Front, Solid Discs – Rear
Suspension: Double Wishbone Type Independent – Front, Trailing Link Axle – Rear
Tyres and Wheels: 285/50 R20, 20-inch, Alloy Wheels (Varies)
Dimensions (LxHxW): 4950mm x 1870mm x 1980 mm
Features
You do get a car with one of the highest ratings in safety standards which is also extremely luxurious. There are a plethora of features available in the vehicle such as:
Memory seats
Reverse Camera
Leather Upholstery
Multi-Infotainment System (Navigation, AM/FM, Display, etcetera)
Sunroof/Moonroof
Front and Rear Speakers
Power Features (Windows, Locks, etcetera)
Cooling Box
Price
Post 2015 facelifted high-end versions have a price tag around PKR 400 Lacs Lacs but the lower versions can be found around lower spectrum price (around PKR 100 Lacs) of Land Cruisers.
Resale And Maintenance
Even when it is officially available through Toyota Indus Motors, it is still hard to maintain and its spare parts are highly expensive. You can expect similar situations from imported versions.
If you are looking into buying or selling a car or any other vehicle, visit OLX Pakistan to find a wide range of vehicles and choose the one that best suits your preferences and budget.