Launched in 2015, KIA Sportage has won the hearts of many Pakistani SUV lovers. Its awesome looks and state-of-the-art features have consistently made it one of the most selling SUVs in Pakistan.
It is therefore Sportage lovers would be jubilent to here this breaking news:
KIA has finally published the teaser of its upcoming KIA Sportage 2022 that has already gone viral.
For this reason, today, we will feature all the specifications of the upcoming 2022 KIA Sportage, its launch date and price in Pakistan.
Plus, we will also find out what makes the Sportage 2022 even better than the 2021 Sportage.
Let's dive in.
KIA Sportage 2022 Exterior:
The exterior of the Sportage 2022 has been taken to the next level, as it looks sportier and revolutionary. It has the latest design, which is a joint effort of KIA's global design teams in:
Germany
United States
China
Korea
It will be globally launched in two exterior variants:
Standard
Extended wheelbase
Front:
The front of the SUV is truly unique, bolder and dynamic.
A tiger nose wide and bolder grille
Dual spot fog lights on both sides of the front bumper
New boomerang-style Daytime running lights/DRLS extended along the hood line and fender. On top of all, it wraps around the front bumper that encloses the new cube-styled headlights.
Sides:
The beltline slopes upwards along with a chrome strip going towards the rear.
The roofline slopes heading backward with a connected spoiler.
On the C-pillar, it has a bigger and wider glass panel that increases the visibility and openness of the interior.
Rear: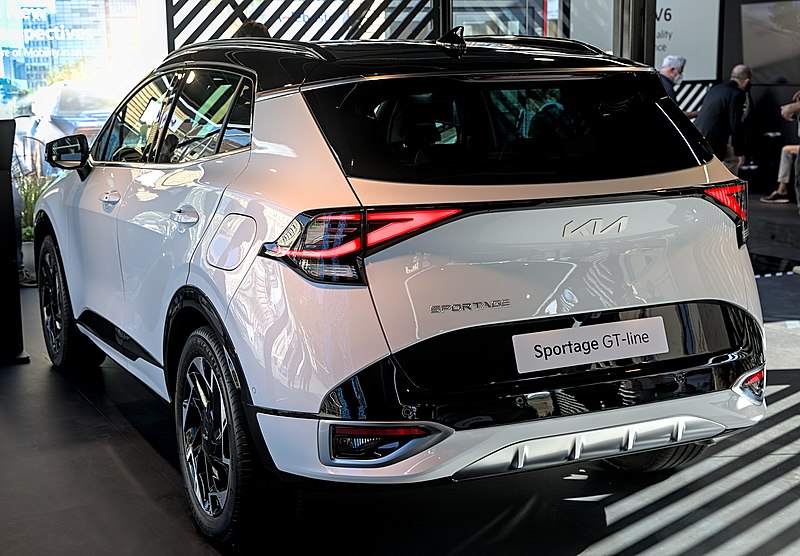 New slim LED tail lights
A reprofiled slop on the roofline
Indicators are part of the taillight assembly
Invisible rear wiper under the rear spoiler
Blacked out new bumper with a unique placement of the license plate
Satin silver diffuser wraps around the portion of the bumper
Optional blacked out roof with same exterior colors of the car to amplify its sporty character
More Features:
17-19 inch alloy wheels (machine face)
LED headlights (reflector-type)
Partial-LED tail lights
Full-size spare wheel
Panoramic sunroof
KIA Sportage 2022 Interior: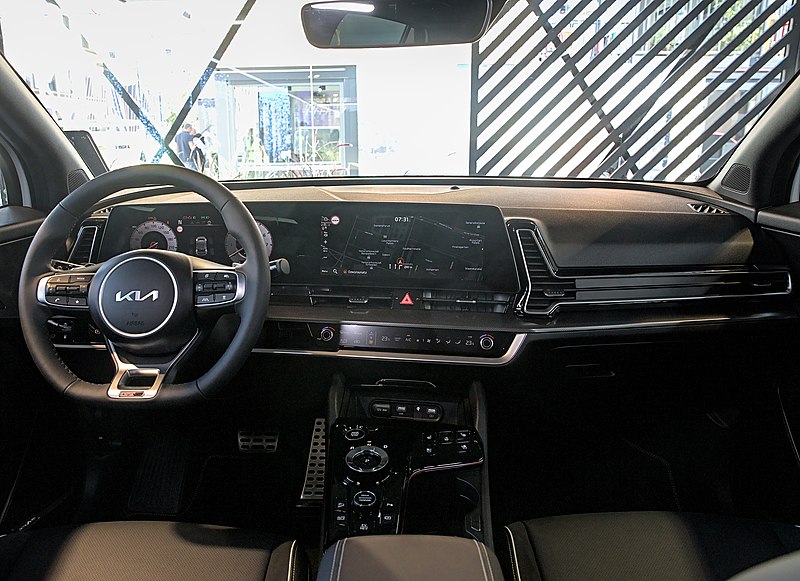 Seeing a glimpse of the KIA Sportage 2022 interior, we all have to admit that it's highly artistic, high-tech, innovative and sophisticated.
Simple and slim HVAC climate control panel
New steering wheel along with the new brand logo
Latest three-dimensional air vents with a modern look
A wide transmission controller that gives more utility and space
High quality material
Better soft touchpoints
More comfort
Superior user intuitive controls
Top-notch soundproofing
Latest panoramic and curved wide glass panel that seems as if it was integrated together, though they are 2 separate digital screens.
One screen is the driver instrumental panel
The other one is 8.0-inch touchscreen infotainment system
More Features: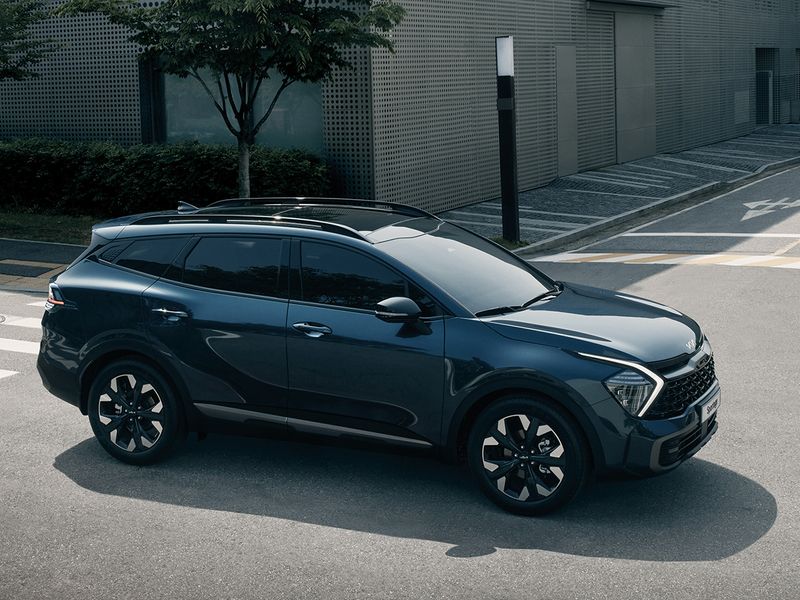 Leather-accented steering wheel and PVC shifter
AEB with pedestrian/cyclist/junction assistance
Blind-spot assistance
Rear cross-traffic assistance
Intelligent speed limit assistance
Adaptive cruise control
Electric park brake
Tire pressure monitoring
Front-center airbag
Apple CarPlay/Android Auto (wireless)
DAB digital radio
Six-speed audio system
4.2-inch 'Basic' digital instrument cluster with TFT display
Leather seats with suede upper
Driver's seat with memory function
Power passenger seat adjustment
Heated/ventilated front seats
Shift-by-wire gear selector (dial type)
Wireless phone charger
Ambient interior lighting
LED interior lighting
Blind spot view monitor
Parking collision avoidance (reverse)
Remote smart park assistance
Surround-view cameras with 3D view
Safety:
AEB with pedestrian/cyclist/junction assistance
Rear cross-traffic assistance
Lane-keep assistance
Lane follow assistance
Intelligent speed limit assistance
Adaptive cruise control (excludes manual models)
A reverse camera
Rear parking sensors
Front-center airbag
KIA Sportage 2022 Engine & Transmission:
KIA Sportage 2022 is going to be launched in 3 engine variants with the petrol and diesel systems:
2.0MPi, 2.0D CRDi, 1.6 T-GDi Mild-hybrid with 136hp, 150hp or 180hp
2.0MPi, 2.0D CRDi Full-Hybrid with 230hp
2.0MPi, 2.0D CRDi Plug-in hybrid technology with 265hp
As far as the diesel engine is concerned, it will be a 1.6-liter engine with 115hp or 136hp.
Its transmission will be:
A 6-speed manual gearbox
A 7-speed dual-clutch automatic
KIA Sportage 2022 VS KIA Sportage 2021: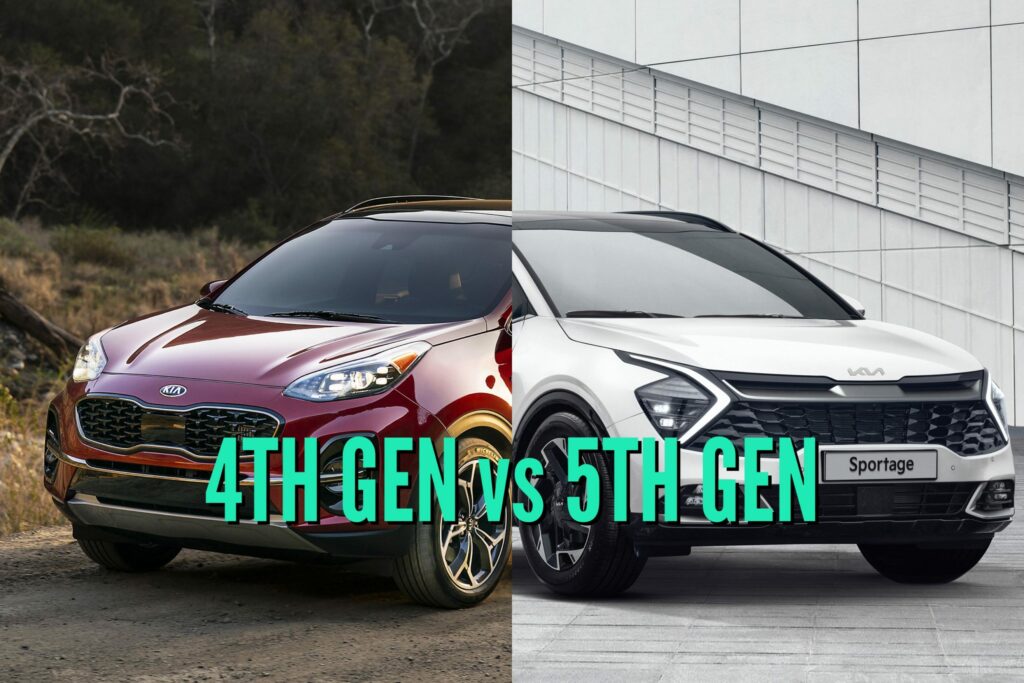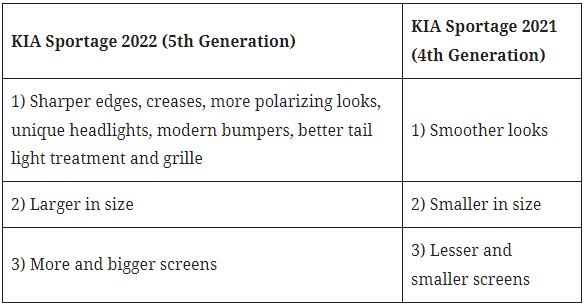 A more realistic comparison of the two generations would be possible once the 5th gen Sportage is launched here.
Moreover, the latest Sportage would be in competition with the same compact SUVs that the 4th gen Sportage has been in competition with – Hyundai Tucson and MG HS and ZS.
Click here to check out KIA Sportage Alpha VS MG ZS
2022 KIA Sportage Market Availability:
KIA is revealing more details about Sportage 2022 specifications later this summer (2022).
Sportage 5th generation has already been launched (August 2021) in South Korea and it is doing resounding business there. In North America, however, it is expected to be launched in the first quarter of 2022.
KIA Sportage 2022 Launch Date In Pakistan: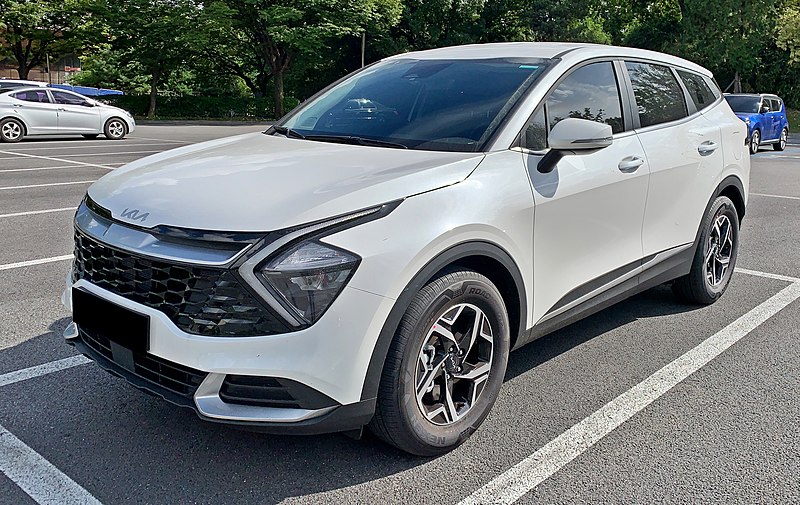 We know that everyone in Pakistan is dying to see Sportage 2022 on the roads, but the bitter fact is it's not going to be launched in Pakistan before 2023.
Another major hurdle is that the existing assembly line in Pakistan needs a huge upgrade as the current setup is not conducive for the local manufacturing of Sportage 2022.
KIA Sportage 2022 Price In Pakistan:
The KIA Sportage 2022 price in Pakistan, if it were to get launched here today, would be somewhere in 60-65 lac range. Though, there's no official announcement by the company yet, but hopefully things will get clearer by the passage of time.
However, expect a further increase in these prices as the government has passed the Finance (Supplementary) Bill 2021 or "mini budget" raising FED on locally manufactured cars of engine capacity of 1,000cc to 2,000cc.
Final Word:
We hope that we get to see the KIA Sportage 2022 here as soon as possible.
Till then, tell us what do you like the most about the KIA Sportage 2022?