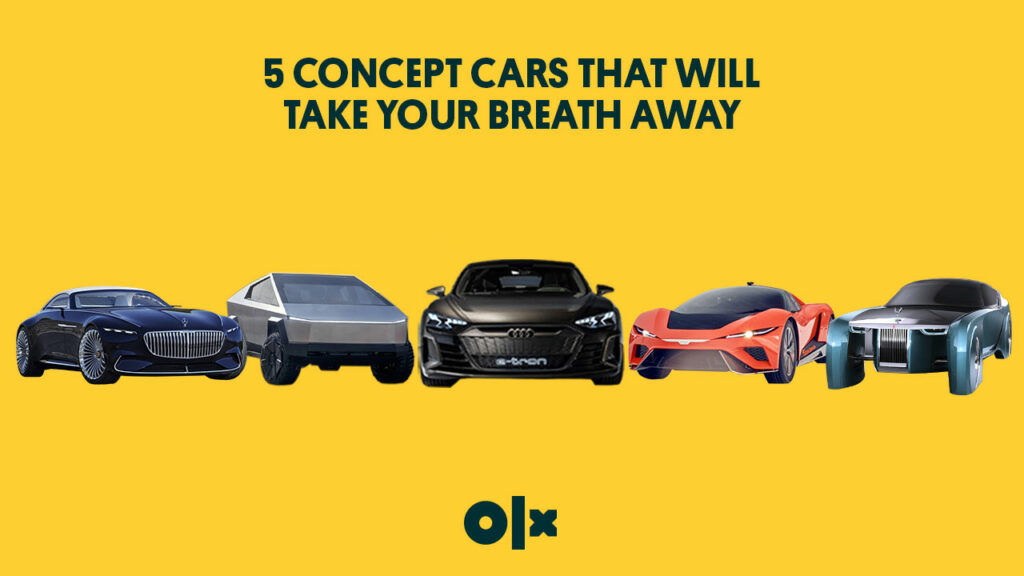 Concept cars are products of radical innovation offering insights into the future. In this article, we recount the concept cars that are legacies of novel ideas. They are exquisite to look at and possess distinctive features.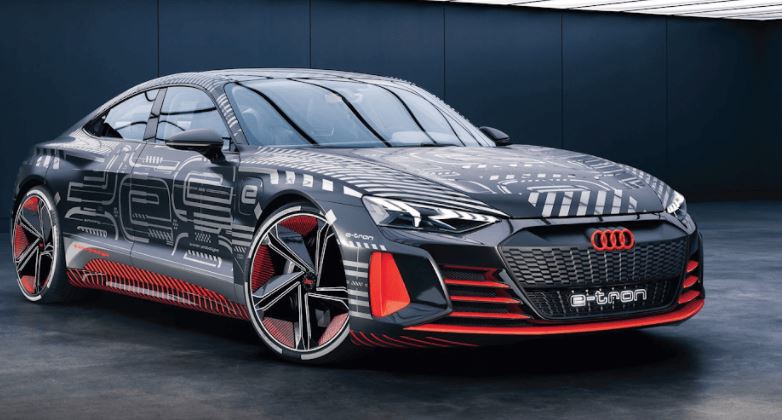 1. Audi E-Tron GT
Audi E-Tron GT is Audi's grand touring version of the E-Tron. Its chassis and body is based on the Porsche Taycan, a sibling car of sorts. But you will find that the E-Tron GT is much more aggressive in the overall looks department because it has accentuated curves and edges in every direction the car encompasses. With Taycan already roaming the streets, Audi is also gearing up to tackle Tesla at its own game.
Specs
Launched as a concept car at the Los Angeles Auto Show 2018, it kept its audience under its glorious aura and the umbrella of tech advancements. The specifications given below instill a sense of wonder in people.
Maximum Output – 590hp
Power – Each battery pack on either of the axles produces combined power of 590bhp through an 800-Volt Architecture
0 – 100kmh – 3.5 Seconds
Wheelbase = 114.2 inches
Expected Features
The production car might be able to feature things like these and much more:
Ambient Interior Lightning
Four-Zone Climate Control
Heads-On Display
Massage Function on Front Seats
Wireless Charging
Future Price and Launch
The production (perhaps with lowered design cues) is expected to be at a price that could be around $100,000, which is what Taycan is offered at for the base model. That will be pretty cool for something that looks like a concept car even if it is in production (when the time comes).
Update
Audi has recently unveiled a version extremely close to this concept with a 637 cumulative horsepower and a 3.3 Seconds 0 – 100km/h acceleration time. A lower version takes the actual name plate (with considerably lowered specs) while the specs mentioned are for the RS E-Tron GT. It is expected to go on sale in March 2021 with a price that most probably undercuts Porsche Taycan's $100,000 price tag with the RS version going for a bigger amount.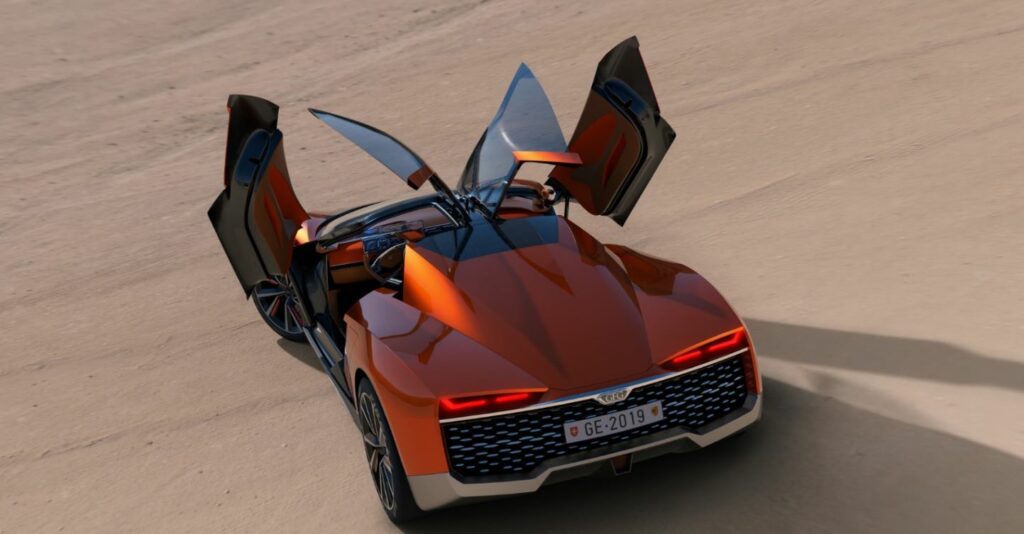 2. GFG Style Kangaroo
GFG's Style Kangaroo is the ultimate type of crossover. It is a vehicle that has the raw power of a supercar and a body that is made to fight different terrains. In other words, it is an off-road vehicle and a quick supercar capable of reaching speeds that supersede your imagination!
Specs
Down below are some of the specs of this ultimate beast.
Power: There is a pair of 90kmh battery packs
Drive: All Wheel Drive (As you would expect from an SUV type vehicle)
Max Output: 490 PS (483 bhp) (360 kW)
Torque: 680 Nm (502 ft·lb) (69.3 kg m)
Aspiration: Electric
0 – 100km/h: 3.8 Secs (Claimed)
3-way Shock Absorbers
Expected Features
Entertainment and Navigation
22" inch Alloys
3 Displays: One as a rear view mirror, second as an instrument cluster and third is the center console (which includes Entertainment and Navigation)
Fabric on Dashboard
Premium Leather for 2 Extreme Seats
Future Price and Launch
If or when this concept vehicle is launched, the car may be priced around $2 Million considering how its designer's other cars are priced at similar prices. The car could be sold out before this aforementioned price becomes the norm. This would make the car more exclusive and as a result, much more expensive. It is not expected to launch anytime soon as the car is still at a conceptual stage while its designer experiments with it.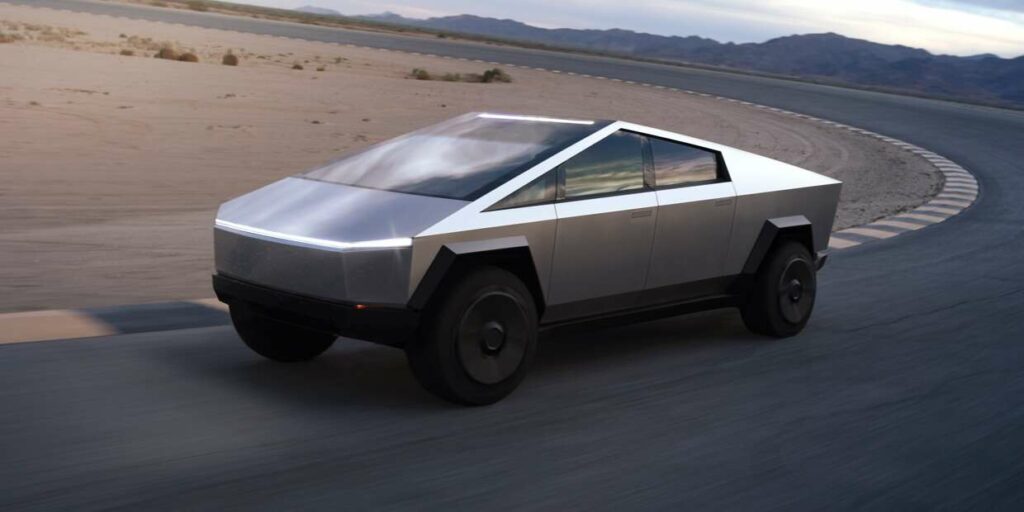 3. Tesla Cybertruck 
The hyped Cyber Truck from Tesla is aimed at providing a green alternative against the likes of Ford F-150, a fossil fuel consumption monster. Tesla has much to offer to the audience that is catered by trucks like F-150. Cybertruck is popular for having an infamous unveiling by Elon Musk, Tesla's CEO. This one is close to being a production rather than a concept car.
Let us see what it has to offer:
Specs
Power – Its strongest trim has Tri Motors which produce 500 miles of range and lets the vehicle become capable of reaching 0 – 97km/h in just 2.9 seconds.
Drive – All Wheel Drive (For the top trim)
Adaptive Air Suspension
Towing Capacity – 10,000 LBs
Storage – 100 Cu Ft
Ground Clearance – Up To 16″
Expected Features
It has expected to have all the standard features that Teslas usually possess. Additionally, being a game changing truck, it is expected to offer things like these.
Utilitarian Features (i.e you can cook food with/in it)
Vault-Like Storage
Under-Bed inclusion
Funk and Sail Pillars
17" Touch Screen with a new user interface from Tesla
Future Price and Launch
The tri-motor version could be available at as high as $70,000, while the lower version might start at $39,000. It is expected to go on sale somewhere in 2021. Getting ready for this concept car is of the essence.
4. Rolls Royce Vision Next 100 (103EX)
Talking about ultimate luxury, behold the Vision Next 100, which is Rolls Royce's answer to what lies ahead. Just the existence of the 103EX, makes us giddy for the future!
Specs
Below are some of its specs:
Each car will be an extravagant form of bespoke creation and will be tailored to the requirements of different customers. Perhaps, this is why the information about its specs are scarce. We only know that it features an electric motor at the front and another one at the back, making it a fully electric vehicle with no engine in between.
Features
Its most awe-inspiring and attractive feature is the absence of a driver, which is replaced with an artificial intelligence that acts like a butler
For sitting, there is a floating soft sofa at the rear end of the cockpit created with the most luxurious form of upholstery
As with any Rolls, you get things like a custom branded umbrella, red lighting for a red carpet aura to create a specialized entrance for you and many other things like that
Future Price and Launch
This concept car might not be available for sale as it is most likely a prototype created to exhibit in the world the vision of Rolls Royce, perhaps foretelling what it might be doing in the upcoming 20 to 25 years.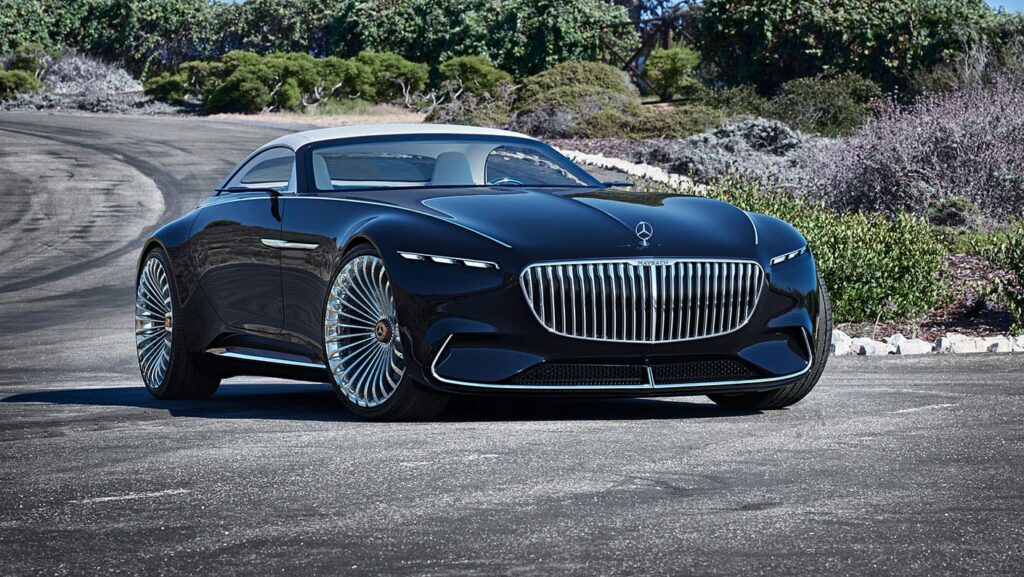 5. Mercedes-Maybach Vision 6 Cabriolet
This is Daimler's promise of future luxury under its Maybach division. The car exudes an air of quality that yachts tend to receive because this humongous thing looks like a yacht on wheels and takes inspiration from good old yachts that surpassed ultimate luxury. And this time it's a cabriolet version.
Specs
Power – It is powered by a flat battery that gives a maximum output of 550 Kw.
Range – 500 Kms
0 – 100Km/h – In under 4 second (Giving this yacht of a car, a sports car characteristic)
Drive – All Wheel Drive
Features
There is an overhead display that encompasses the whole cockpit and precisely the peripheral vision of the driver. The driver and the passenger can be ravished by the yacht looking interior of the car that has a league of its own. This overhead display is above the instrument cluster and specifically caters all the standard luxury that a Maybach can provide (Its own are unknown right now). This is what is known about it though:
Specialty Fitted Luggage
Quilted Leather inspired by Chesterfield Sofas
Gullwing Doors
Umbrellas
Silverware
A Plank Wooden Floor (Upping the Ante of a Yacht feeling)
Future Price and Launch
At this time, the future price and launch date of a production version is up in the air. Currently it is not known if this concept car is going to be publicly released.
If you are looking into buying or selling a car or any other vehicle, visit OLX Pakistan to find a wide range of vehicles and choose the one that best suits your preferences and budget.